Prody
;
n.
[pr.
proddy
] 4130 chromoly, bonafide #BNEBMX local hero.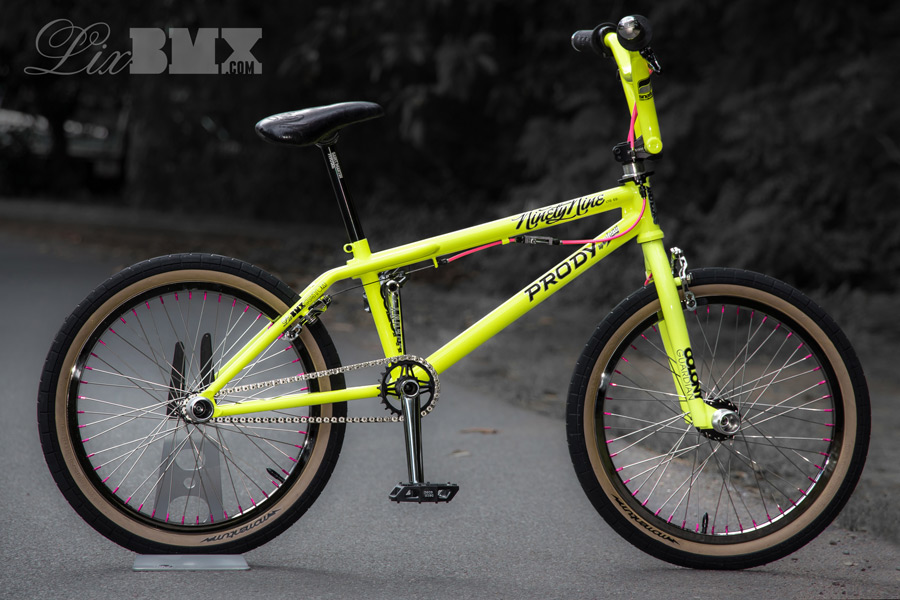 [More finished build pics at the bottom of the page]
The 2014 Prody 20th Anniversary frame by Colony is essentially a tribute to the original Brisbane made Prody frame from 1993 designed by Clint Millar (founder of Colony BMX) and Michael Canfield. This limited edition of 100 sees the return of the iconic top tube platform while benefiting from modern geometry and contemporary features (ie. integrated headset, mid BB and integrated seat post clamp – scroll down more tech info and frame specs).
I LOVE MY PRODY!
These frames look amazing (the perfect balance of old school nostalgia with contemporary innovation) but it was the moment I rode one of the Anniversary Prody prototypes (belonging to my buddy Ross from www.unscenehistory.com) that I completely fell head over heels for Prody goodness. So smooth, responsive, light and thoughtfully designed. The 19″ model felt intuitive to ride and perfect for flatland. Tricks I'd battled with for hours on my old Healing Freestyler felt achievable within minutes on the Prody. Yeah, I really didn't want to give it back!
Riding Ross's 19″ Prody prototype in early 2014…
I feel so honoured to have one of these frames. AND, as a long time fan of the spy classic Get Smart and Barbara Feldon's iconic portrayal of Agent 99, I'm super stoked to have scored frame #99/100! Those familiar with my M.O. will know that when I'm as excited as this about a frame it'll never be a wall mounted trophy piece gathering dust in the name of posterity – I'll build the shizzle out of it then ride the b'jeezus out of it. Life's too short to not ride rad bikes!
PRODY FRAME SPECS
Special features: mix of old school design with modern day geometry and features, made from 4130 chromoly tubing with a heat-treated integrated headtube drilled for gyro tabs, investment cast headtube gusset, integrated hydroformed downtube gusset, old school standing platform on the toptube, integrated seat clamp, heat-treated Mid BB shell with investment cast chainstay junction, tapered chainstays with investment cast bridge, tapered seatstays with fixed U-brake mounts, and 5mm thick heat-treated dropouts. Limited edition run of 100.
Headset Type: Integrated (Campy)
Gyro Tabs: Removable (Included)
Brake Mounts: U-brake
BB Type: Mid
BB Height: 11.5″
Chainstay: 13.6″ – 14″
Headtube Angle: 75.2°
Seattube Angle: 71°
Seattube Height: 8.5″ (216mm)
Seat Post Size: 25.4mm
Seat Clamp: Integrated
Dropout Size: 14mm
Weight: 5 lbs 10.5 oz
PARTS LIST
FRAME: 2014 Colony Prody Ltd Ed #99/100, 19″ TT, 4130 chromoly with integrated headtube. Custom finished in day-glo yellow.
FORKS: Colony Guardian (w brake mounts). Custom finished in day-glo yellow.
BARS: Snafu Disco Bars (circa '99/00), custom finished in day-glo yellow.
STEM: Dartmoor Funky, 35mm extension, 25.4″ bar bore, black
HEADSET: Odyssey Pro Integrated Headset, 1 1/8″, polished
RIMS: Demolition Zero 48H, smoke chrome  (w stainless spokes + anodised pink nipples)
TYRES: Demolition Momentum 2.2, black skinwall
REAR HUB: Taska 48H U-Free 9T Freecoaster, 3/8″ (w clutch tightened and bearings repacked)
FRONT HUB: SunRinglé sealed, 14mm (slotted 3/8″), black
PEGS: Infinity Ka (x4), silver
BRAKES (Front + Rear): Odyssey Evo II, polished
DETANGLER: Impurity Bikes GST-K sealed gyro with built in knarps + Colony gyro plate, black
GYRO CABLES: Upper:  Odyssey Modulever dual cable with custom neon pink housing. Lower: Custom neon pink with Primo Pervert splitter.
FRONT CABLE: Odyssey  inner, custom neon pink housing.
LEVERS (L + R): Odyssey  Modulevers
GRIPS: Deco Logo Grips, black, with NOS GT 'Bar Tabs', 1″,  chrome.
CRANKS: Colony 22s, 170mm, chrome
BB: Colony Mid BB, 22mm, black
SPROCKET: Colony CC Sprocket, 25T, black
PEDALS: Deco Plastic Pedals, black
SEAT POST: St Martin 300mm, pivotal, black
SEAT: LixBMX Custom leather tooled pivotal
CHAIN: YBN mk926N S2 Super Light Half Link, hollow pin, silver
BUILD DIARY
I'm super excited about what's in store for Prody #99. I've had about 12months to plan the build and now it's all go! Think flatland, think day-glo and neon, think vintage meets contemporary, think script and block fonts, custom artwork, engraved badge, hand tooled leather seat… I'm pulling out all the LixBMX stops! Excited, much.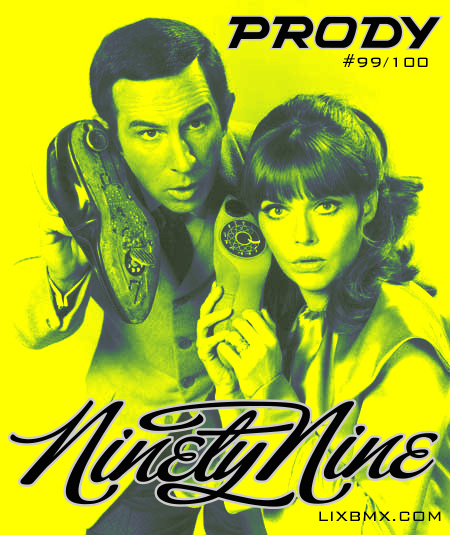 My Build Design Sketch
It's very hard to represent day-glo yellow and neon pink in an illustration, but you get the picture. Needless to say, it'll look exceedingly more awesome in reality…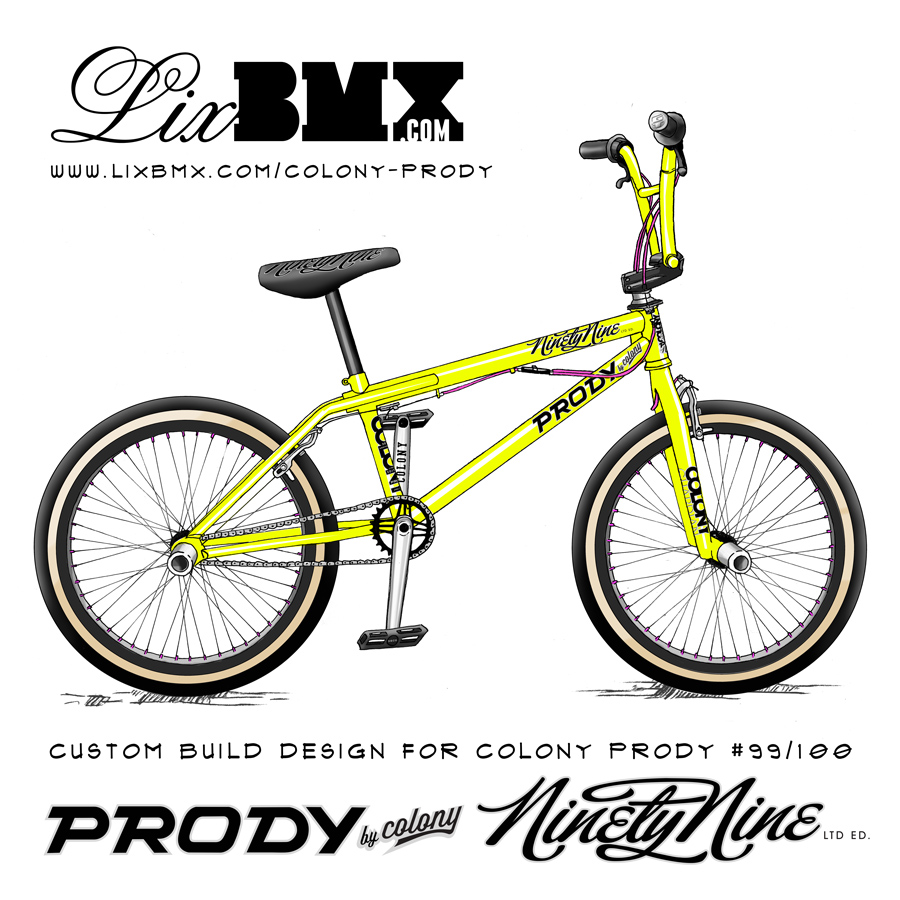 Here's a few snaps of my Prody frame before it went off to Roberto's Custom Powder for its custom day-glo yellow finish, along with the Guardian forks and Snafu bars.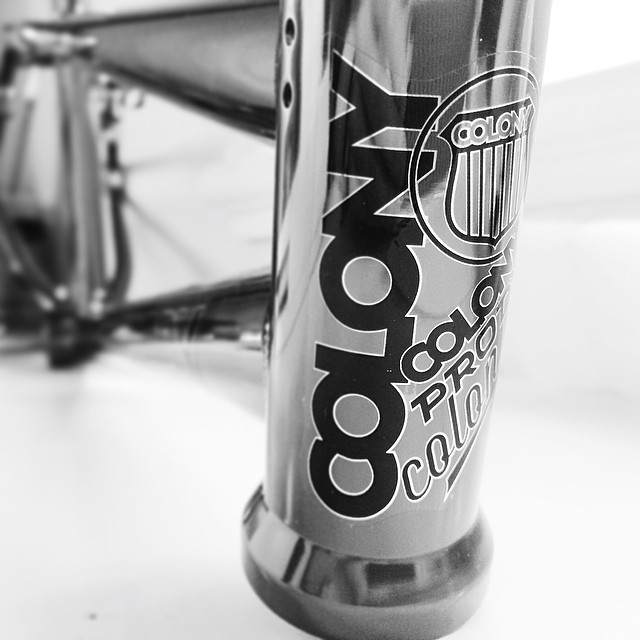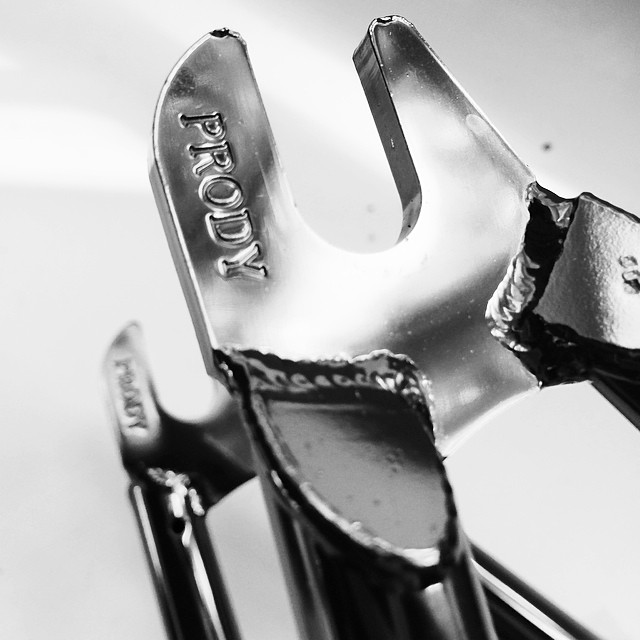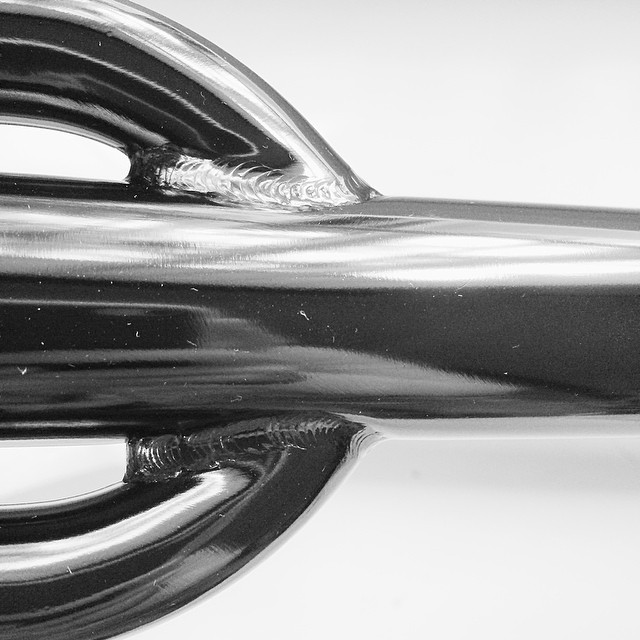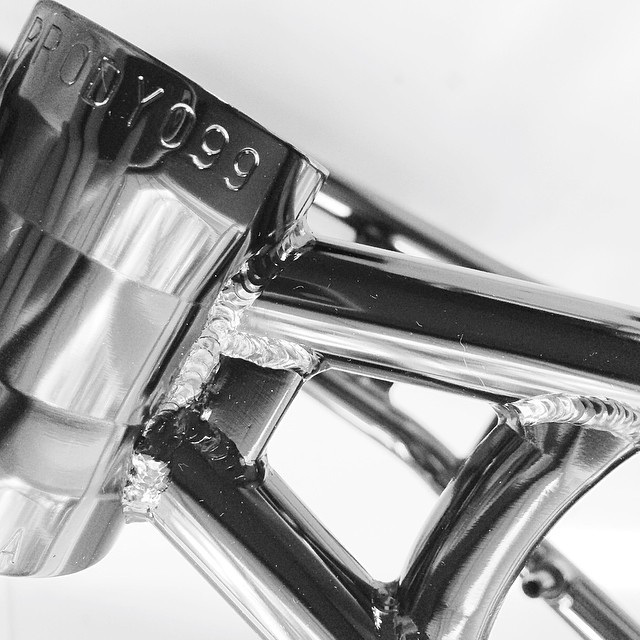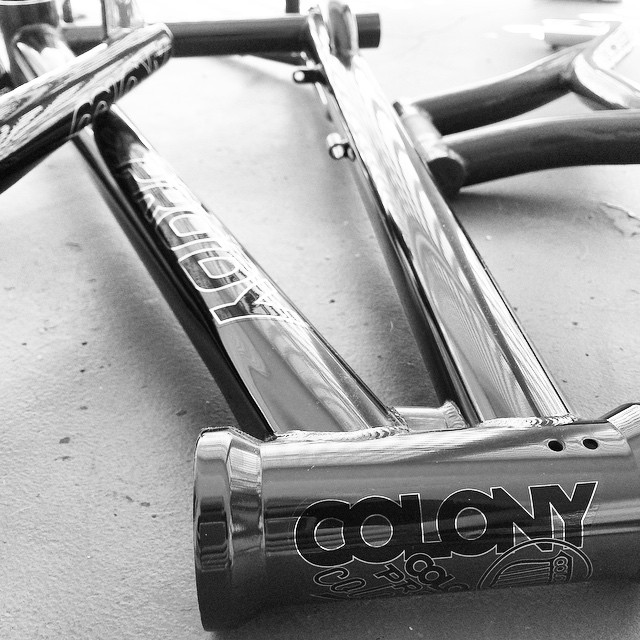 Inspired by this classic image of Max and 99…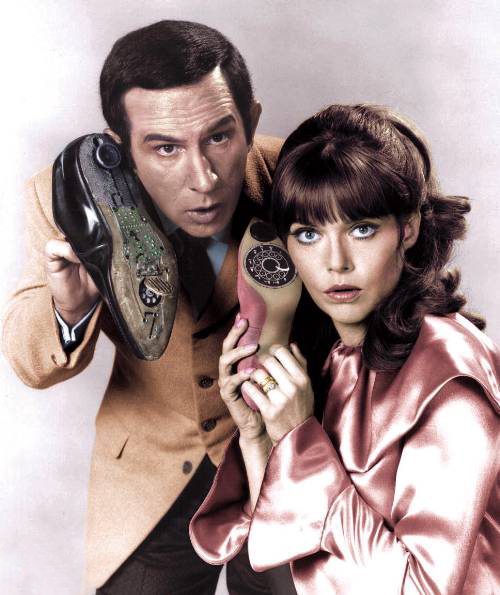 I've drawn up a two-tone pop-art style illustration of Agent 99 with her shoe-phone to use as the basis of my custom headtube badge design….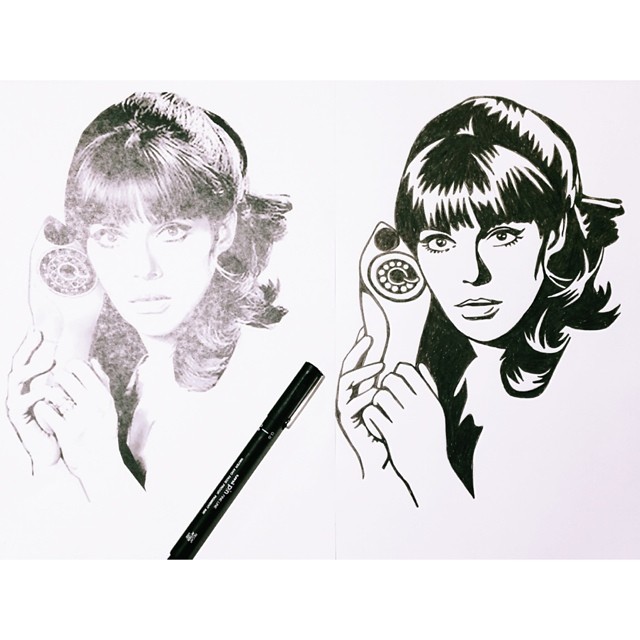 And from that drawing, here's a mockup of roughly what the head tube badge will look like in 3D (before it's shaped to fit the headtube). I'll be electrochemically engraving the headtube badge from 1mm aluminium sheeting using a copper sulphate 'salt etch' solution…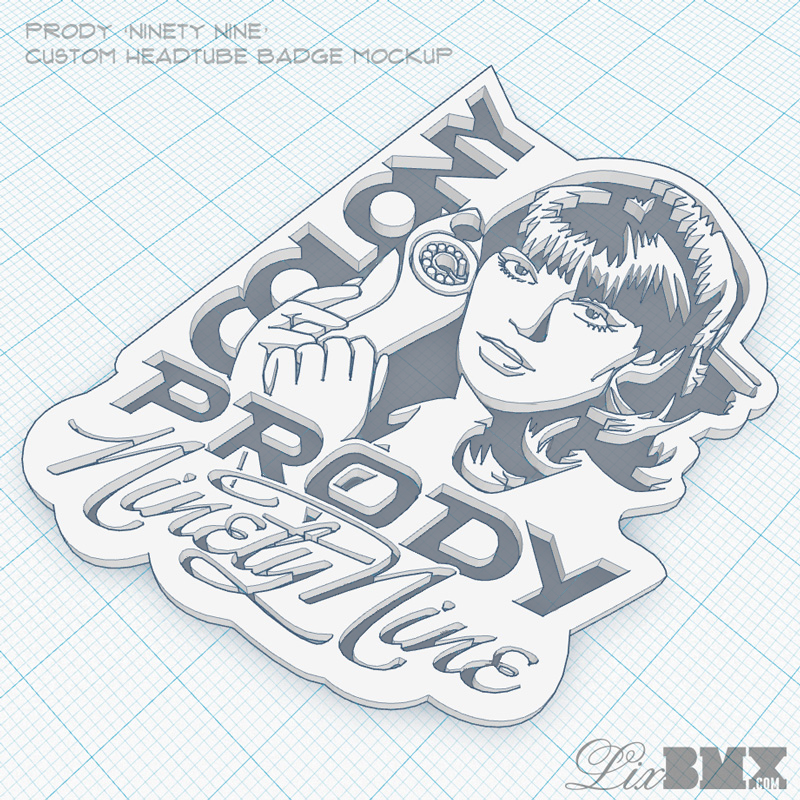 Aluminium sheet and copper sulphate ready for etching….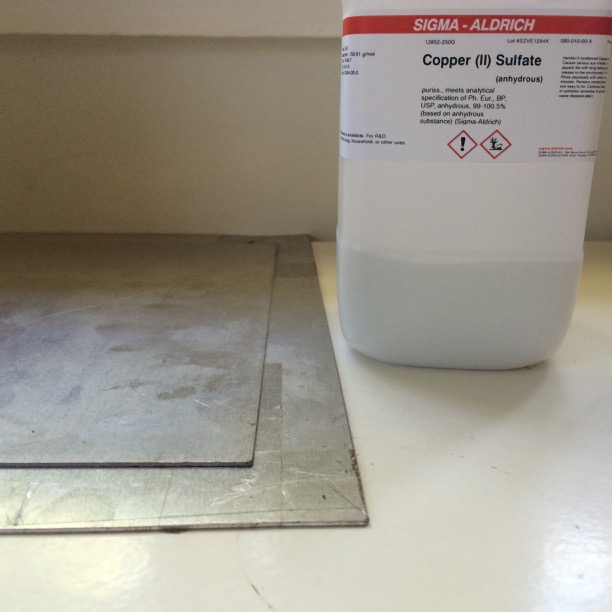 My badge design printed in reverse on clear mylar (OHP film)…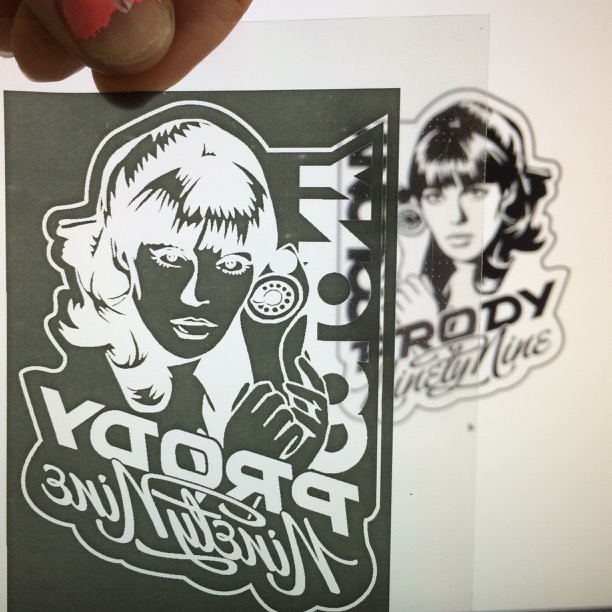 Ironing the design onto the aluminium sheet so that the black areas of toner stick to the aluminium sheet and form an area of mask when the mylar is cooled and peeled off…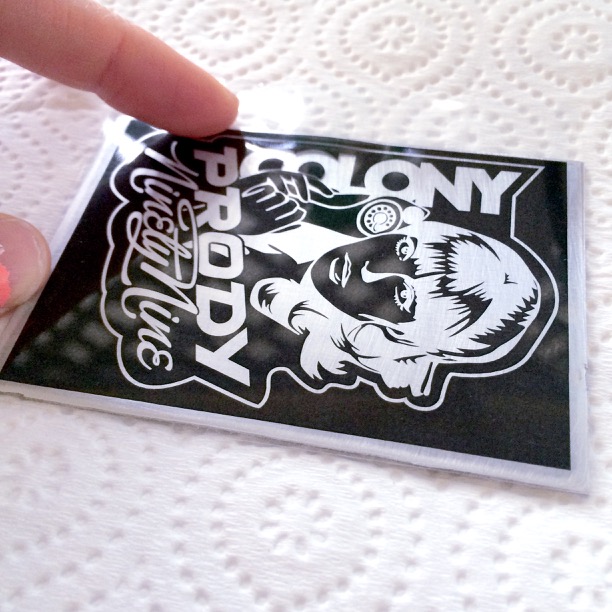 3 masked up prototypes ready to etch…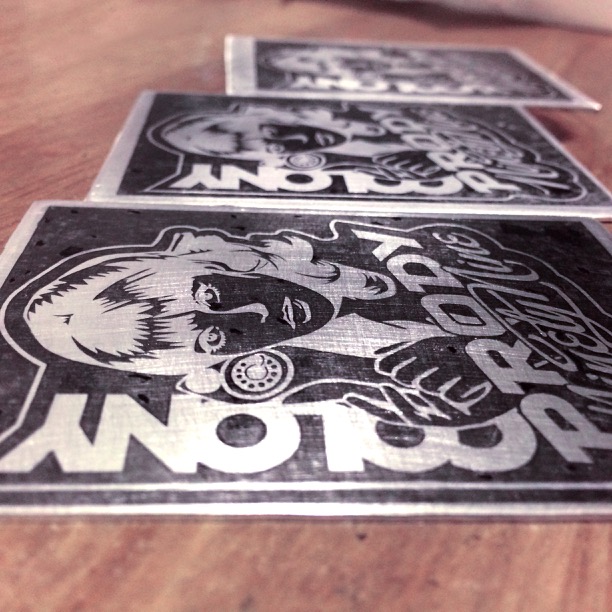 Prototype etching. There's pitting on the high-points so the masked areas will need denser coverage…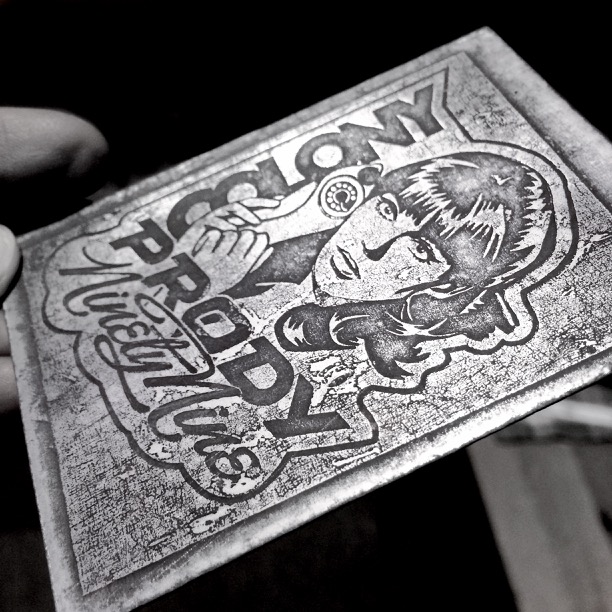 To get a denser mask I'm carefully painting a layer of Tamiya model acrylic paint over the aress of relief…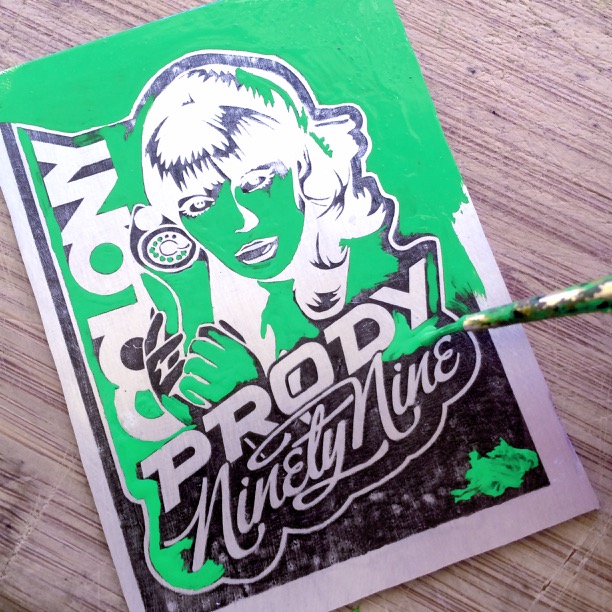 Painted mask done and ready for the salt etch solution…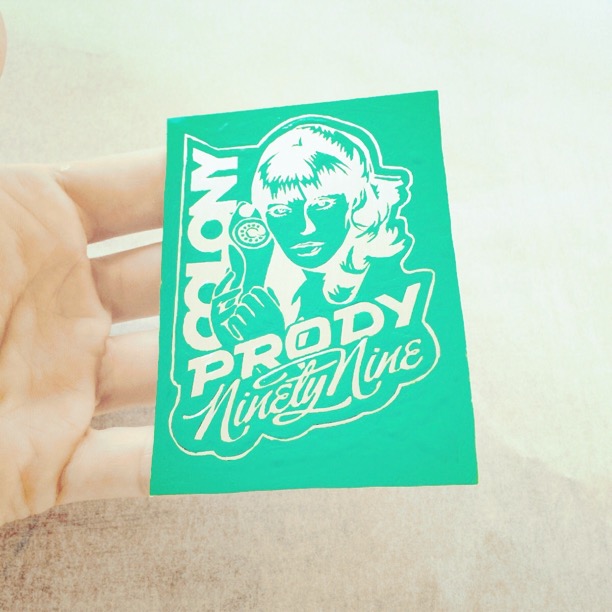 The etch process begins…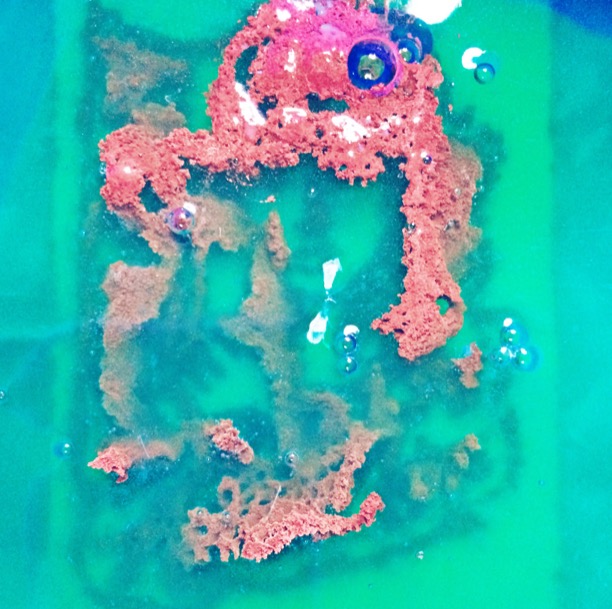 I love the colours generated in this process, very reminiscent of a coral reef…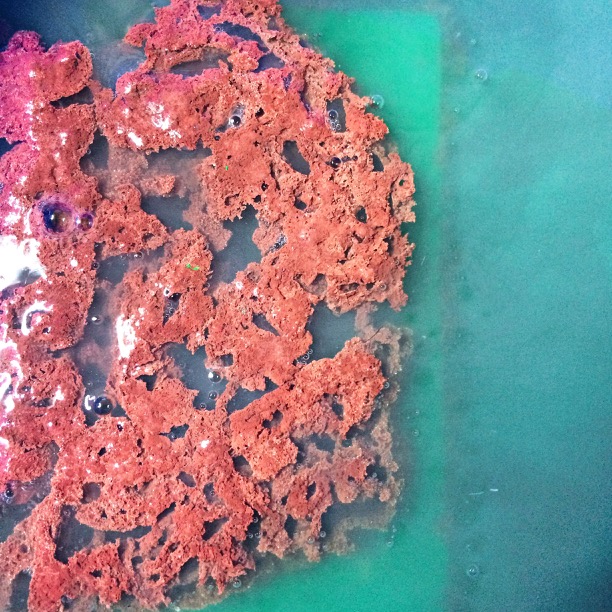 Straight out of the solution. Still wet and the mask looks to have held up well!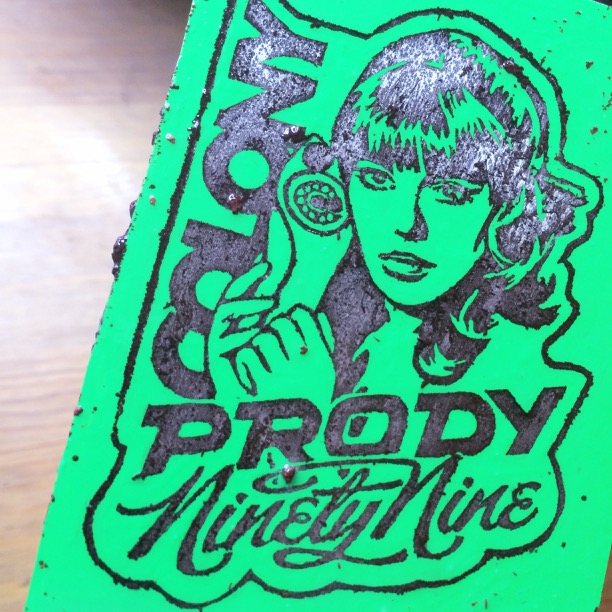 Paint rubbed off and the etch is deep, crisp and clear! Ready to be cut out with my piercing saw (aka jewellers saw)…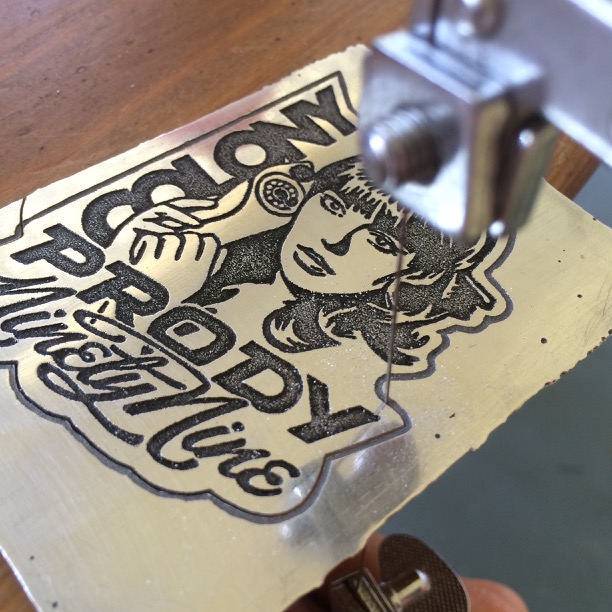 Cut out and ready to have the edges filed and high-points polished…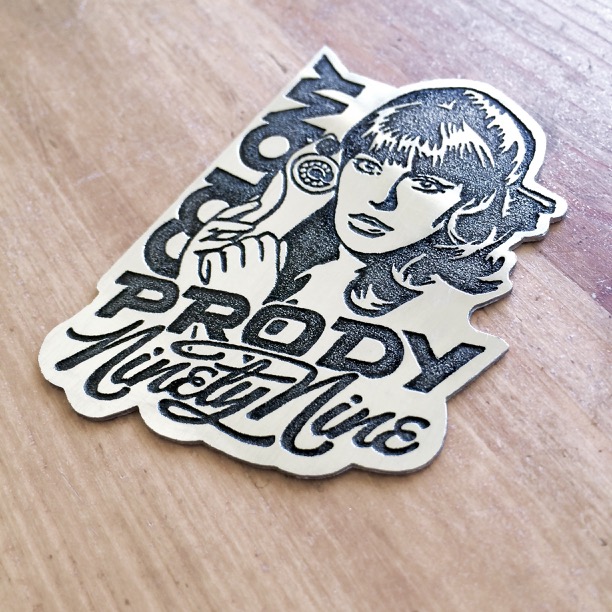 Polished and ready to bend with my trust DIY buddy Bender, haha…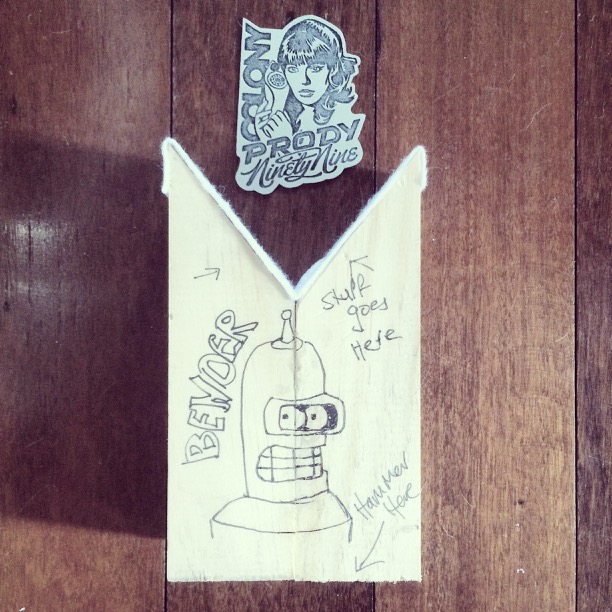 Those curves…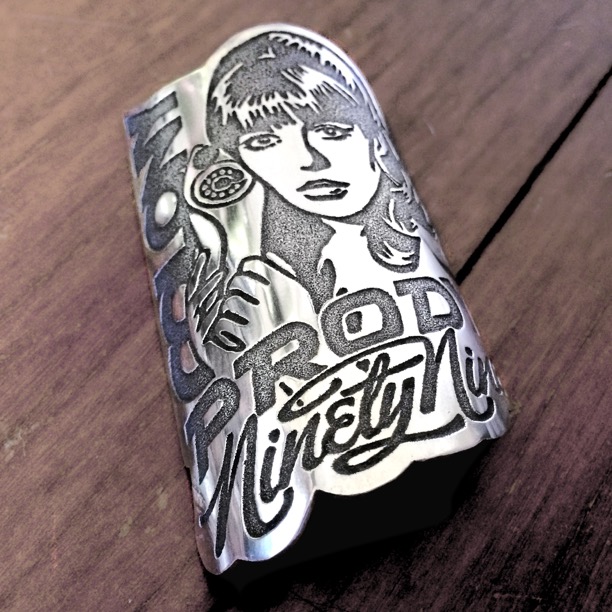 To compliment the badge, custom decal artwork done and off to the printer…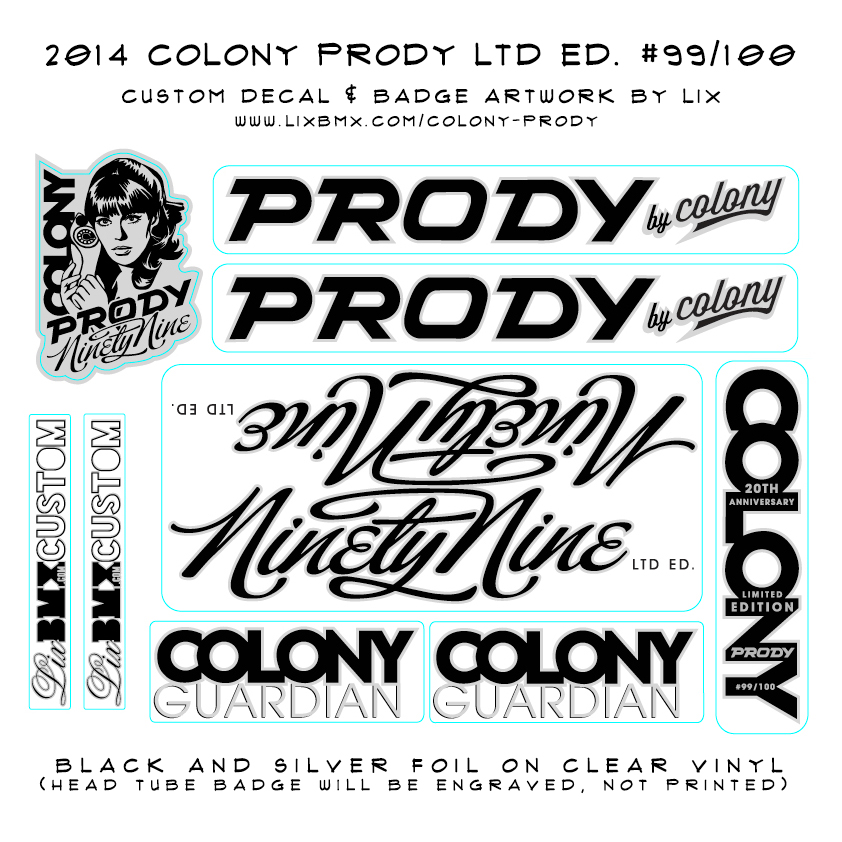 The parts pile begins. Demolition goodness from BMX Mafia. Pretty excited about running HP tyres…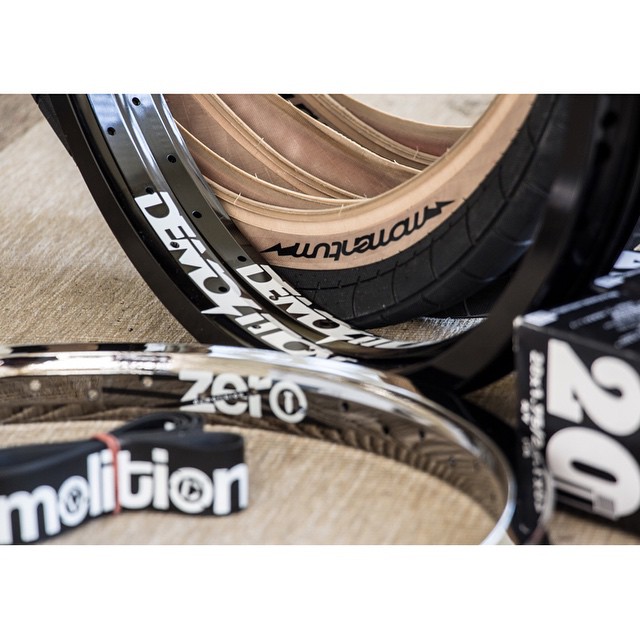 The parts pile grows bigger! Goodies from Flatland Fuel and The Pedal Shoppe…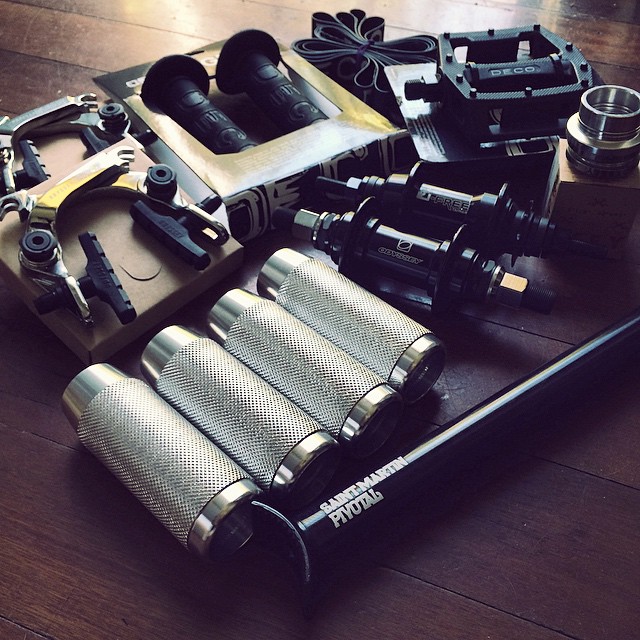 Loving the elegant simplicity and functionality of contemporary parts! Particularly loving this GST-K sealed gyro from Impurity Bikes – the built in knarps (similar to the Odyssey GTX-R) allow me to use custom neon pink cables and customise the length of my dual upper cable to perfectly suit my bars…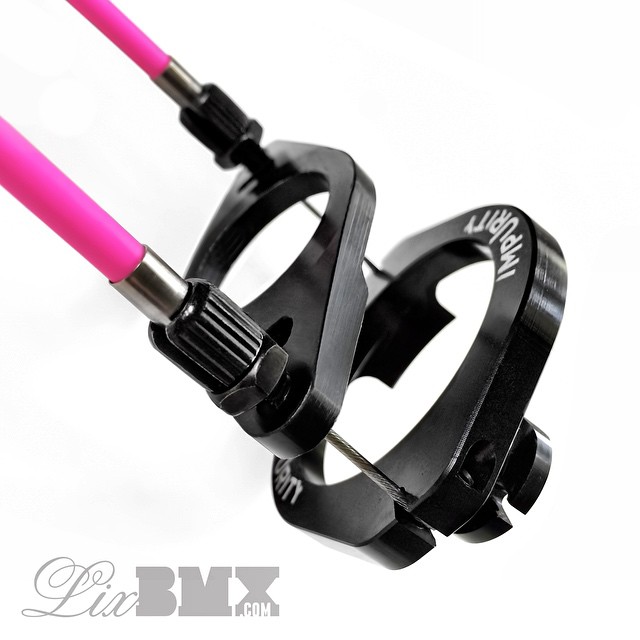 Midschool time-warp! Stoked to have got my hands on these two genuine '90s gems! A Primo Pervert cable splitter – most people ran these on their upper Gyro cables so they could customise the length of their cables. I'll be using this little piece of awesome to enable me to create a custom coloured lower Gyro cable in neon pink (I'm running an Odyssey Modulever upper cable setup so no splitter necessary on the top half). AND… genuine '90s brand new chrome 1″ GT bar ends – the late '90s/early 2000s were the era for fat handlebar tubing, so that's the era I had to dig through to find bar ends to fit the grip area on my early 2000s Snafu Disco Bars. LOVE THEM!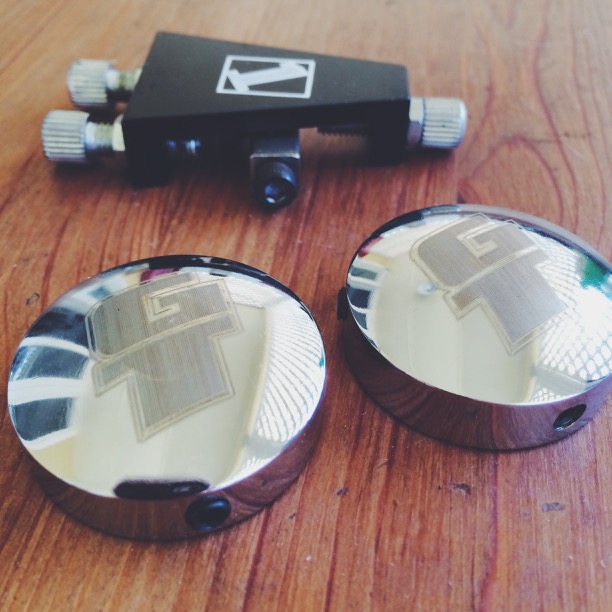 Couldn't resist this shot, haha. Primo Pervert and 96 pink Nipples…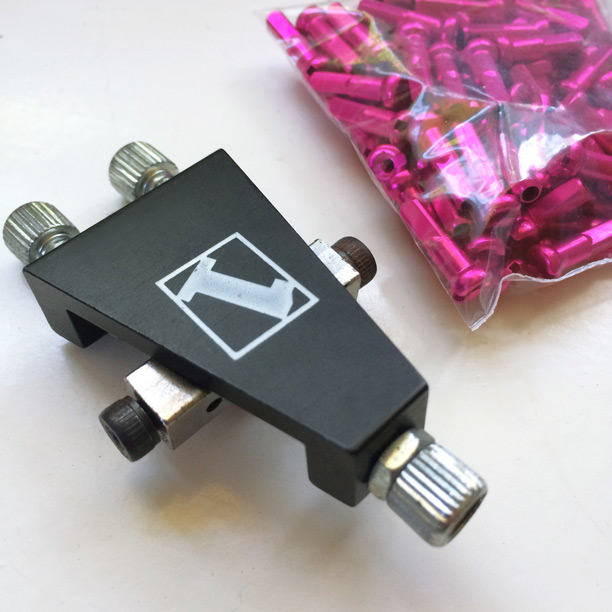 Back from Roberto's Custom Powder in fresh day-glo yellow powder coat. Roberto is an absolute master – the two step day-glo process is tricky, and he nails it every time while finessing those special details so important on a frame like welds, serial stamps, threads and bearing races…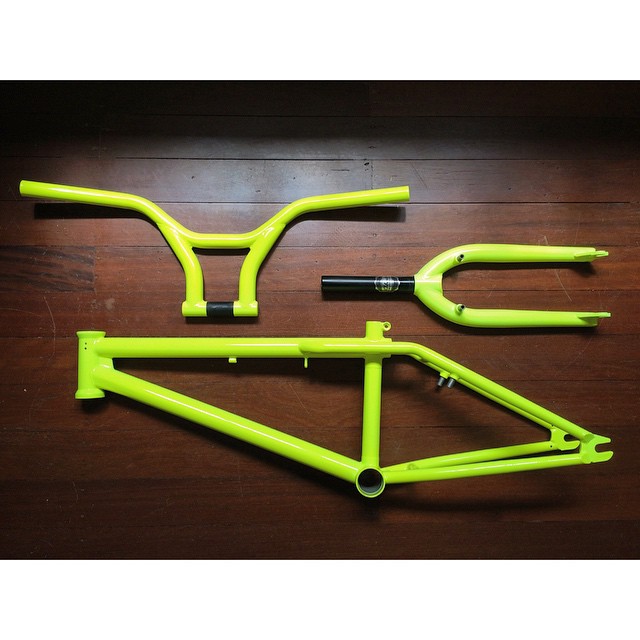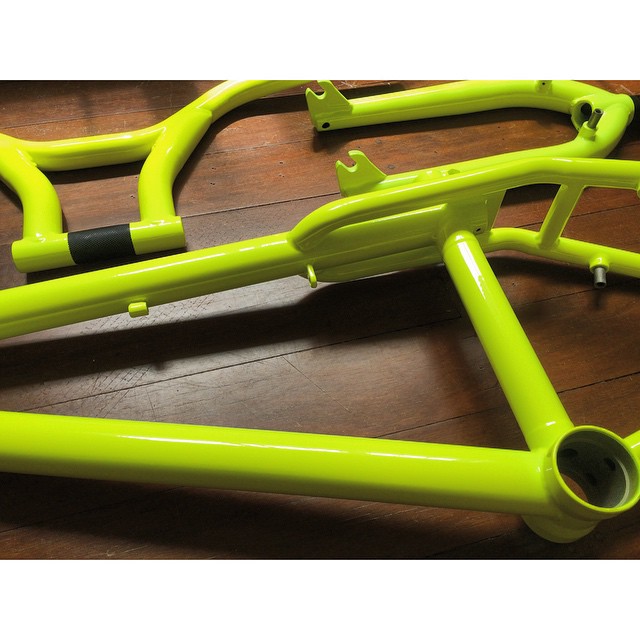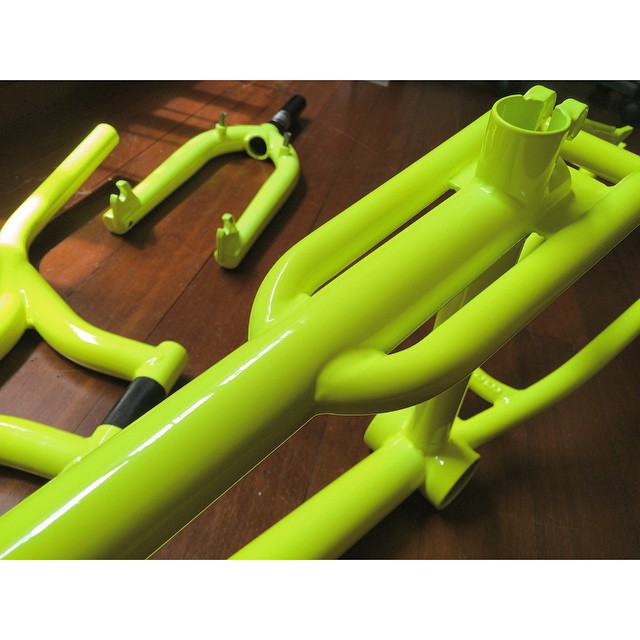 Delicious details…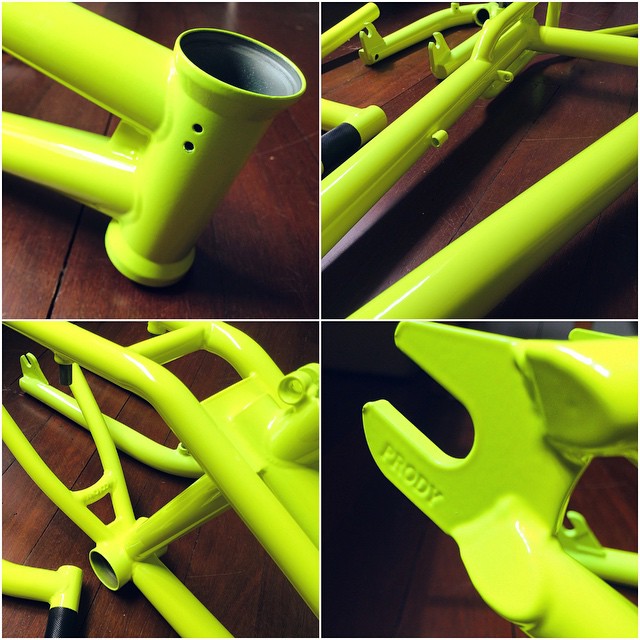 Absolutely one of my favourite parts of bike building: applying custom decals over fresh powder and seeing my vision truly come alive…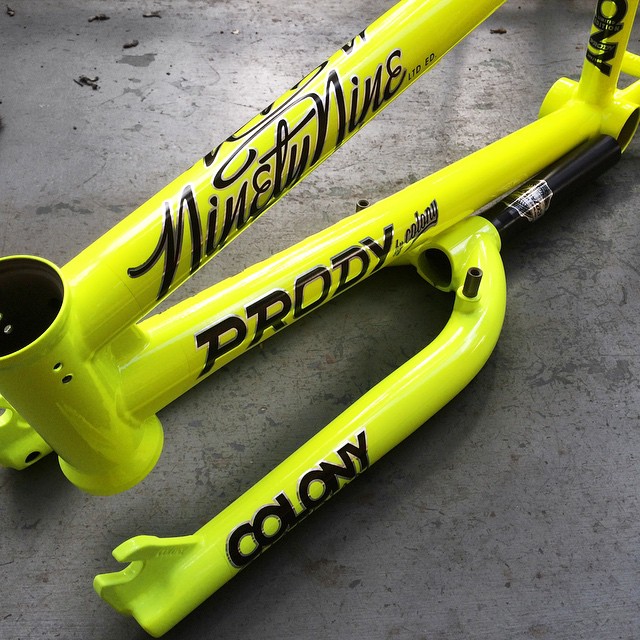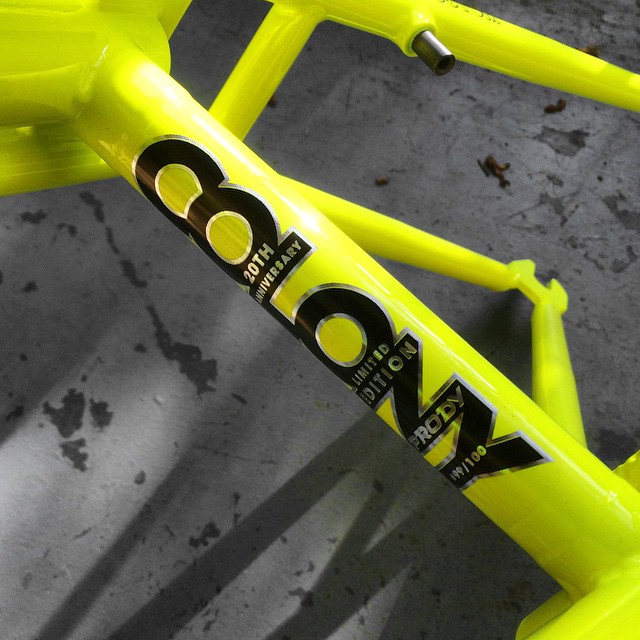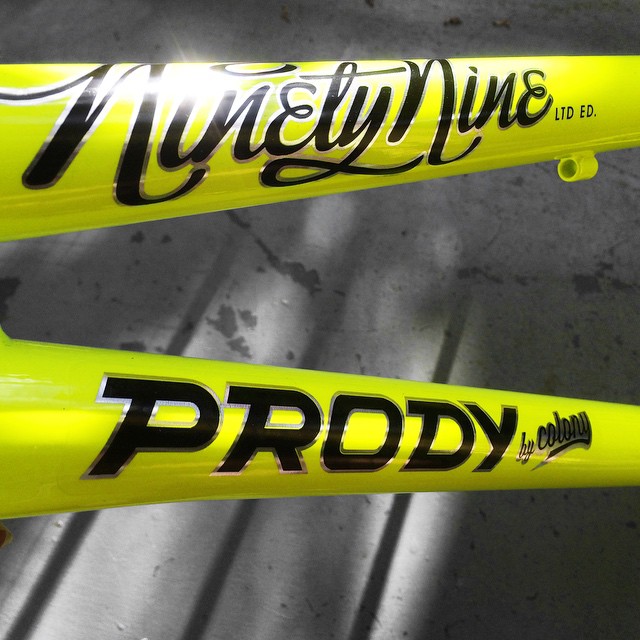 Creating the custom hand-tooled leather seat. I started with a basic pivotal seat shell and cut and shaped padding from foam rubber…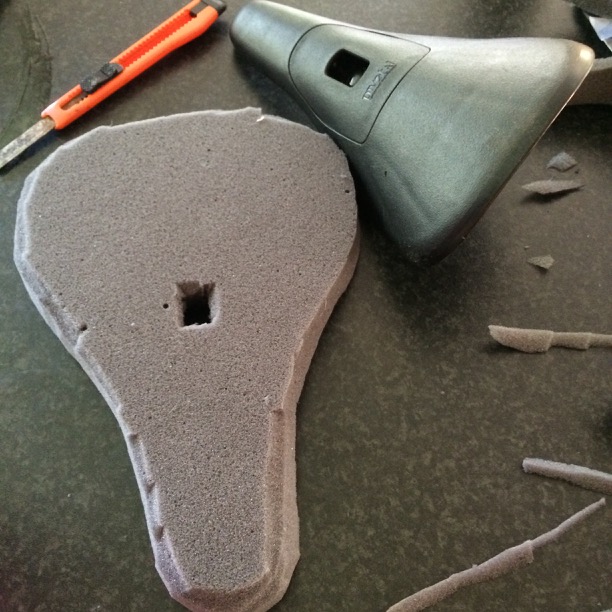 Smoothed the edges of the foam with the Dremel…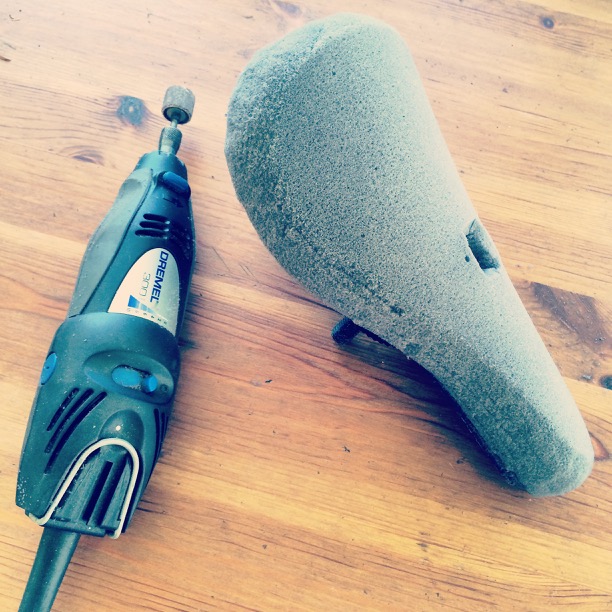 Wet-moulding the vege-tanned kangaroo leather around the seat and padding…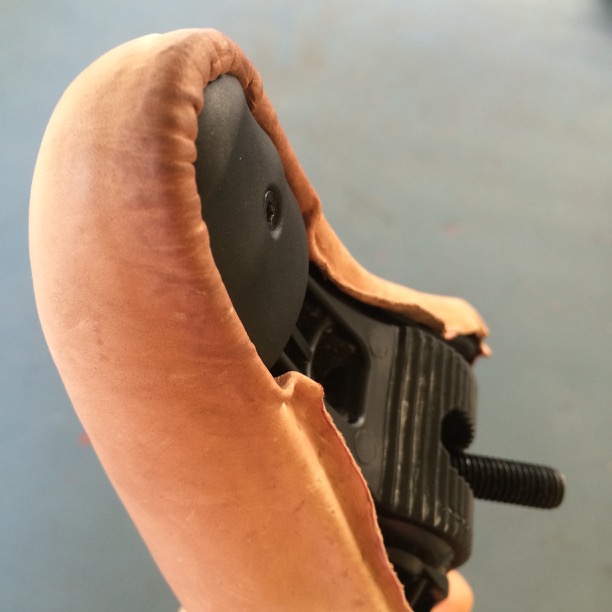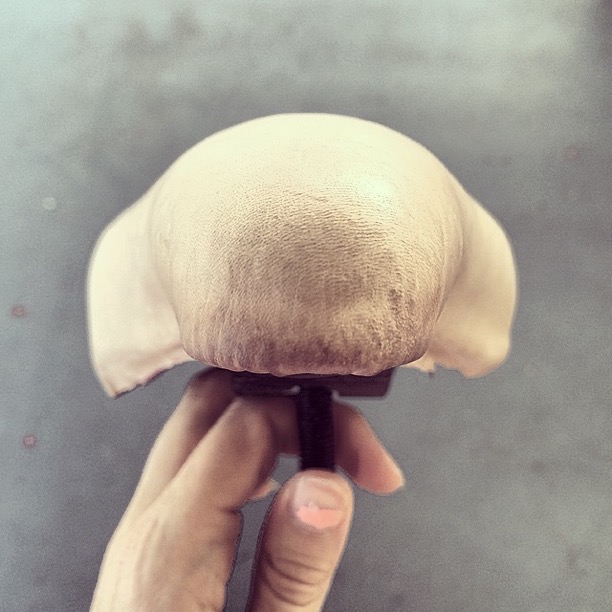 Moulded and dry, ready to draw the design on…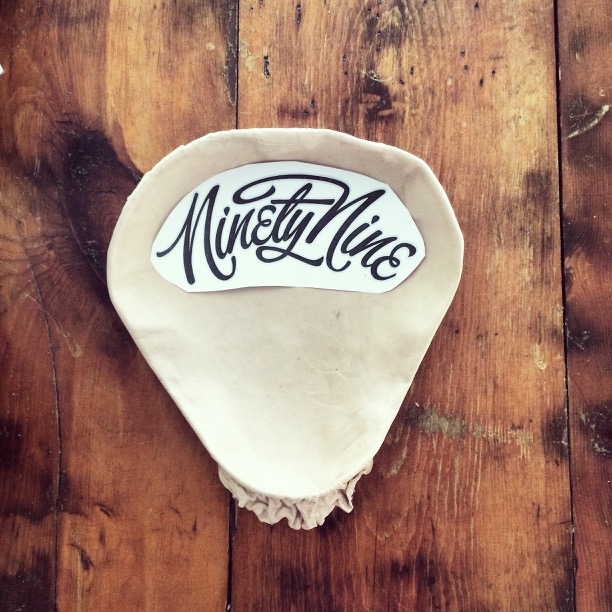 Hand tooling…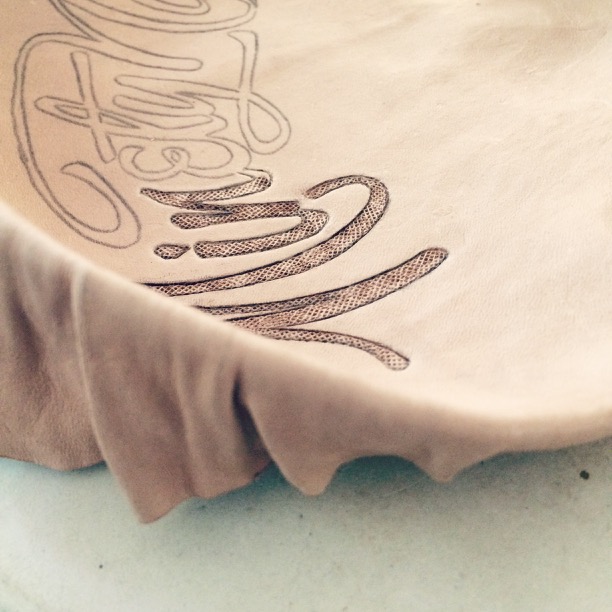 Tooling finished, ready for dying…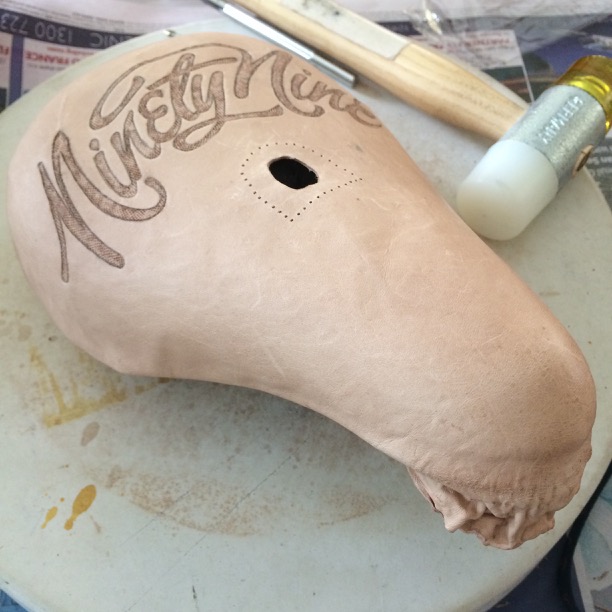 Stitching the cover for the pivotal bolt hole…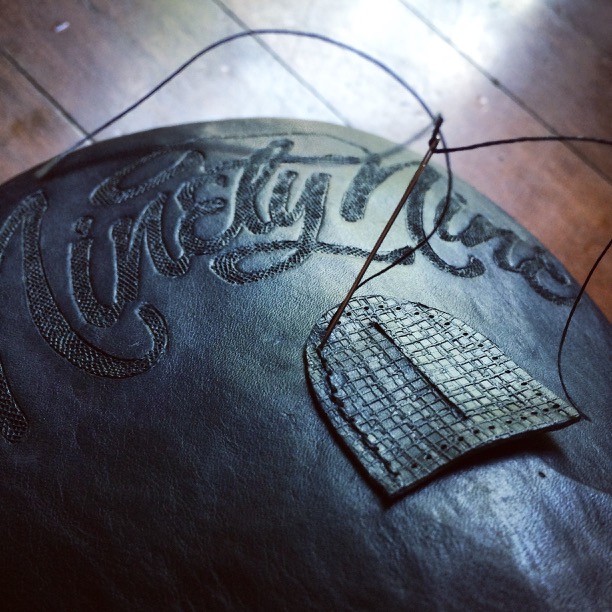 Finished seat details…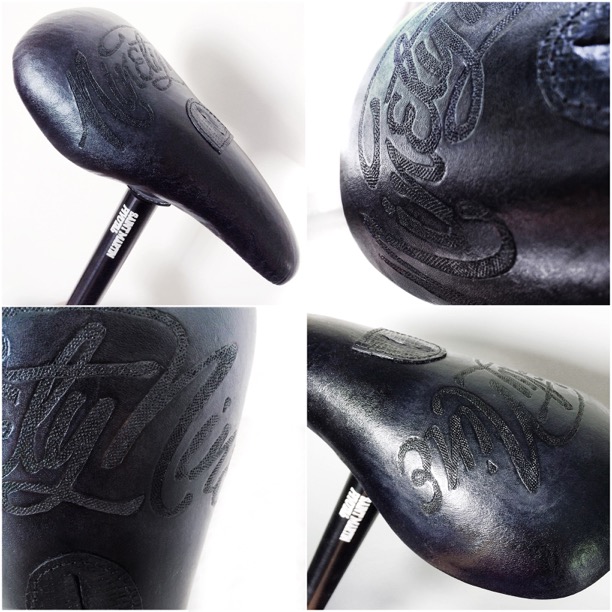 Coolest jigsaw puzzle I've ever seen…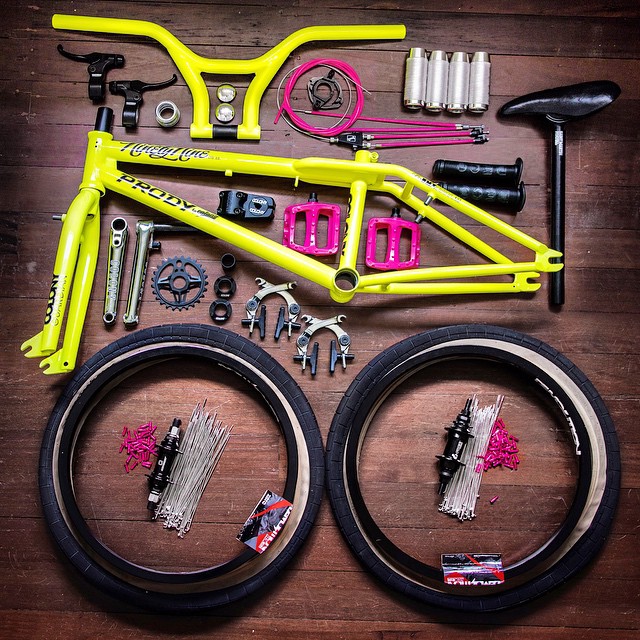 I explored far and wide to find the perfect 1 1/8″ stem with a 31.8mm bar clamp area that would suit the aesthetic and level of sensitivity I was after for my flatland build. My search landed me in Poland (by way of the interwebs) where I feel with shrieks of joy up boutique bike company Dartmoor's glorious, feather light and ridiculously handsome 'Funky' stem…
"Our hi-end and unique stem made of cold forged and CNC machined 6061 aluminium. One of the lightest gravity stems on the market. Custom body shape with 2-pcs front plate design. All bolts are M6 size. Available in the full range of anodized colors: black, turquoise, green, red, blue, violet, gold and graphite plus silver polished and white coated.
Bar bore: 31.8mm. Extension: 40mm (31.8mm). Angle: 0°. Weight: 170g "
Here's the handsome wee devil striking a pose in front of a 3.7kg jar of Polish sauerkraut that I also recently procured. Kocham Polskę!!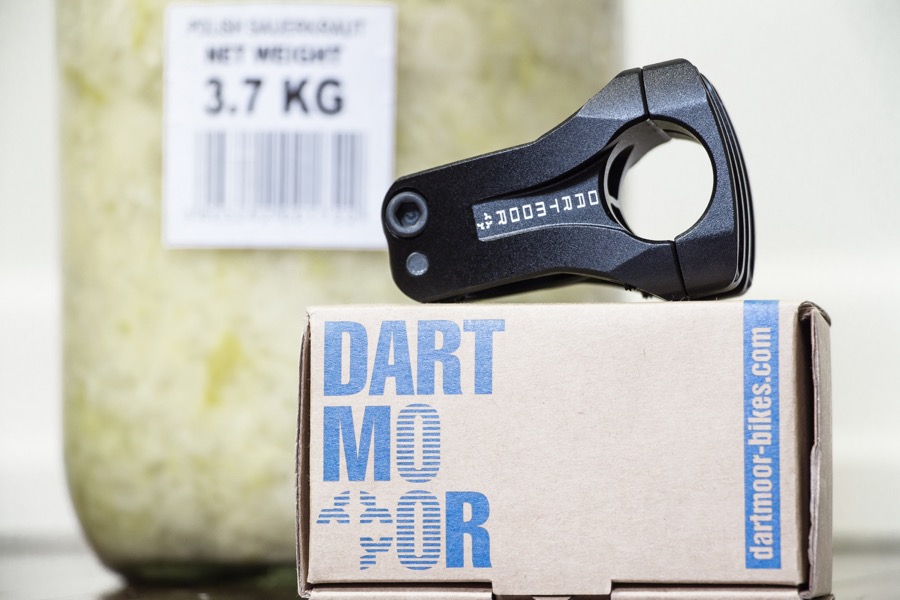 Such a thing of beauty I don't think I have ever beheld…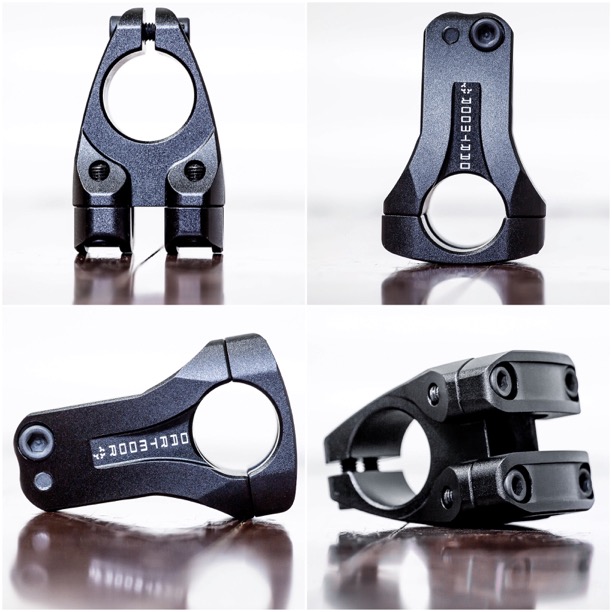 The hierarchy of spacers from my Odyssey Pro Integrated Headset (shhh, I think they're meditating)…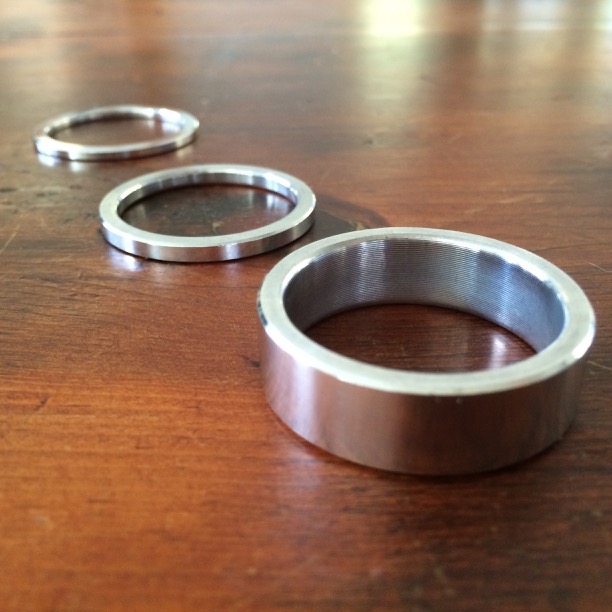 Headset, stem, gyro, brake levers, grips and brake cabling done. Custom badge sitting pretty…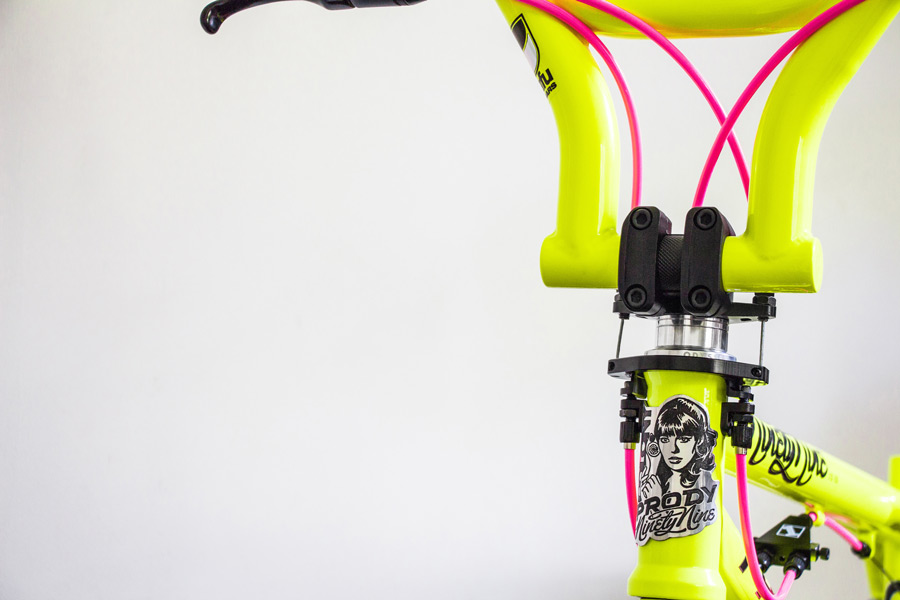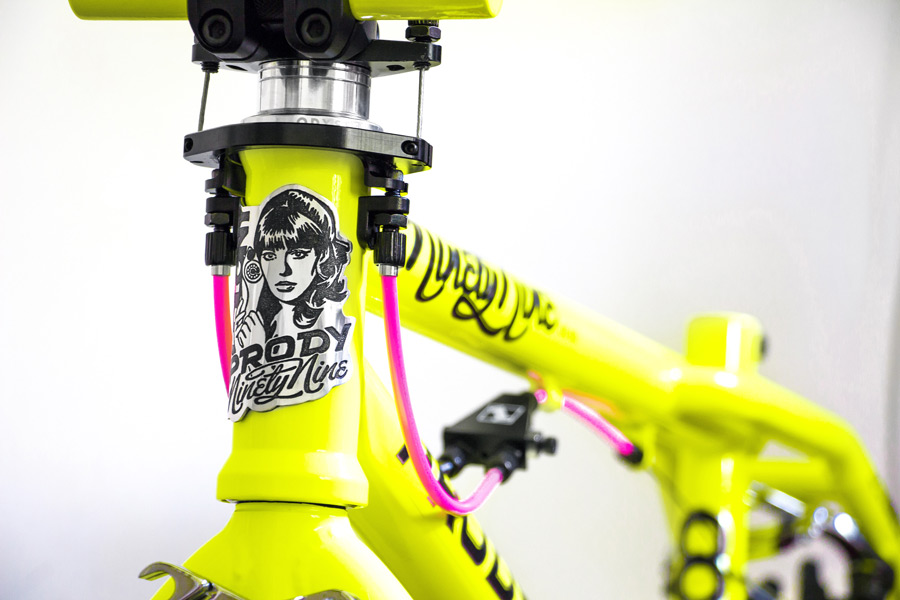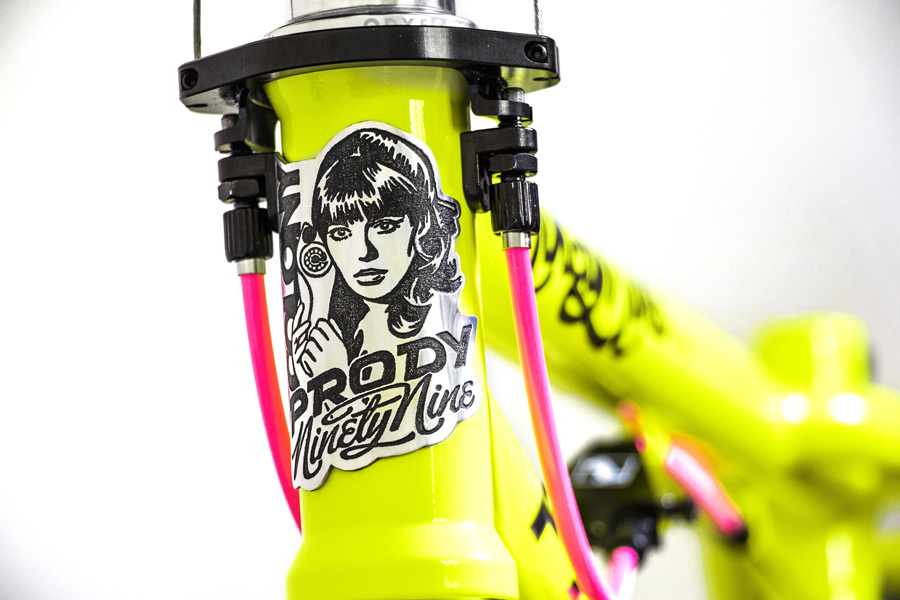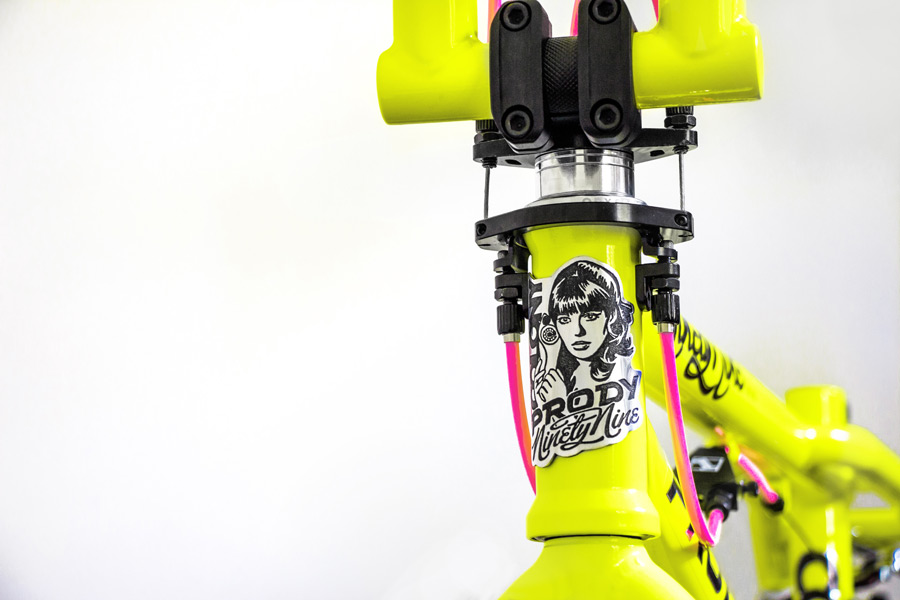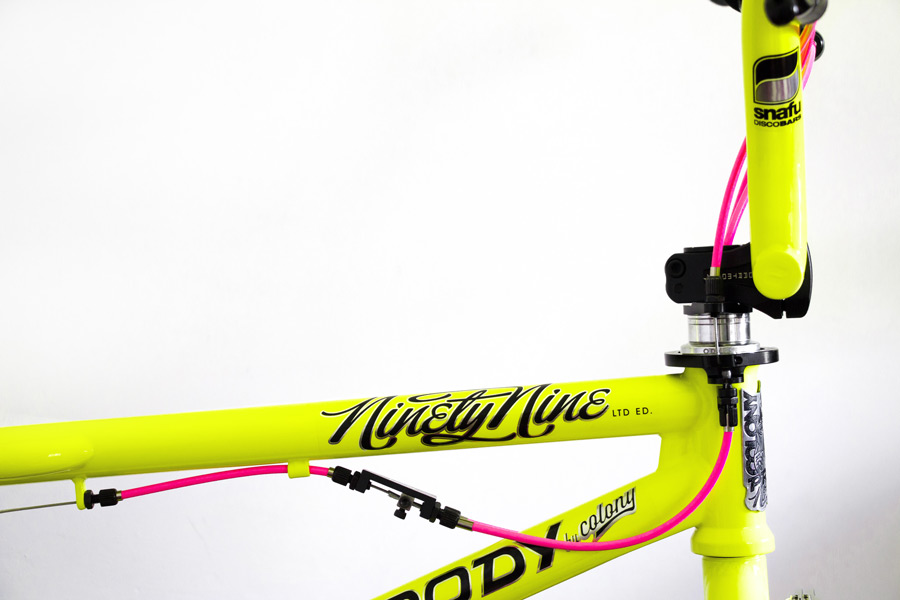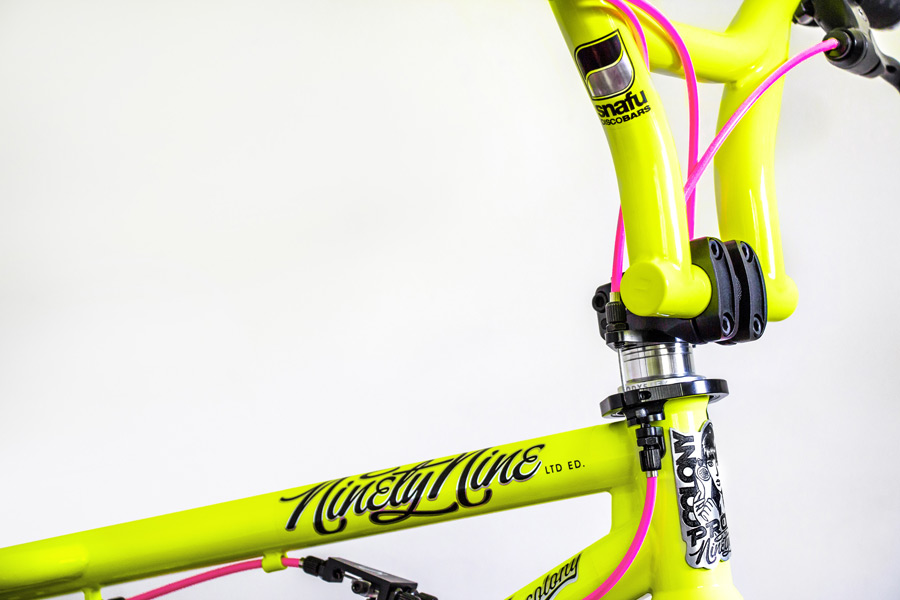 Odyssey Modulevers! So stoked to have a minty pair of these! Sadly Odyssey discontinued them a few years ago. They're chunky and feel great in the hand, they fit my fat-ass 1″ Snafu bars and provide an elegant solution for upper Gyro cabling.  Thanks HEAPS to James Moody from The Pedal Shoppe for digging this one pair out of box of old unused parts he had in his store room. THAR BE TREASURE!!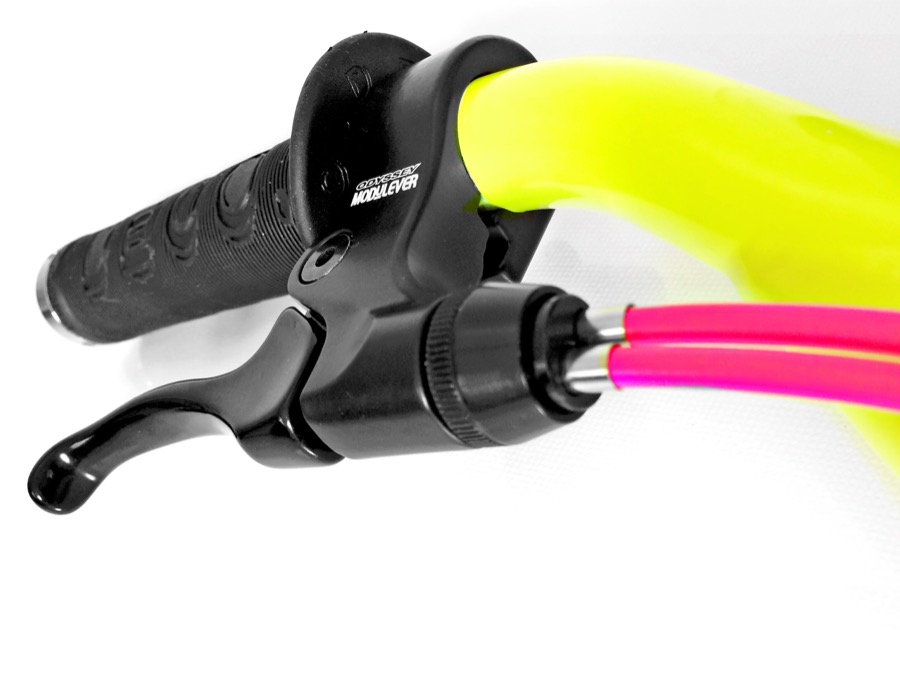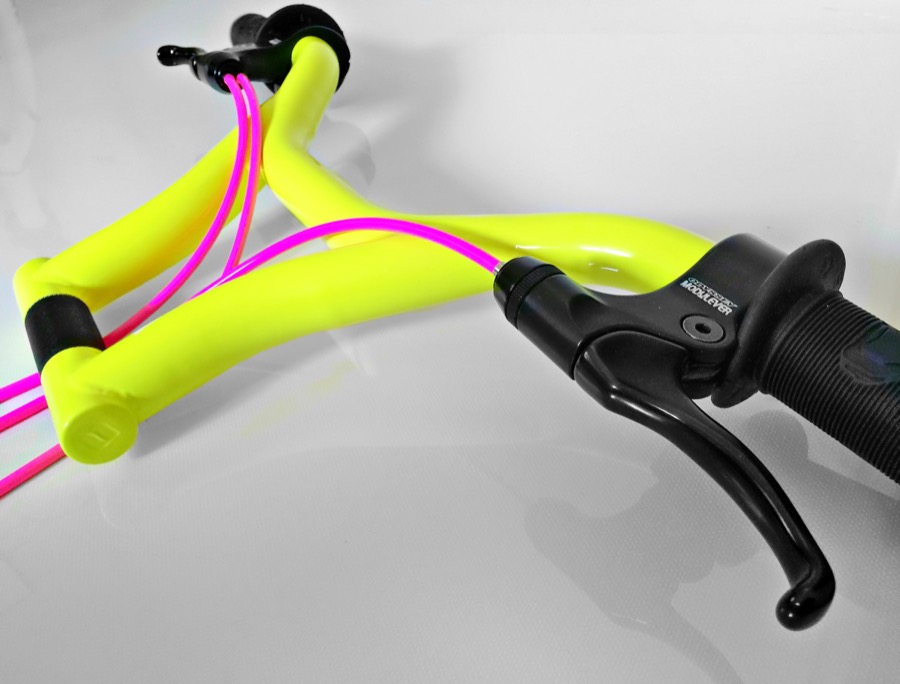 My contemporary BMX-centric parody of one of Georgia O'Keefe's famous skulls, haha…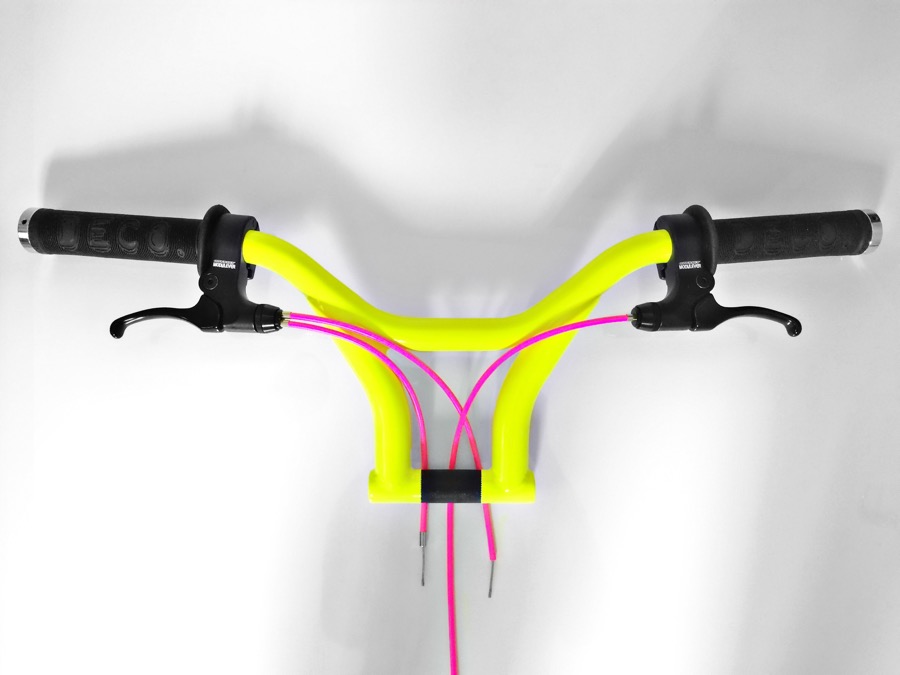 Tightening the clutch on the brand new Taska U-Free freecoaster, these things typically have a bit too much play straight out of the box…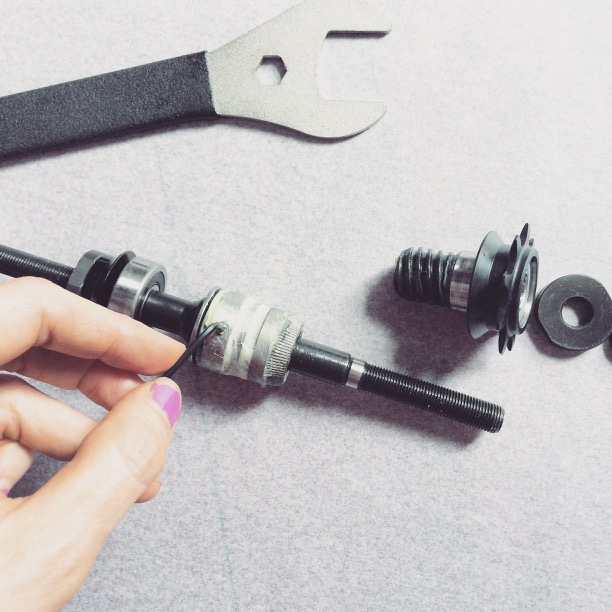 I <3 lacing. It stills the mind. So much more relaxing than knitting…
48h 4-cross pattern interlaced under the third…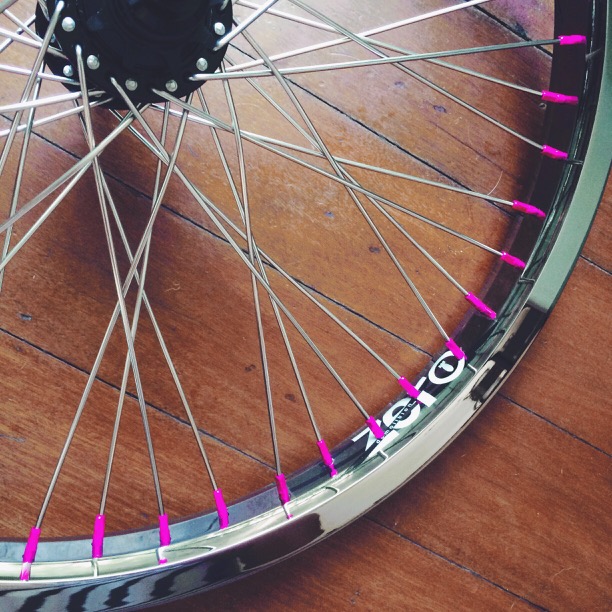 Final truing…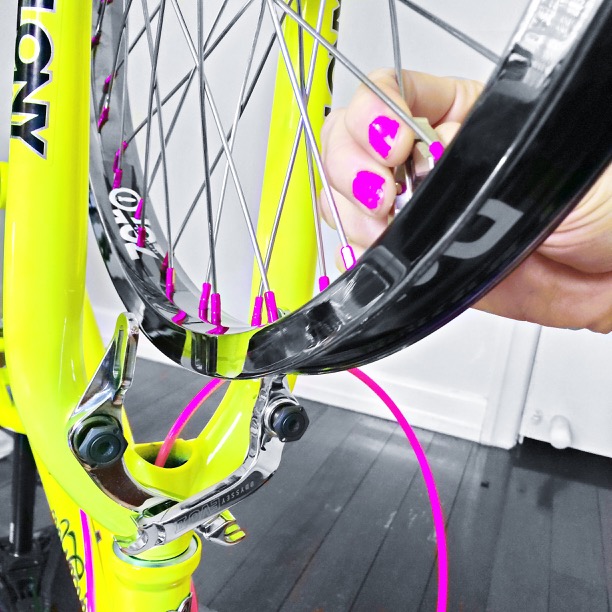 FINISHED BUILD PHOTOS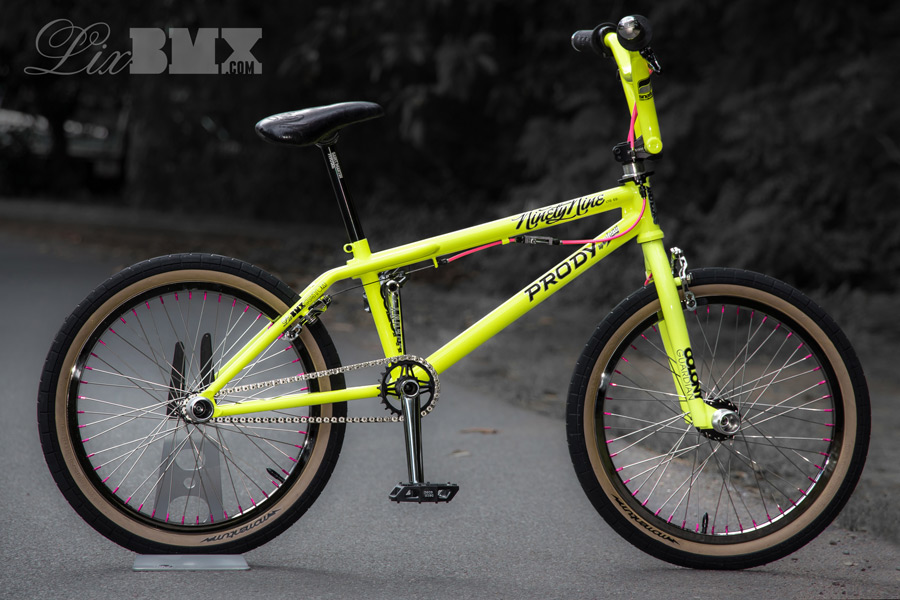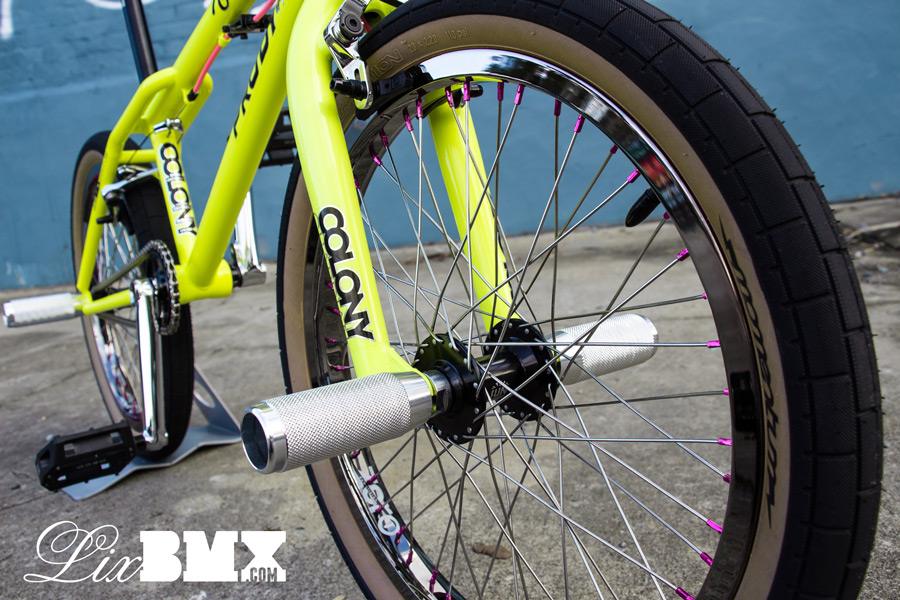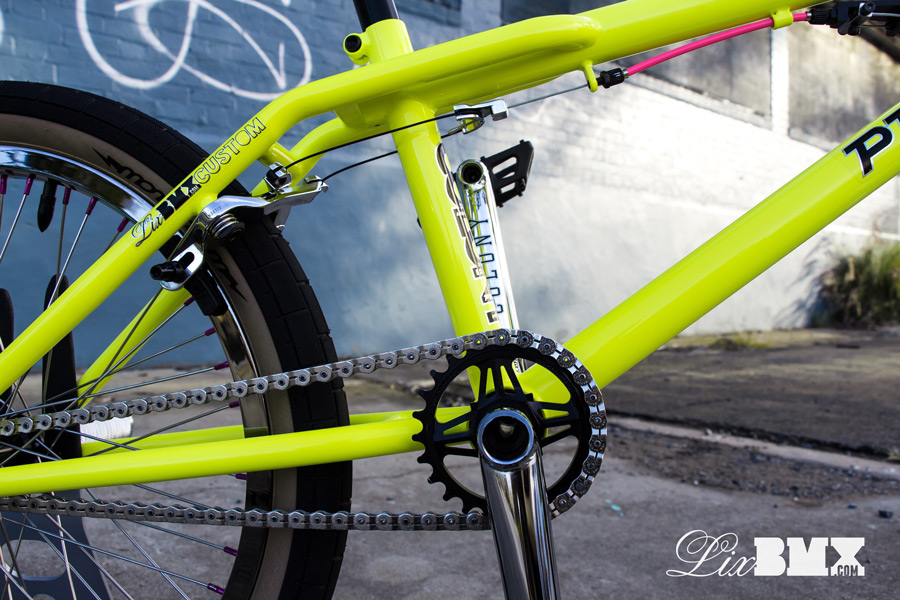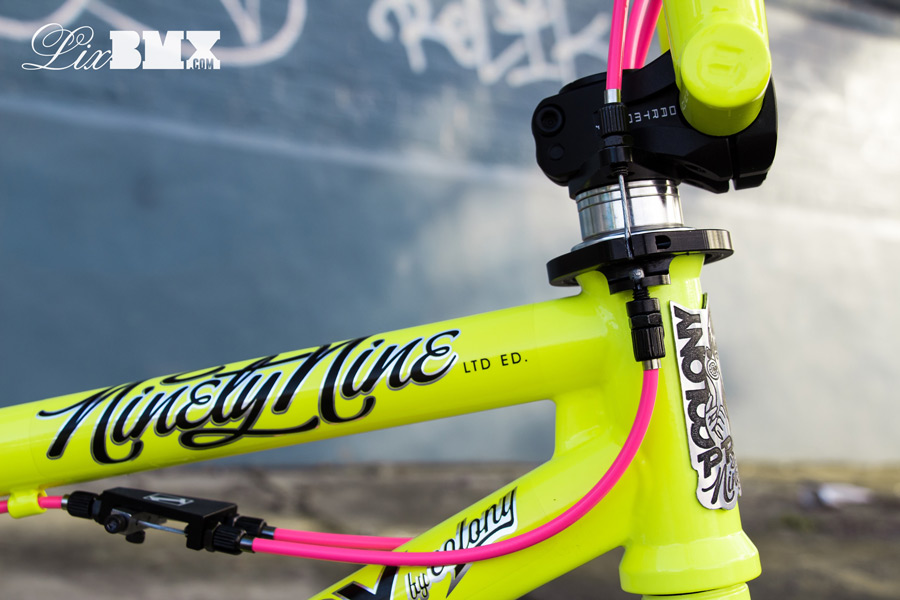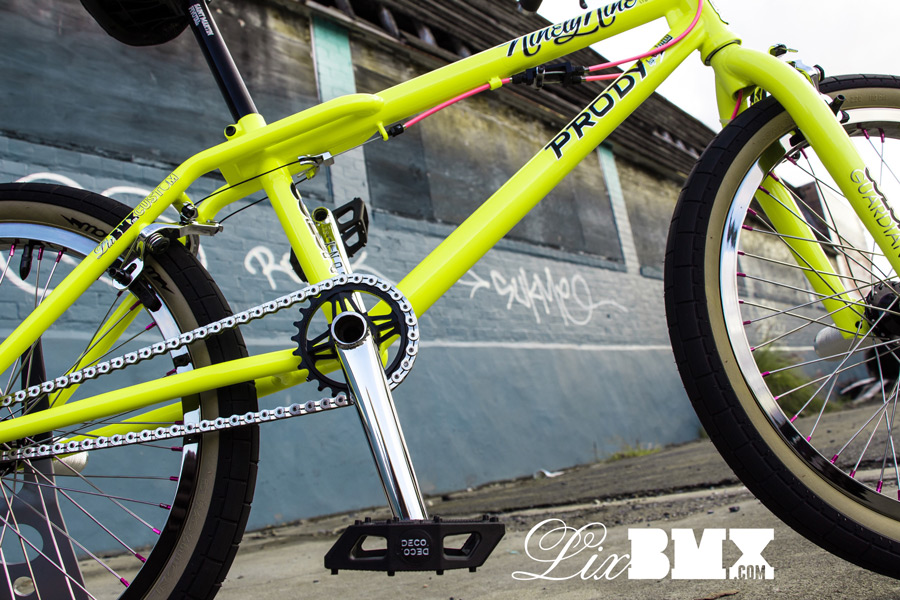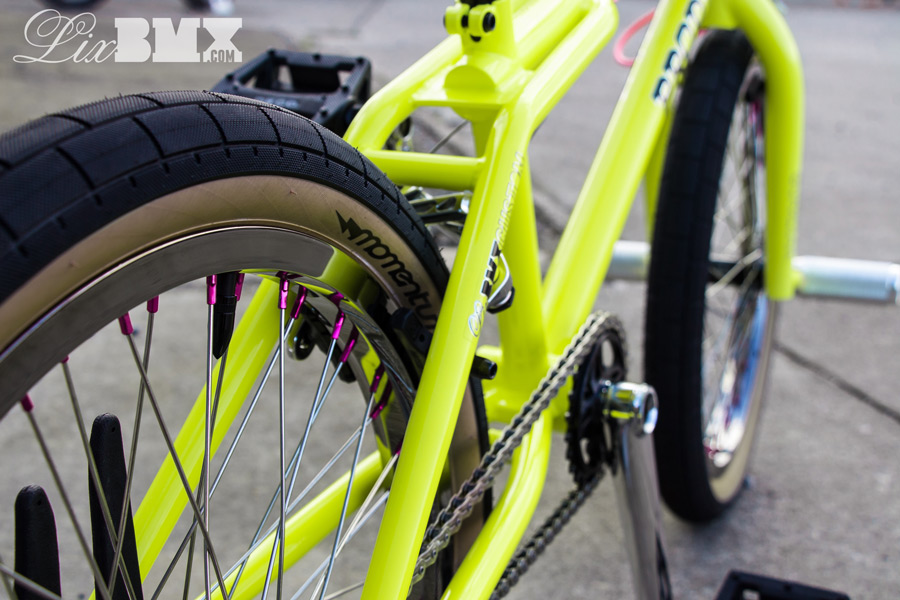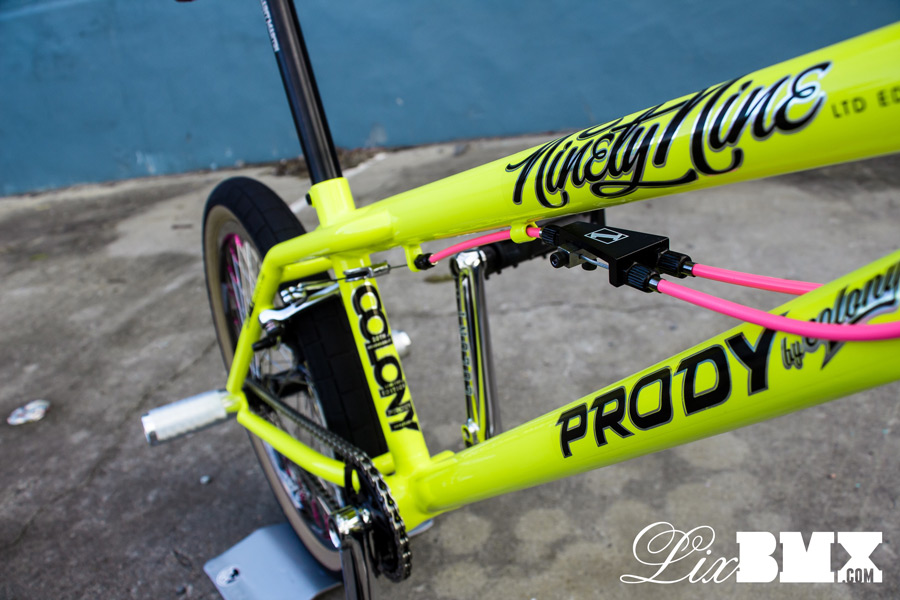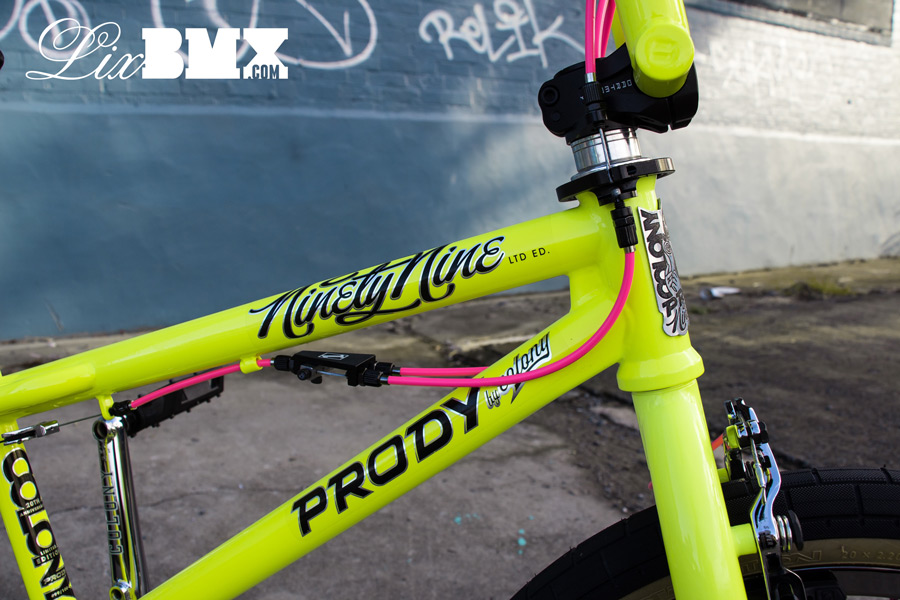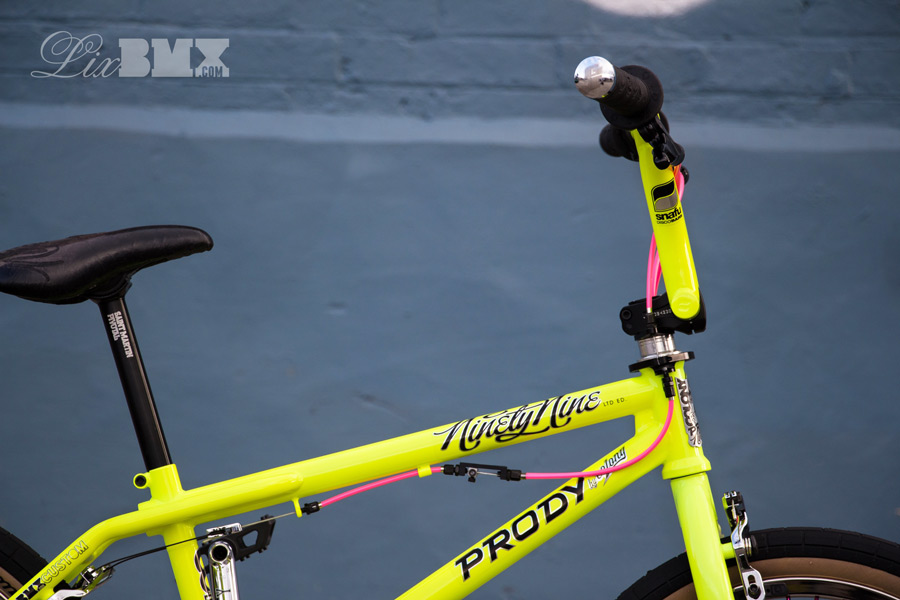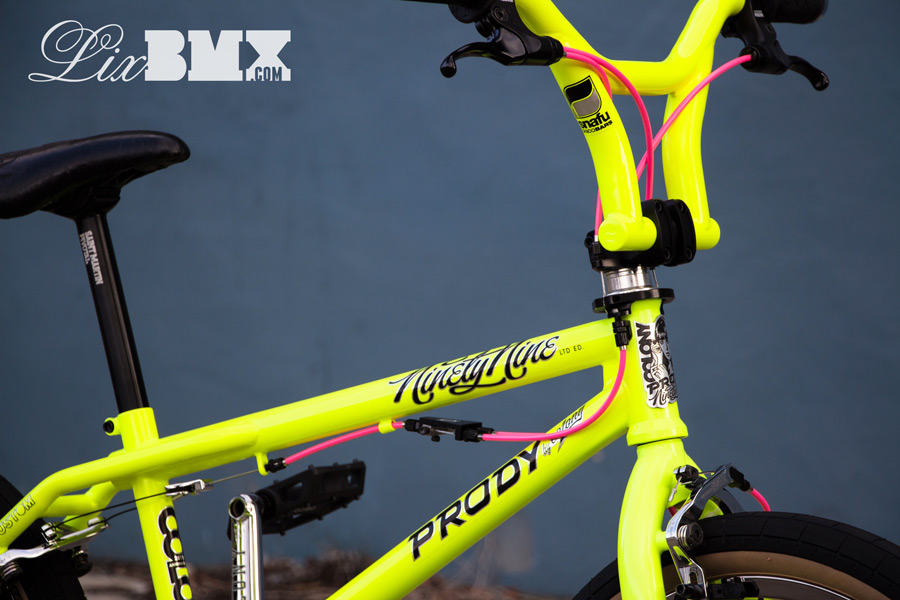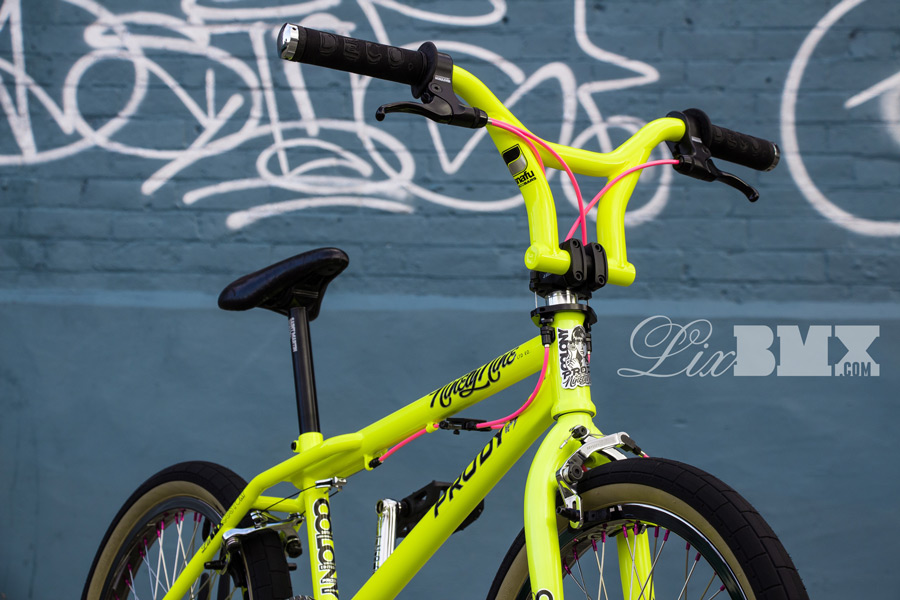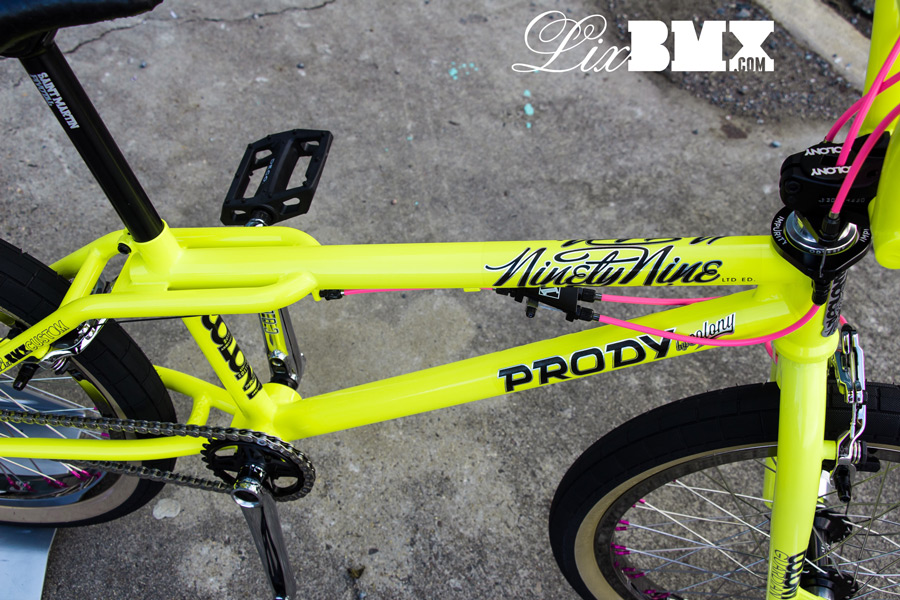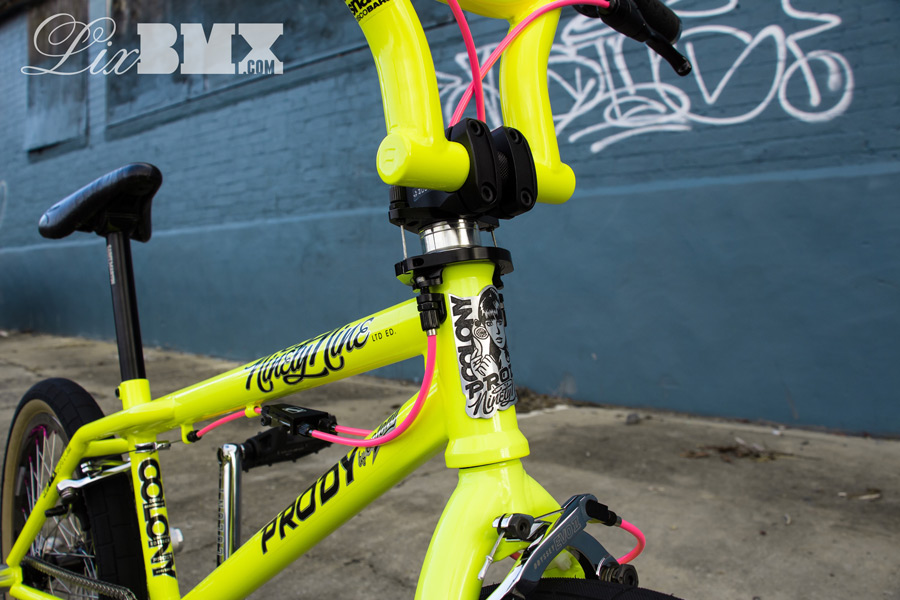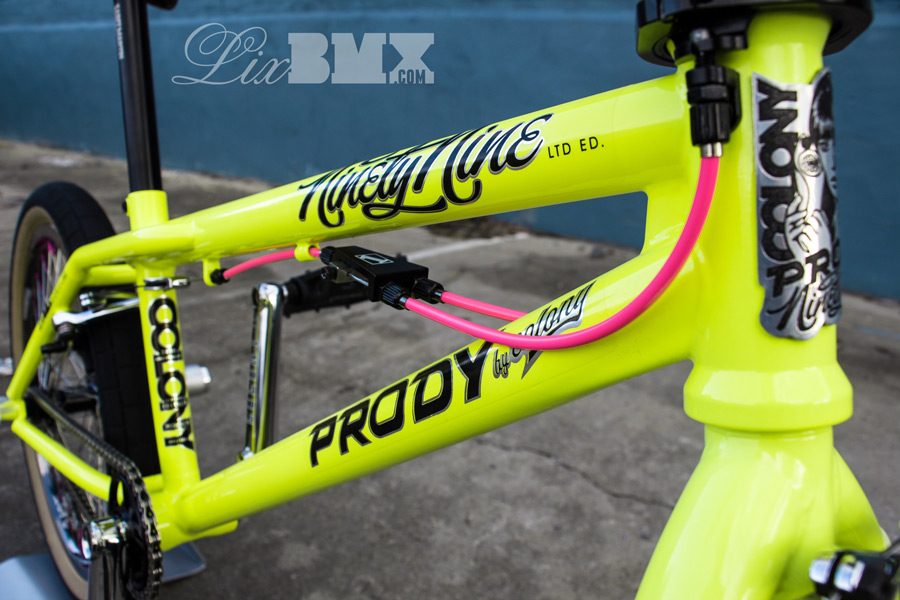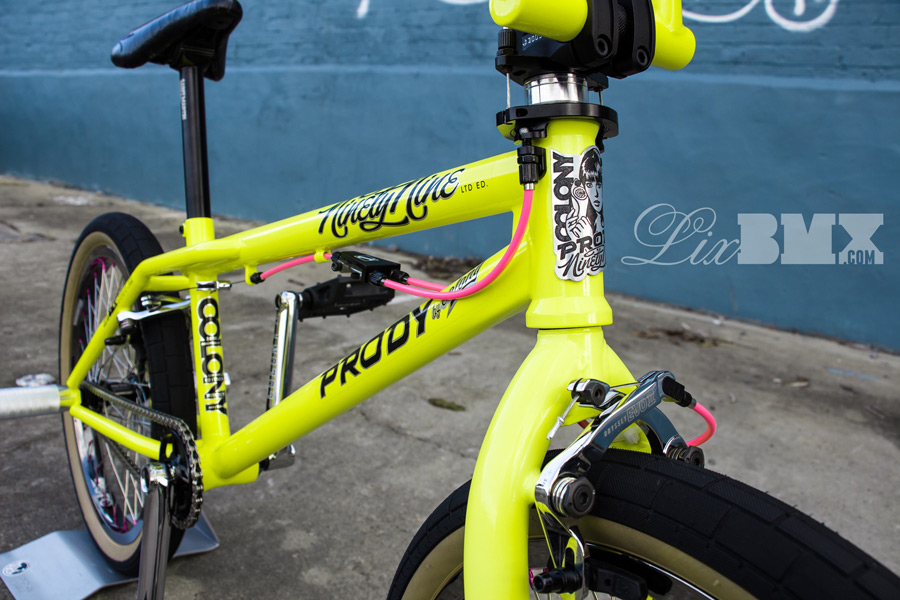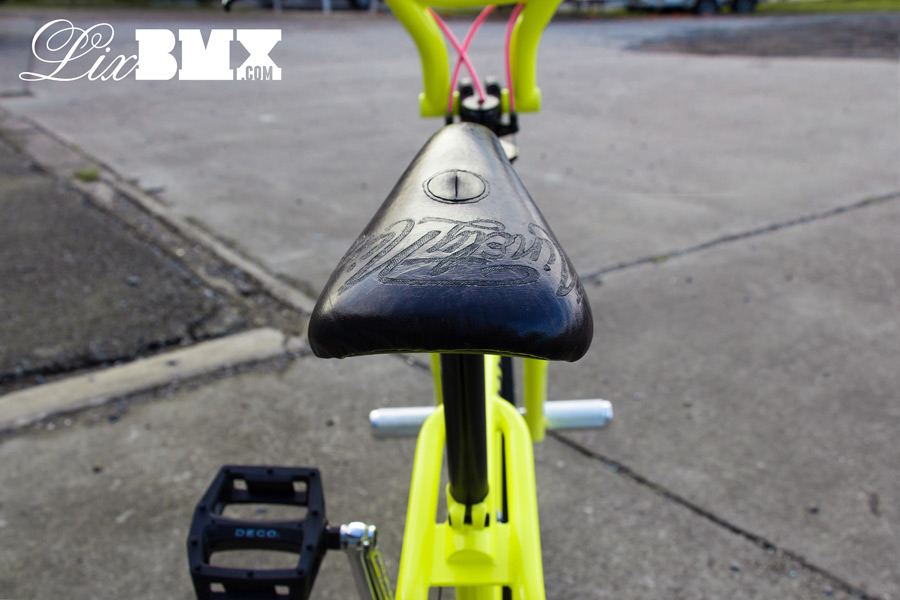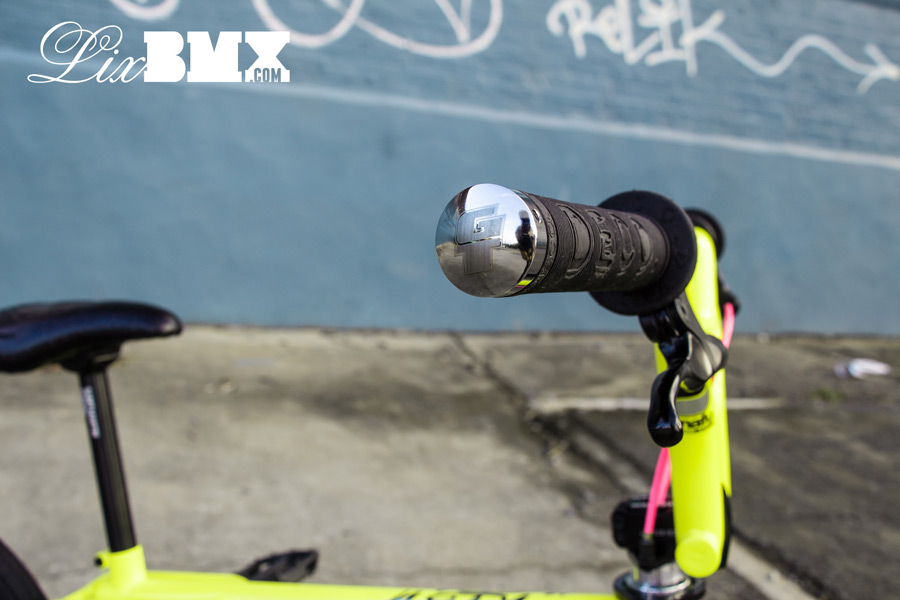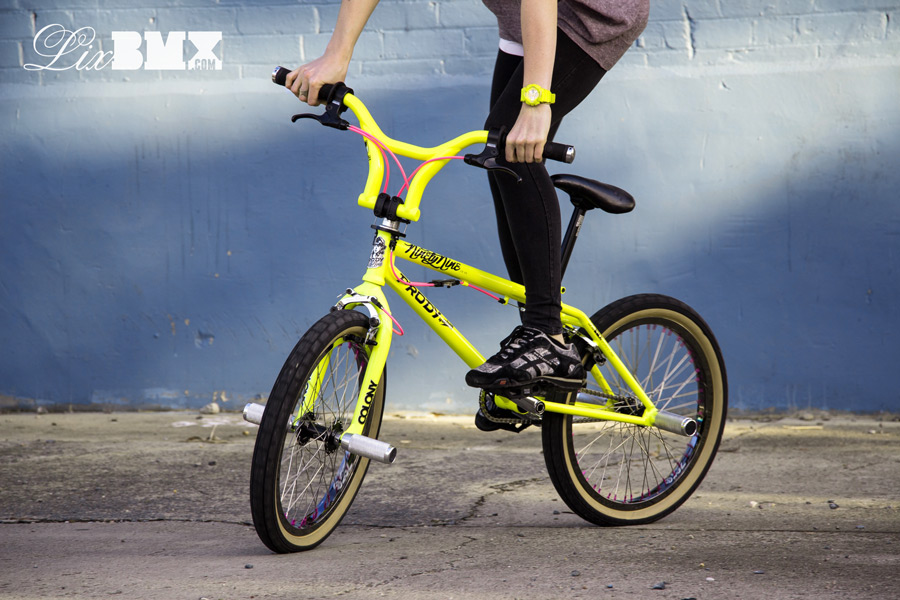 Shout-outs:
An EPIC thank you to Clint Millar for entrusting me with Prody 99/100. I'm forever grateful for the opportunity to build, own and ride this outstanding frame so steeped in local freestyle history.
To Ross Lavender, my brother-from-another-mother, without whom I would likely never have met Clint or have had the opportunity to build this incredible bike. Your unrelenting fervour for the Unscene History of Brisbane's freestyle movement has inspired in me a whole new way of seeing BMX. Thanks for the words of wisdom, horrendous jokes and unfailing generosity of spirit, dude-brainz!
James Moody from The Pedal Shoppe who went absolutely above and beyond to help me source much of the ridiculously specific and ambitious parts list I had for this build! I might have dreamt it, but without you Charlie Abbott it wouldn't have become reality.
To Roberto for never failing to blow my mind with his mad powder coating skills. A multi-layer day-glo powder coat finish is no walk in the park, and this is beast is flawless.
To Brett Tyack of Nineties BMX for sacrificing the Primo Pervert he scored at last year's Pushies swappy for the Prody #99 cause! Legend, bro.
To Simon O'Halloran for that one pair of ridiculously shiny genuine 1990s 1″ GT Bar Tabs still in their original packaging. OH MY GOD.
And always to James for his unwavering support and concurrent murmurings in the face of my excitable spiels about parts and ideas. And for letting me borrow his Leatherman multi-tool and wire-cutters, despite the fact that I hardly ever put them back where I found them.