1979 MADISON TAIPAN (KOIZUMI)
(aka the Aussie Diamondback Large Pro)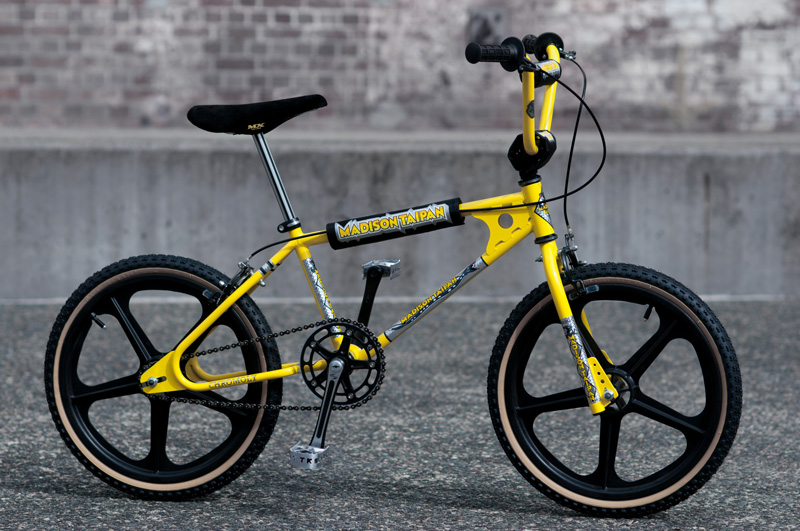 This build was recently featured on CycleEXIF, read the article HERE. The finished build can be seen on BMXMuseum.com HERE: http://bmxmuseum.com/bikes/madison/62359.
The rare '79 looptail Madison Taipan, off the same Koizumi factory line as the identical (in every way, bar the gusset hole) Diamondback Large Pro frame of the same year but even harder to find. One of those needle-in-a-haystack right-place-right-time scores that makes you squeak with joy when you take it out of the box and see that little Koizumi baseball symbol!
Light and beautifully made, as one would expect from Koizumi, I know of less than 10 of these Koizumi Taipan frames that I know exist. Like the 'Scorpion branded' release of the same frame, a documented history of the early Taipan frames is limited, but both the 1979 'VM' serial Taipans (mooted to have come out of the Kuwahara factory, using Tange tubing, as with the early 'VM' DB Large Pro) and the succeeding 1979 'baseball' Koizumi Taipans (noticeably better welds + a few other minor differences), appear to have been commissioned as simply a gusset variant to the Diamondback Pro on the same production lines. The history and development of these looptail, Japanese manufactured, Madison Taipan (and Scorpion) frames appear inextricably linked to that of the early DB Pros.
So, with my intrigue-o-meter hitting maximum after all this research, I'm inspired to make this a mean custom build worthy of a blue blooded frame. With the frame, along with my chosen forks and bars, heading for Super ('Fiola') Yellow gloss powder coat, and with black and silver parts in the works, I've nicknamed the build Bumble-Bee as a tribute to the world-famous-in-New-Zealand yellow and black HMX-500 BMXs of the same era. I mean, when you find a Japanese built, American designed, Aussie frame… why not name it after a slice of Kiwi history? 😉
PARTS LIST
Frame: 1979 Koizumi Madison Taipan, 4130 Chromoly, baseball serial
Forks: Akisu, stamped 1980
Wheels: Skyway Tuff II, sealed bearing, black with Dicta 16T freewheel
Cranks: Takagi Tourney 170, black/silver
Chain ring: Takagi 130BCD 44T, black
Seat clamp: Suntour, black/silver
Stem: Sugino DB, black/silver
Decals: Custom Madison Taipan Pro Decals, inspired by the DB Large Pro set of the era
Pads: Custom Madison Taipan Pro pads, inspired by the DB Large Pro pads of the era
Seat: Kashimax, black suede with gold decals
Brakes: Dia Compe 890, black, stamped Feb 1982 (+ Skyway Tuff Pads)
Brake Levers: Dia Compe MX124, black, stamped July 1985
Brake Cables: Hi-Tech, black
Headset: Neco, aluminium, sealed bearing, black
Bars: Race Inc, aluminium
Grips: Oury Waffle, black
Tires: Kenda Comp III
Chain: Izumi Black/Nickel
Chainring bolts: Chromoly, brushed chrome finish
Seat Post: Fluted aluminium, black/silver
Pedals: Cycle Pro TTK (early 80s) polished aluminium
BB: YST sealed square taper
FRAME SPECS
Material: 4130 Chromoly
Head Tube angle: 75°
Seat Tube angle: 68°
Top Tube length (from point A-B): approx 480mm (18 7/8″)
Frame weight: 2.295kg (5lb 1oz)
Rear dropout: 3mm (1/8″)
Wheelbase: 930mm (36 5/8″)
Bottom bracket height: 290mm (11 7/16″)
Chainstay length: 375mm (14 3/4″)
Serial #: 9J6934⚾ (inside left rear dropout).
AS THEY WERE…
The original 1979 Koizumi made Diamondback Large Pro frame, from whence (with a minor gusset mod) came the Aussie Madison Taipan and Scorpion releases below.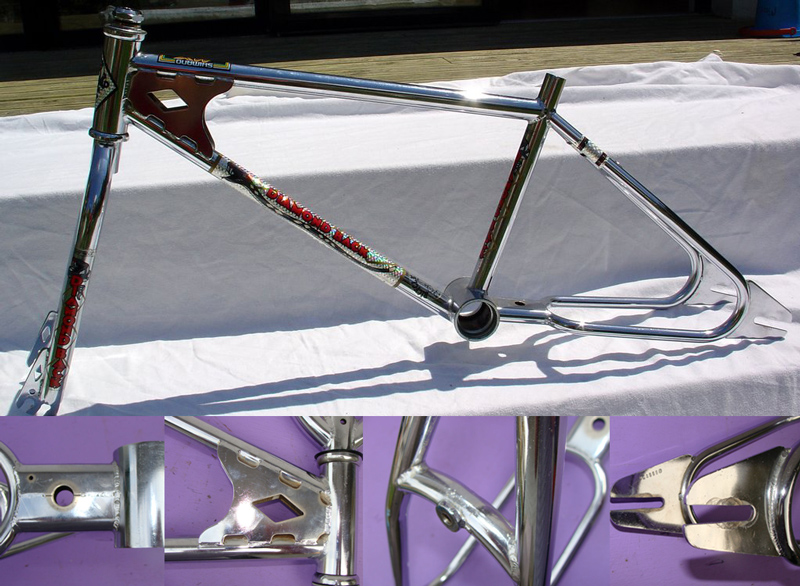 The same 1979 Koizumi frame as a Madison Taipan, with the more traditional Taipan decalset (my custom set is modelled after the DB Large Pro set).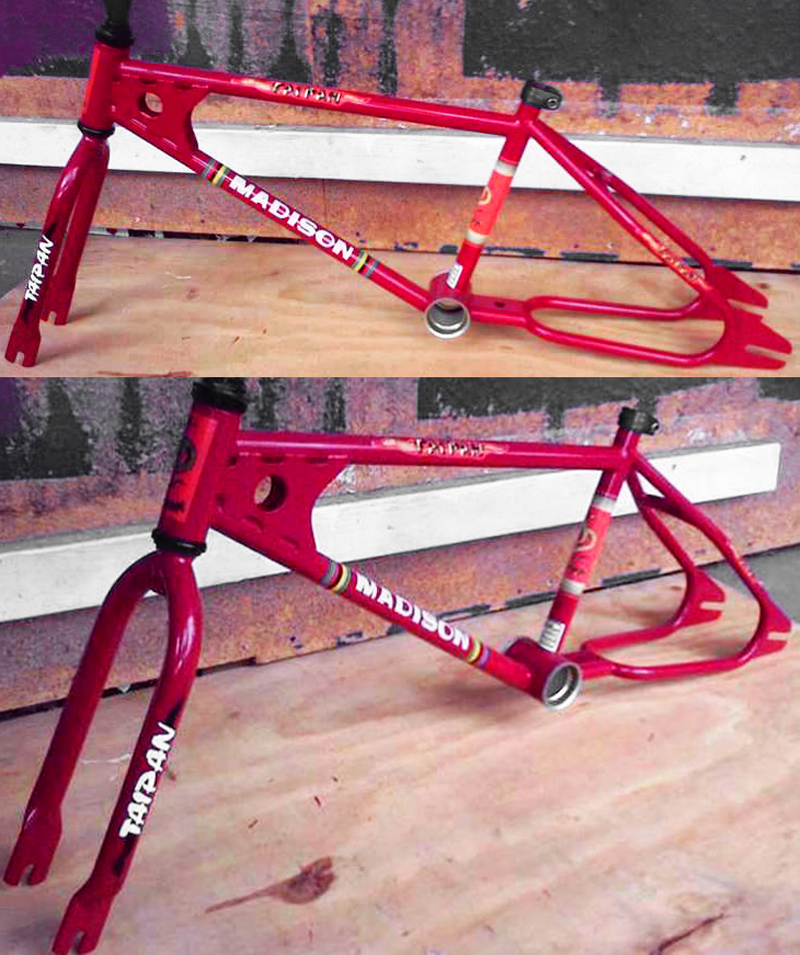 The same 1979 Koizumi frame as a Scorpion (another Aussie release), with OG Mongoose-esque decalset.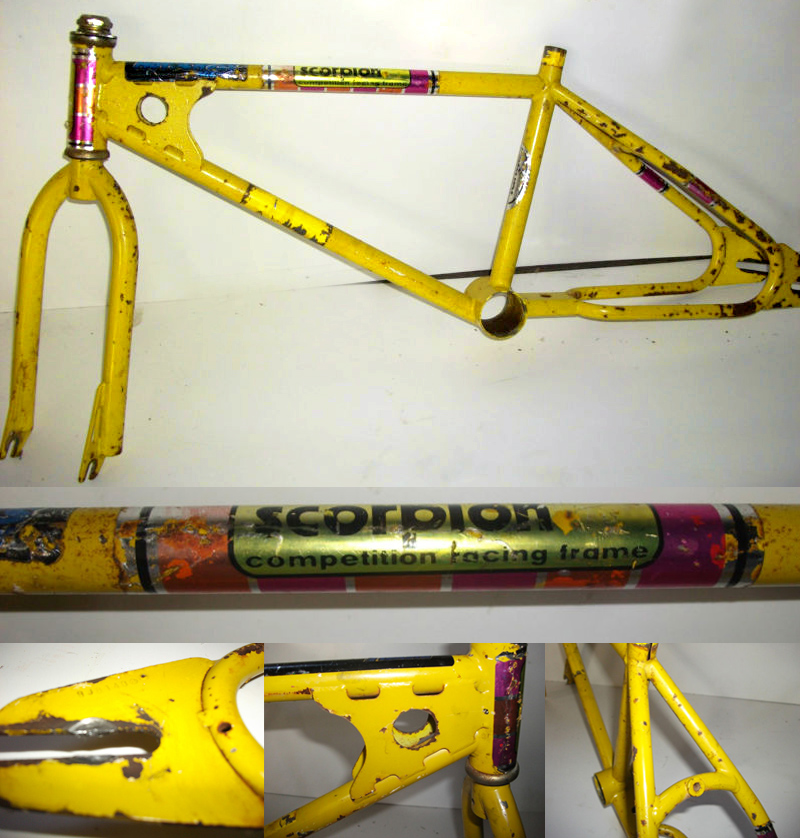 BUILD DIARY…
(Lots more pics and details of the finished build at the bottom of the page!)
Sketching up the build design to spec with my ideal parts list is where it all begins…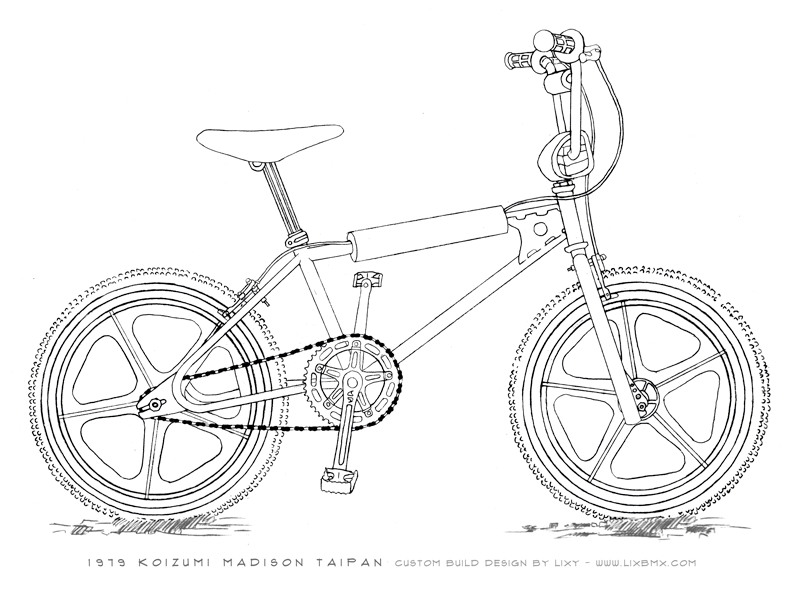 My frame, still in its original wrapping…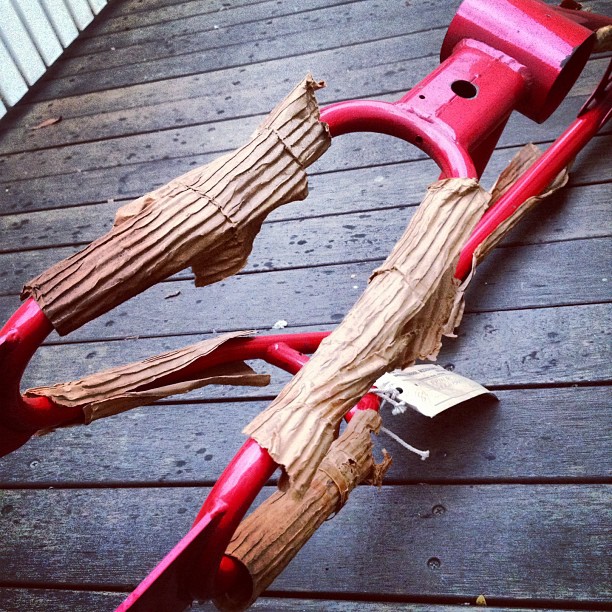 Thin OG paint flaking off like pastry after 33 years in storage. Definitely time for refinishing…
(Anyone else with a looptail Taipan frame who'd like to refinish in the OG red, Roberto took a sample of the OG paint from my frame for his records before powdering it. He's the guy to send your frame to if you want a near-perfect match!)
♥ Koizumi! That one true 'baseball'…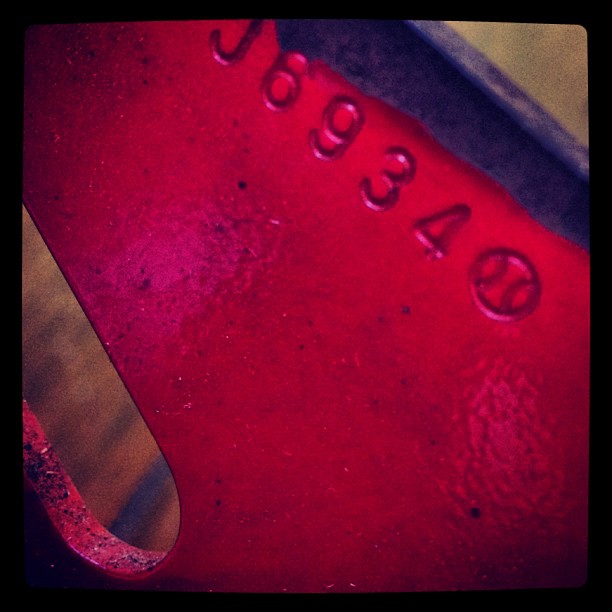 Race Inc bars and Takagi chainring BMX parts before de-anodising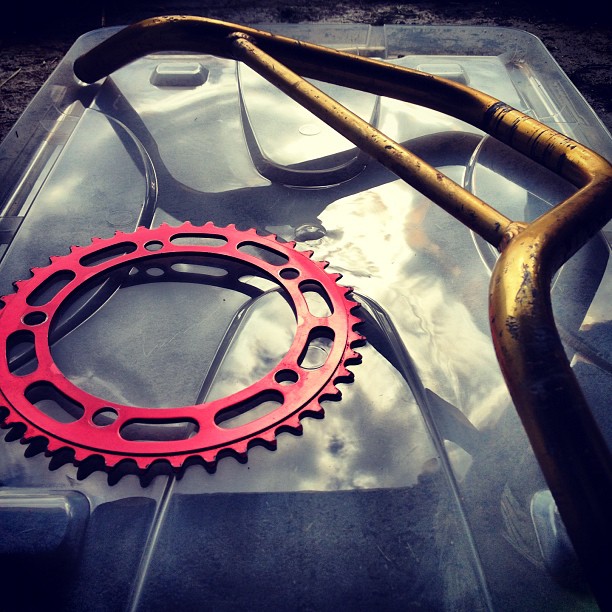 De-anodising aluminium Race Inc bars and Takagi chainring in a bath of caustic soda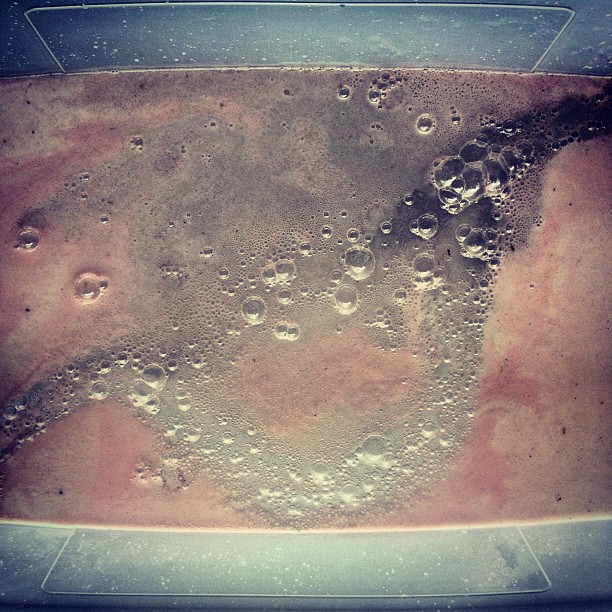 Aluminium Race Inc bars and Takagi chainring BMX parts after de-anodising, ready for polishing/refinishing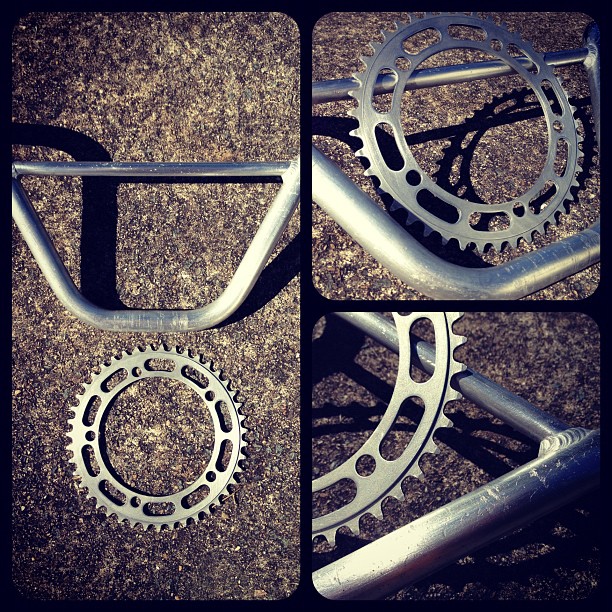 Used the Dremel to create some basic knurling on the Race Inc bars before powder coating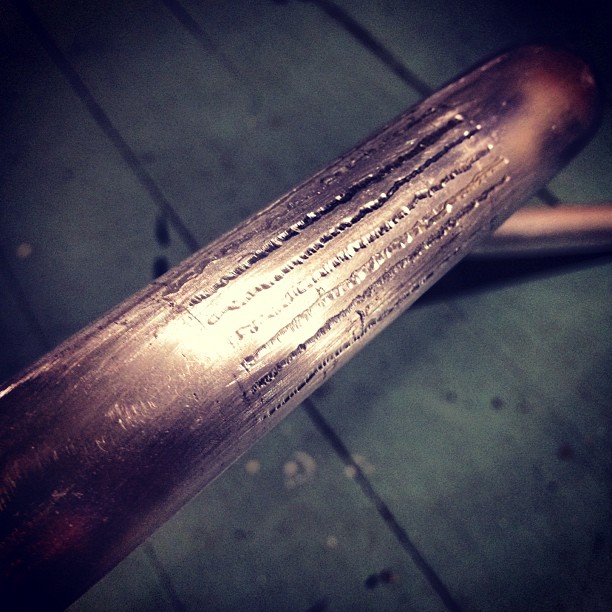 The custom '79 Koizumi Madison Taipan decal set that I designed based on the set from the identical Koizumi DB Large Pro frame of the era.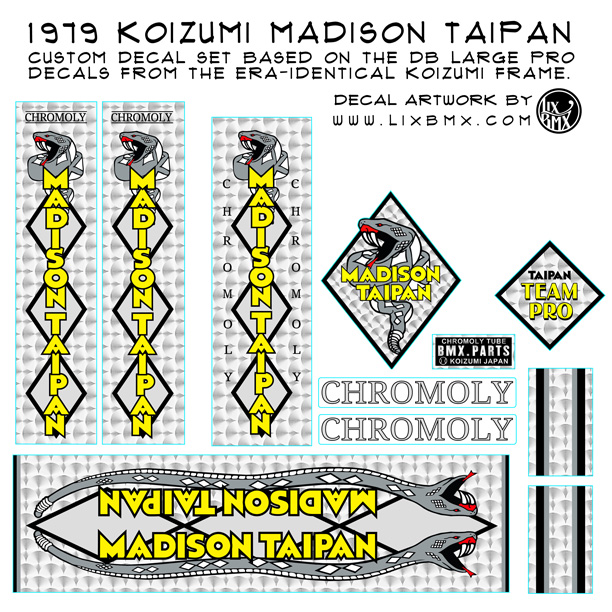 1979 Koizumi Madison Taipan 'custom pro' pad set based on the DB pad designs from the Koizumi Diamondbacks of the early 80s.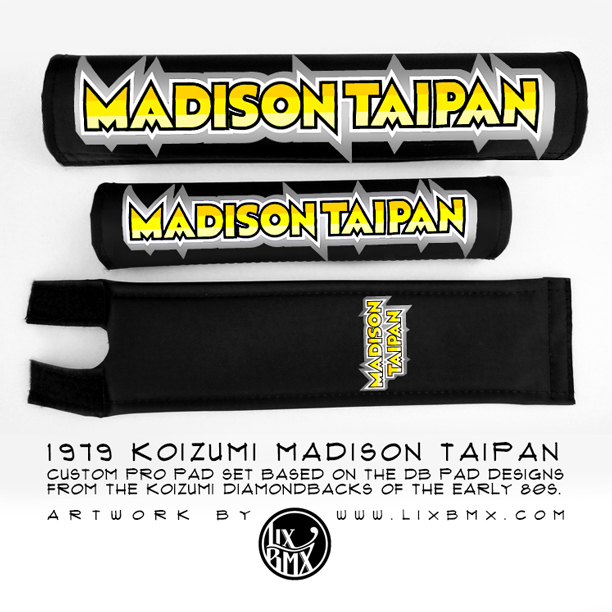 Stripping the old candy coat of the 1980 stamped Akisu forks.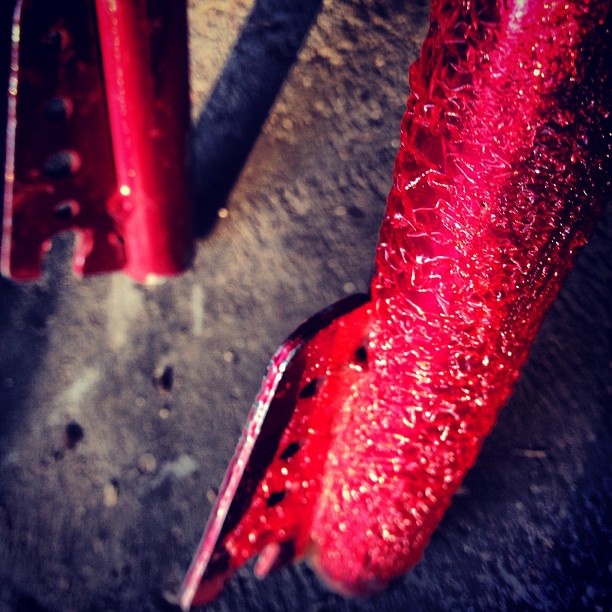 Forks – before and after stripping the old candy coat off the chrome.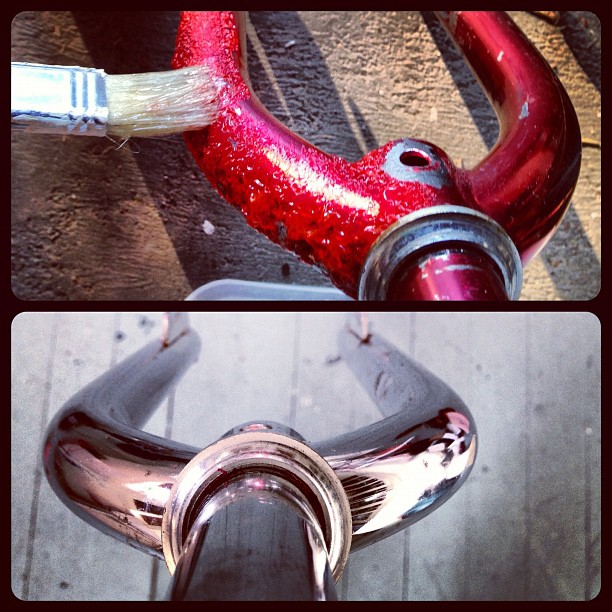 30 year old NOS Dia Compe 890 caliper bolts ready to be simmered in vinegar to remove surface oxidisation.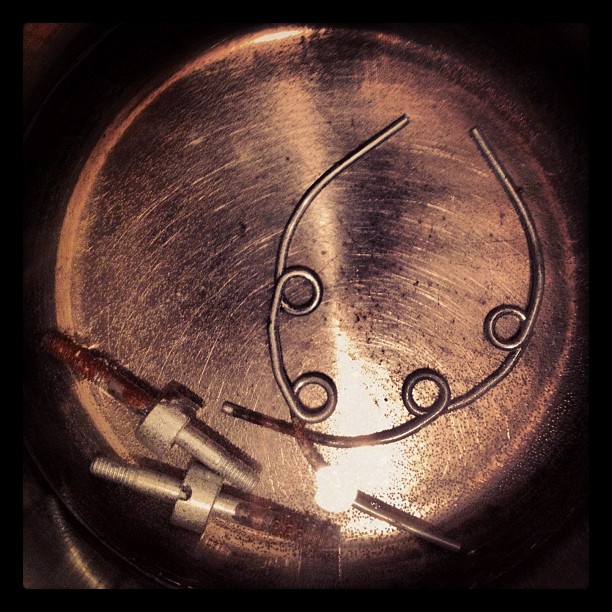 NOS 1982 Dia Compe 890 caliper bolts lookin' super shiny after their vinegar bath to remove some surface oxidisation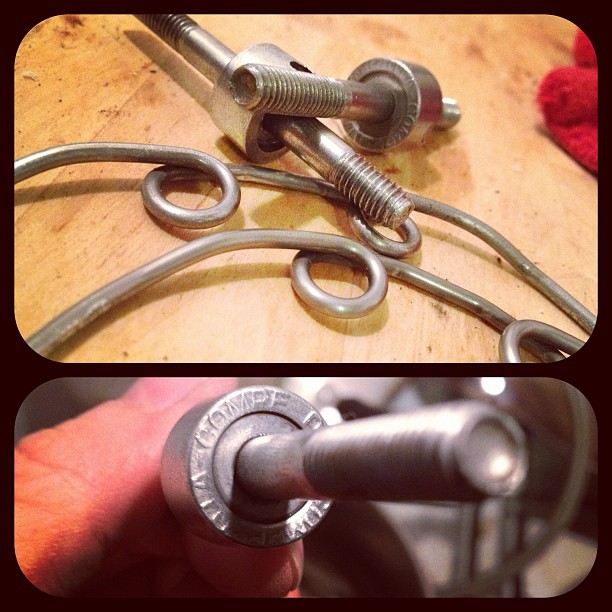 Genuine vintage DC, a pair of each. 890s stamped Feb '82, MX124s stamped July '85…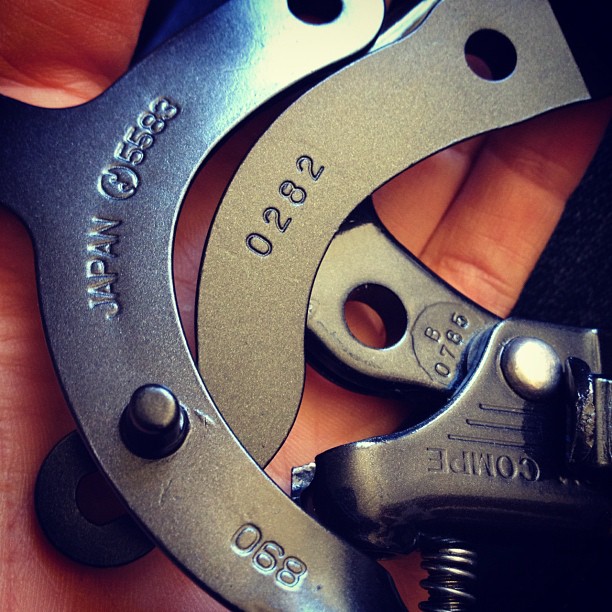 Detail – Sugino DB stem top plate mid-restoration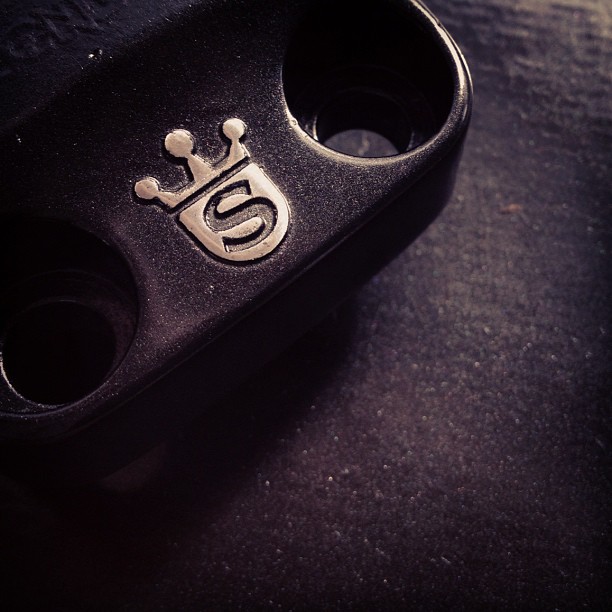 Sugino DB stem top plate after polishing and refinishing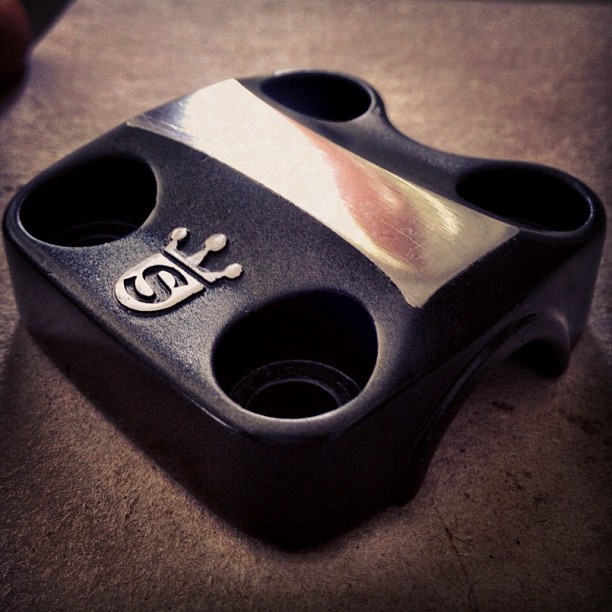 Sugino DB stem before and after restoration with new artwork for the Taipan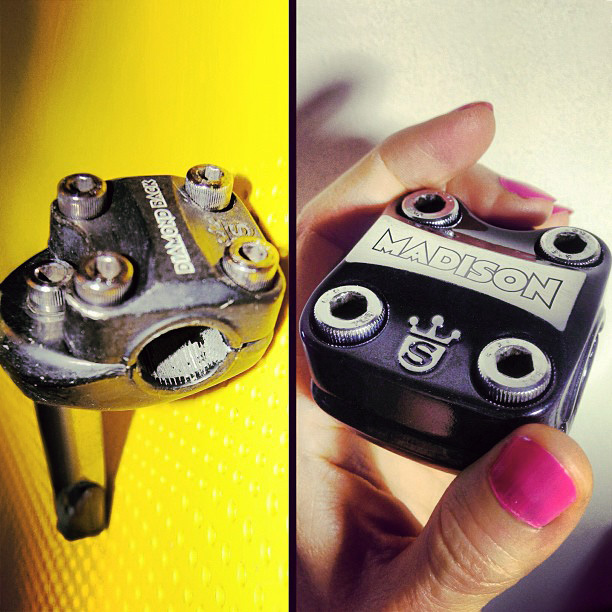 Cyclepro TTK 80s pedal cages and fluted aluminium seat post before de-anodising.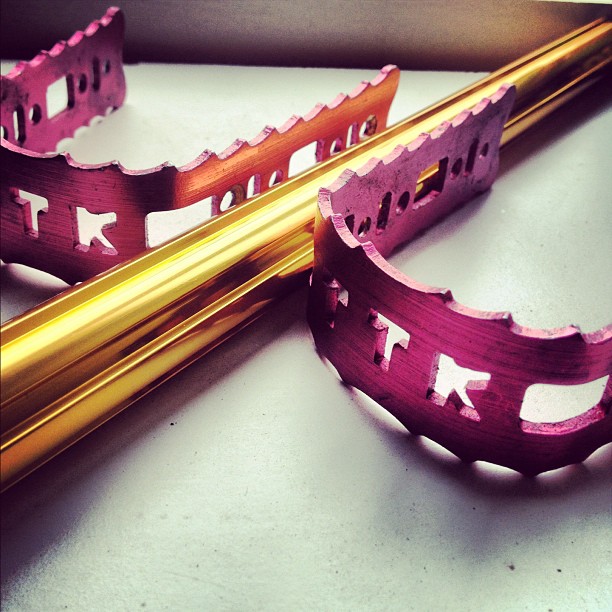 Cycle Pro TTK early 80s pedals and fluted aluminium seat post after de-anodising and refinishing/polishing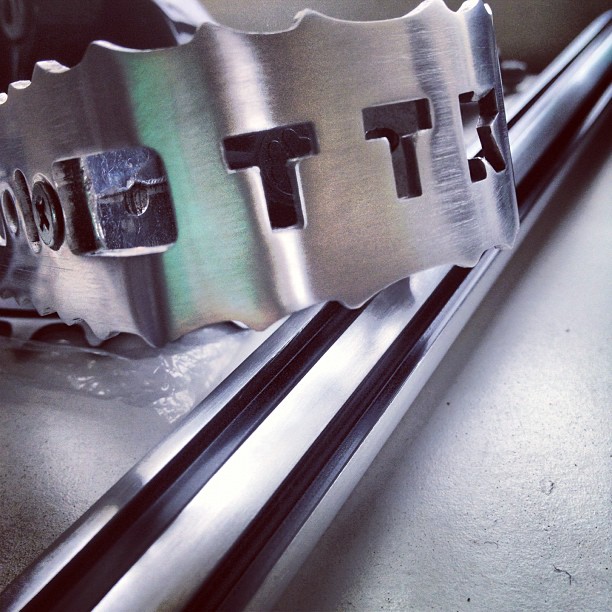 Takagi Tourney (170) cranks before stripping, polishing and refinishing.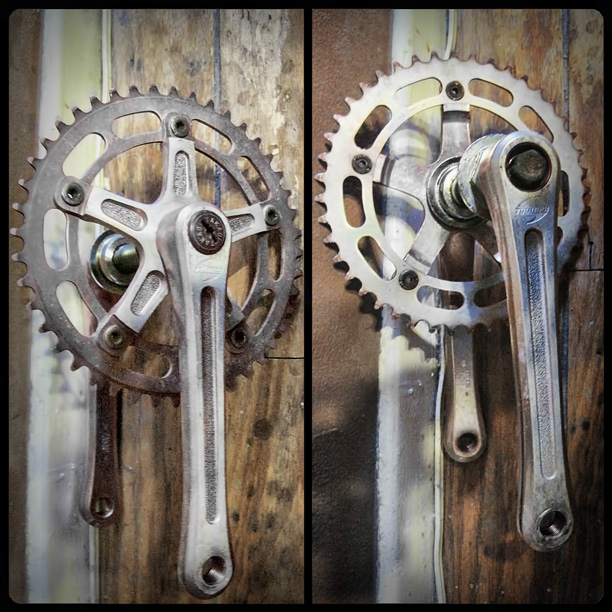 Couldn't be happier with my finished restoration of the Tourneys and TTKs!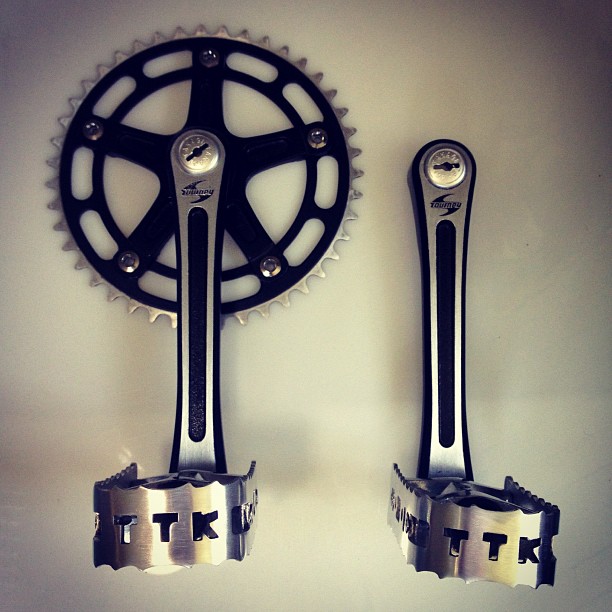 Kashimax MX, stripped and cleaned before re-covering with black suede…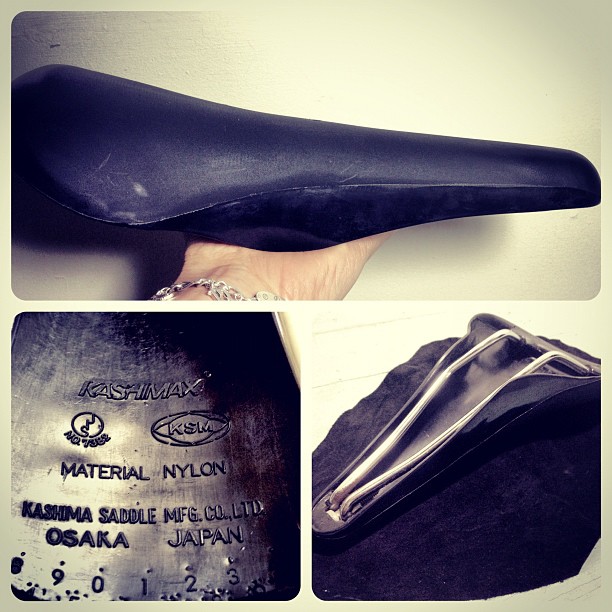 Kashimax MX after re-covering with black suede…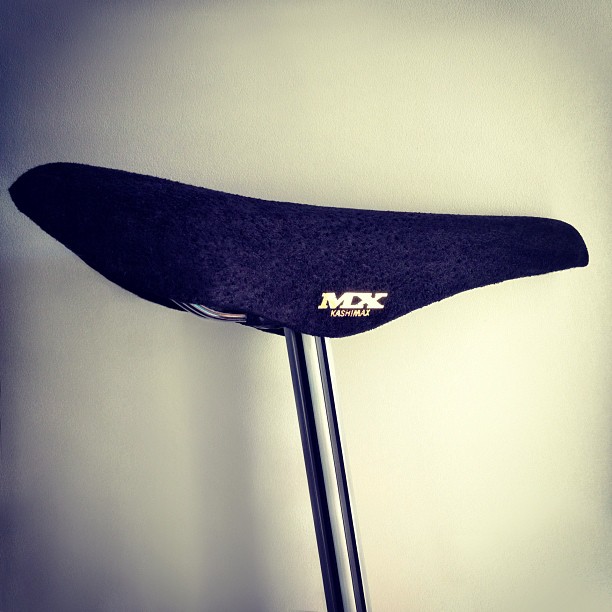 The grail of chains straight from Japan – Izumi black and nickel 1/8″…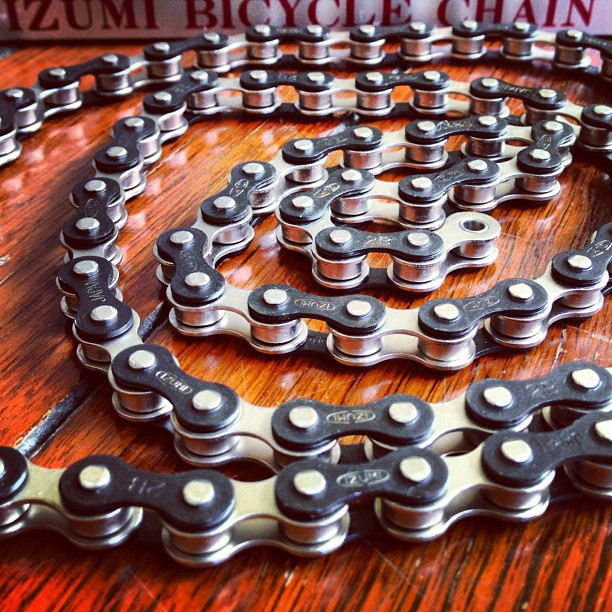 The frame, forks and bars back from Roberto's Custom Powder in fresh Super Yellow gloss…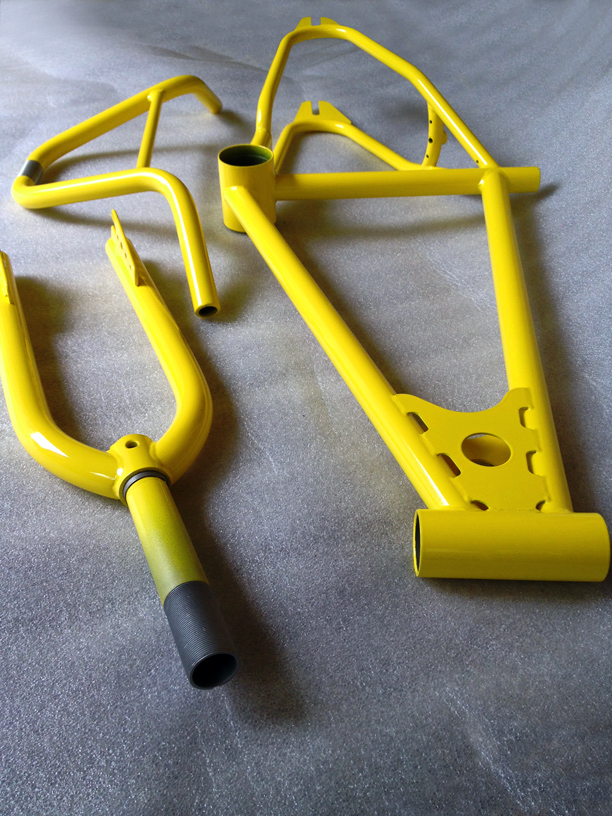 Super Yellow gloss powder coat, detail of the bottom bracket/matchbox area…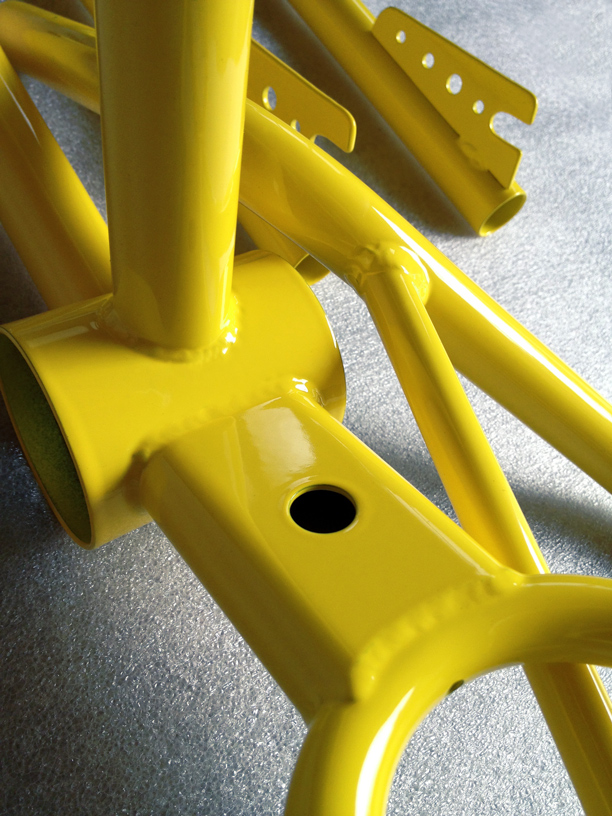 Roberto did a beautiful job retaining weld definition through the powder…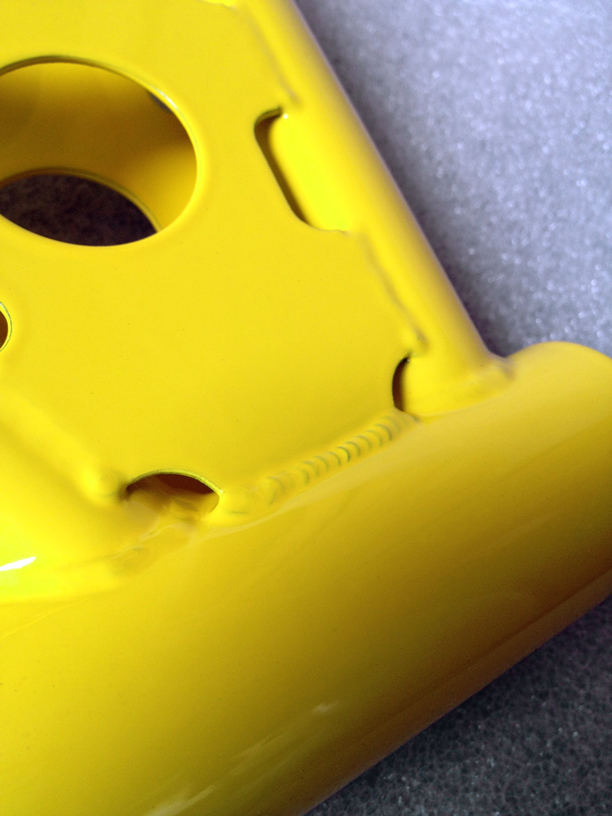 Diamond vs Circle. The famous Diamond Back Large Pro gusset with the Madison Taipan point of difference…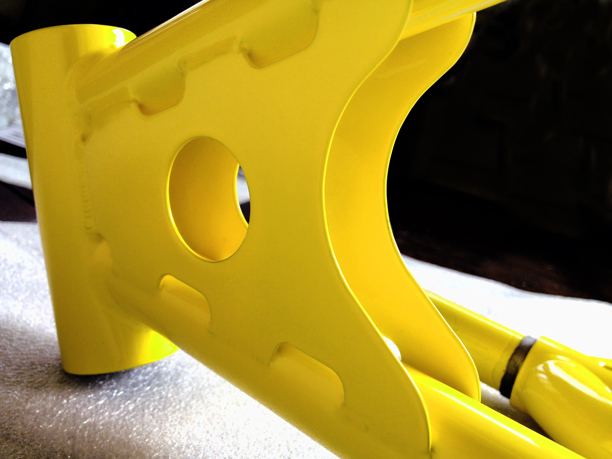 '79 Koizumi baseball serial# shining through the new powder…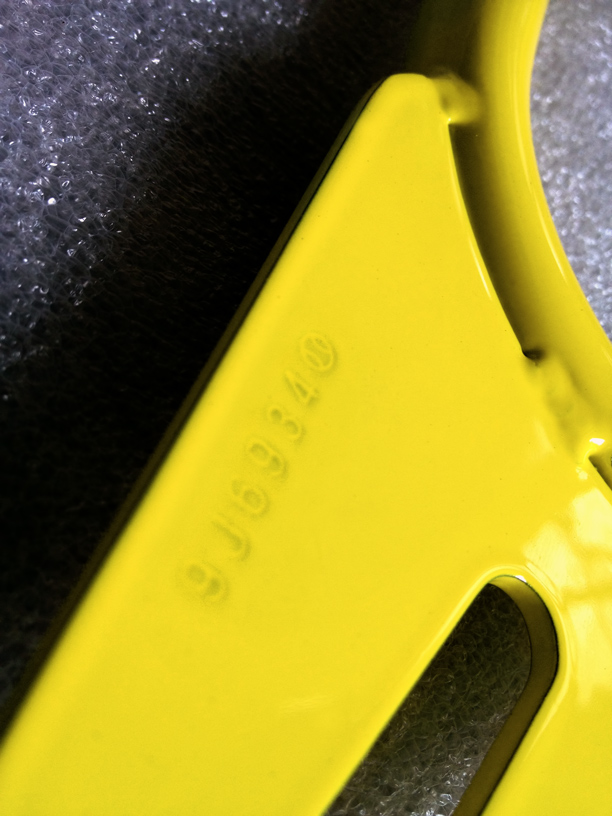 The aluminium Race Inc. bars came up beautifully in the Super Yellow gloss…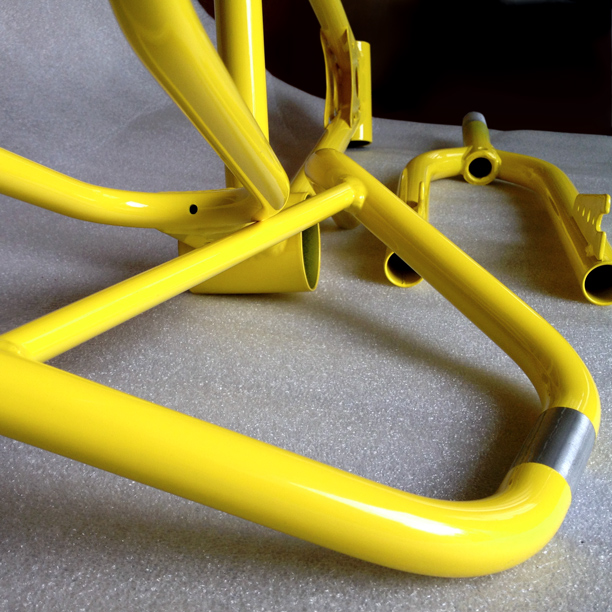 Details, details, details. Those chunky Race Inc alloy welds are practically buzzing with yellow awesomeness…
The frameset, basking in the sun before the build…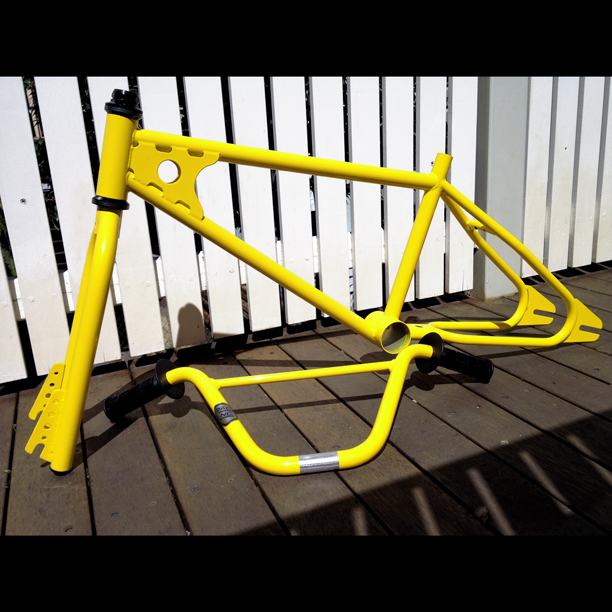 The parts stockpile… (whenever I look at a pile of parts for a build I can't help but hear the Transformers 'transforming' noise in my head ;)).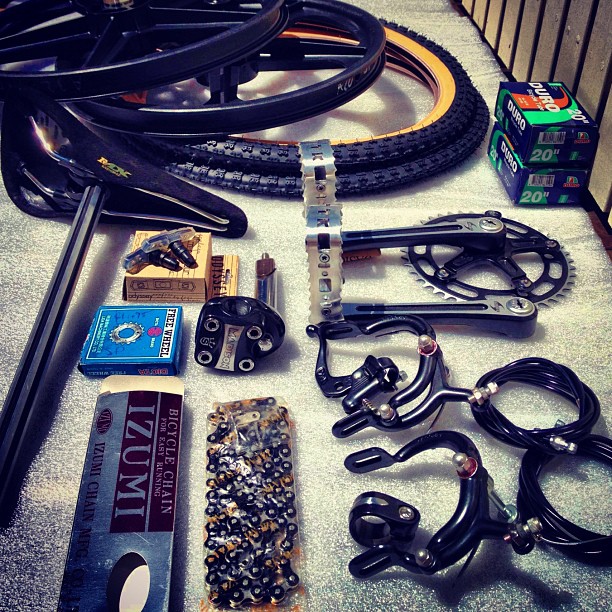 Sealed bearing bottom bracket and wheels fitted. Beautiful lines, shapes, colours…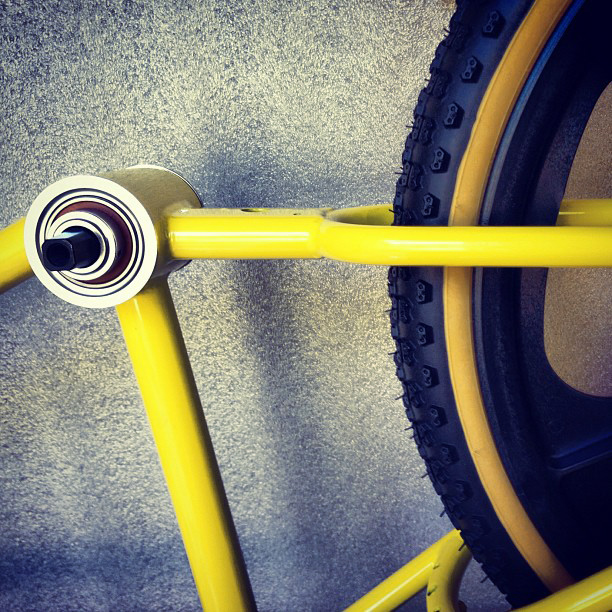 Sneak peak of part 1 of the build. Before the arrival of the decals and the nylon for the padset…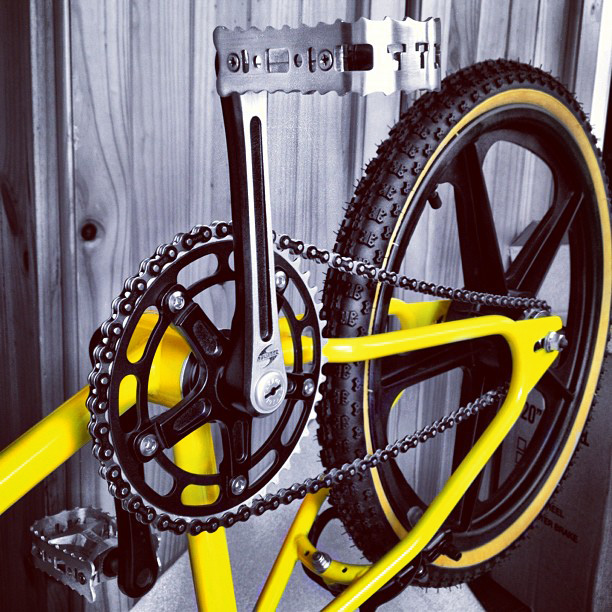 Gonna need a manicure when I've finished this build ;)…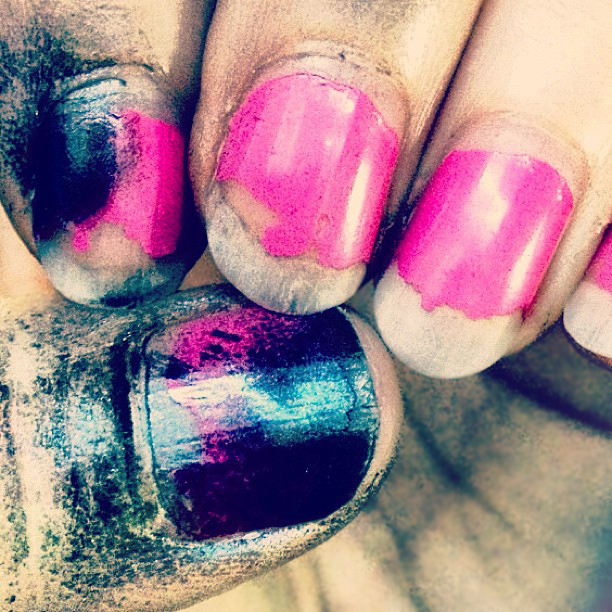 Laying down the silver Tintex base coat on black 420denier nylon K-Kloth for the padset…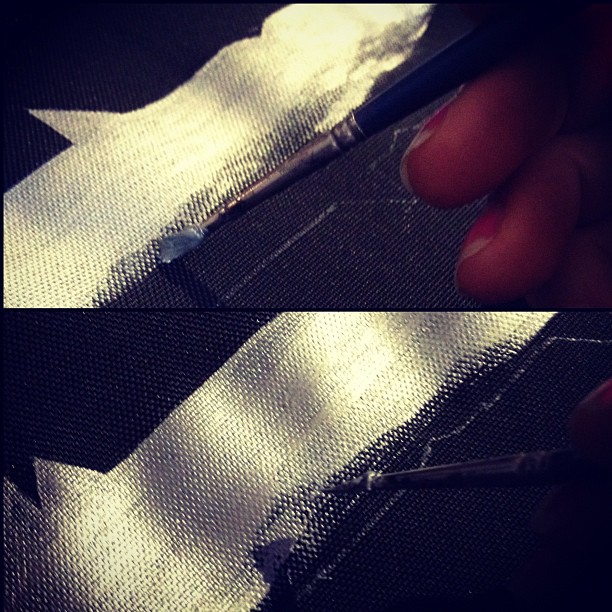 Sewing up the custom padset…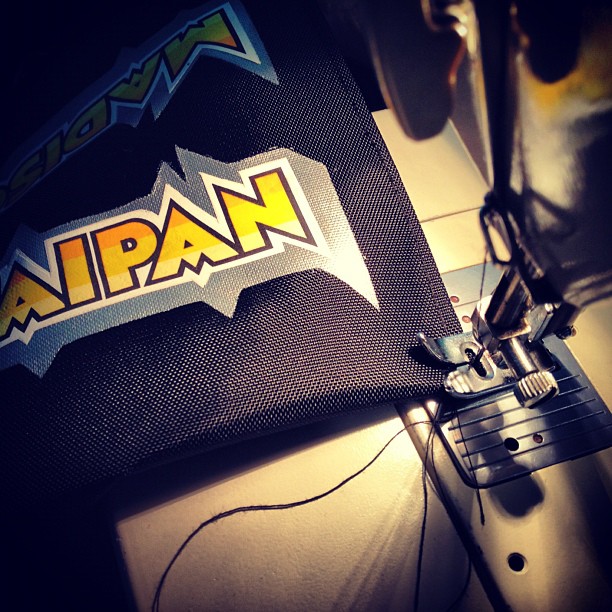 Custom DB inspired Koizumi Madison Taipan padset finished and fitted…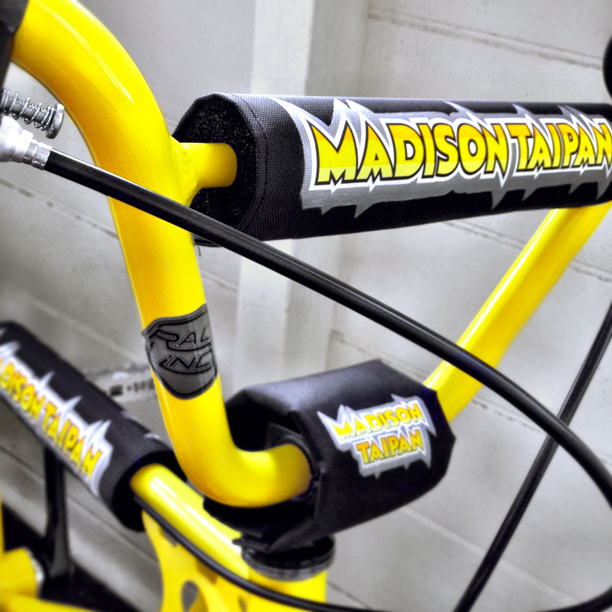 Detail of the DB sugino stem, refinished in rich metallic black with polished details and custom Madison decal…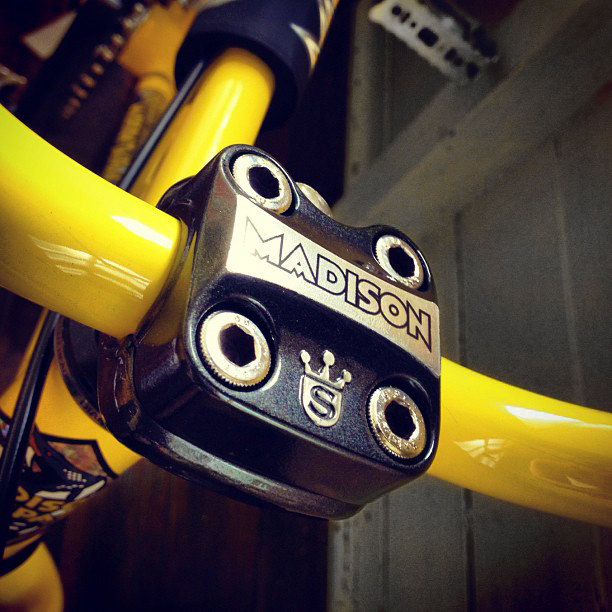 Detail of my custom DB inspired Koizumi Madison Taipan decal set fitted…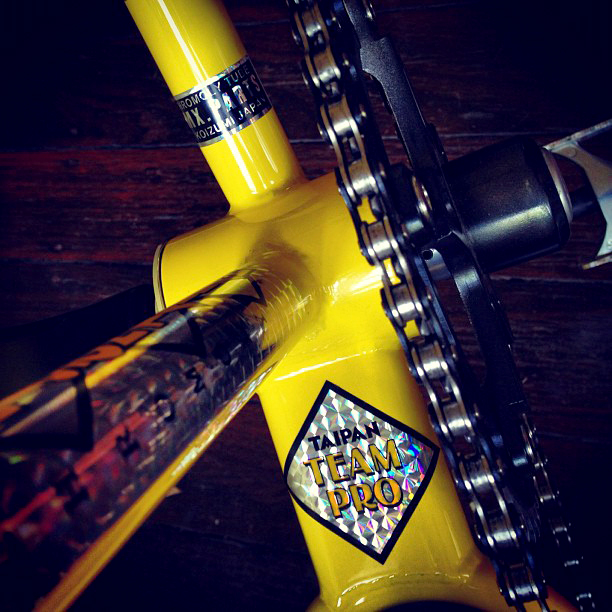 Chainstay 'chromoly' detail…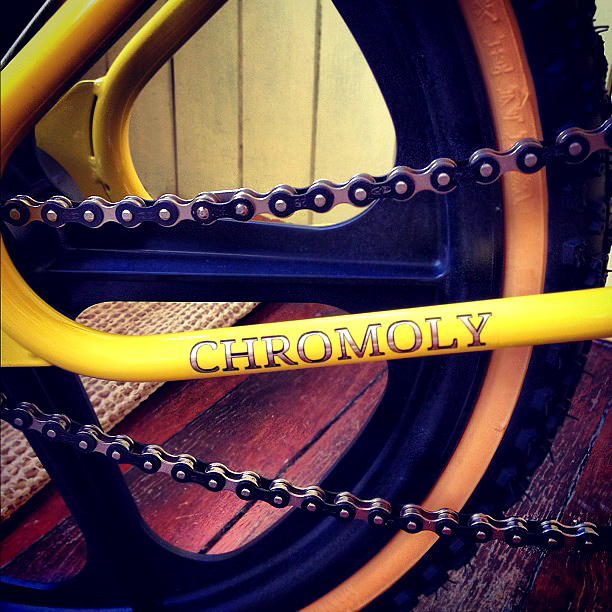 Mission complete!
FINISHED BUILD PICS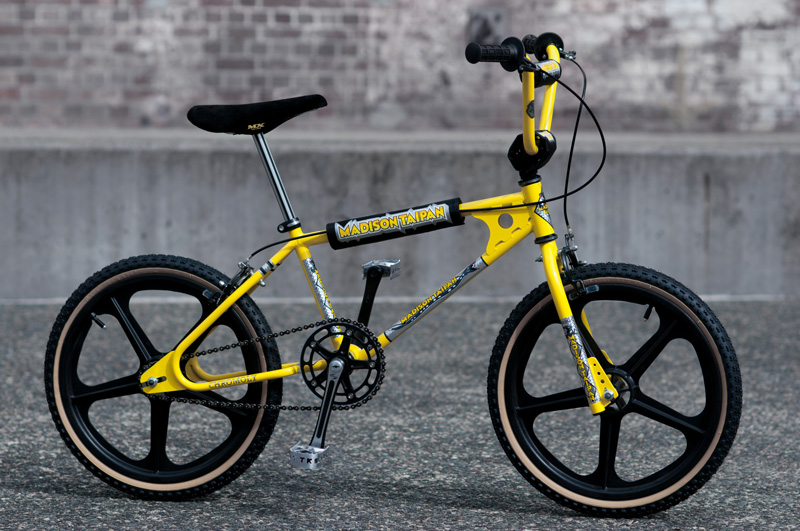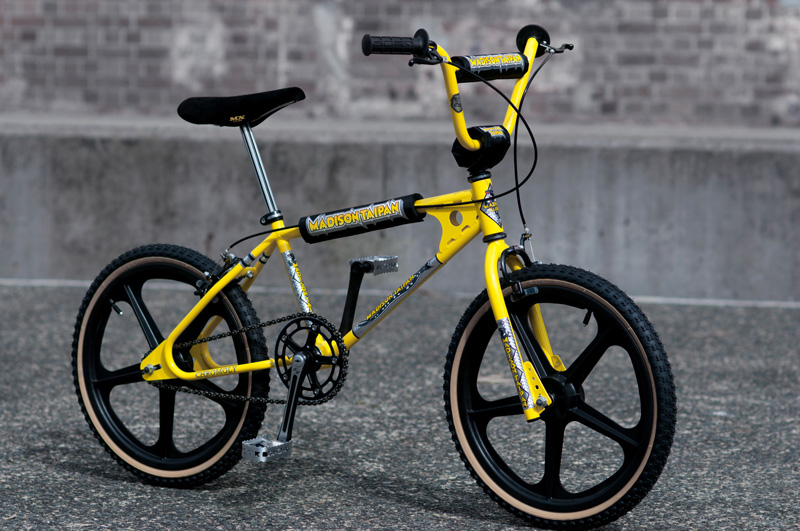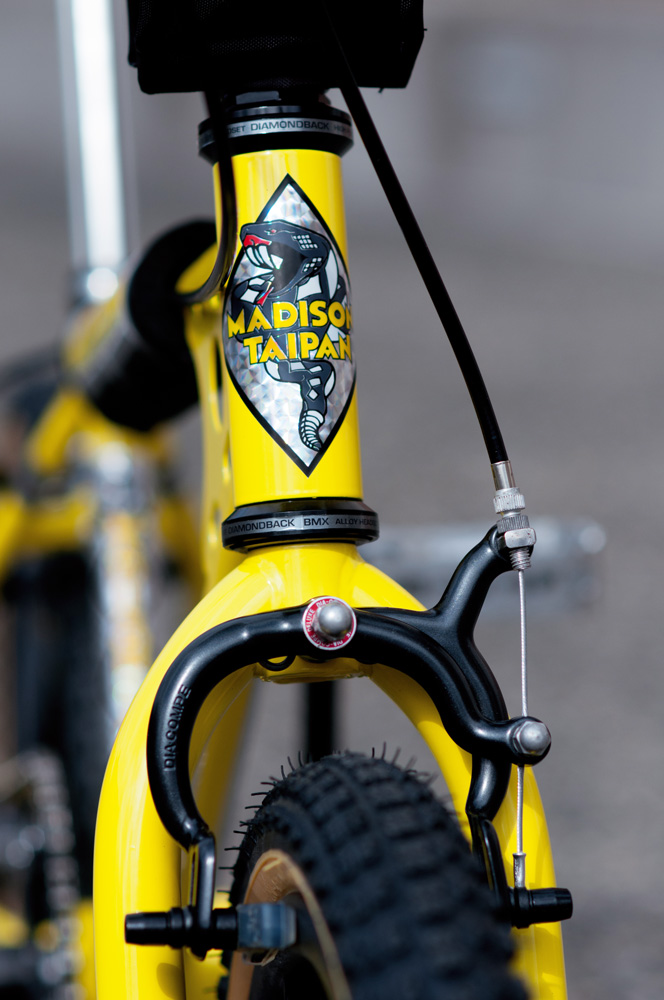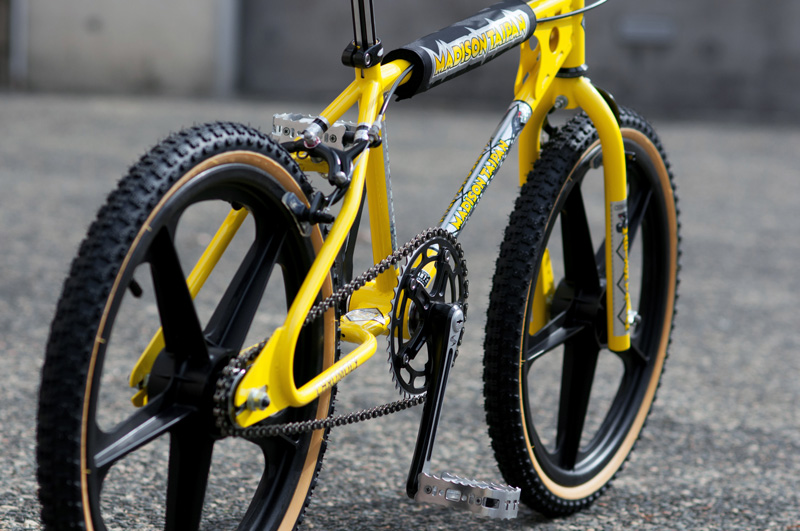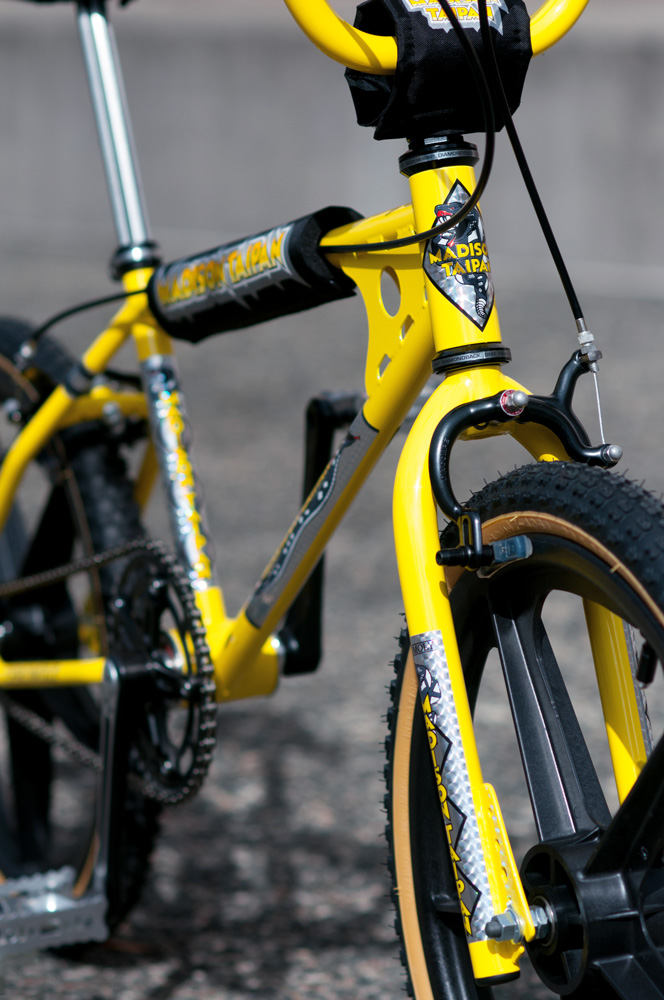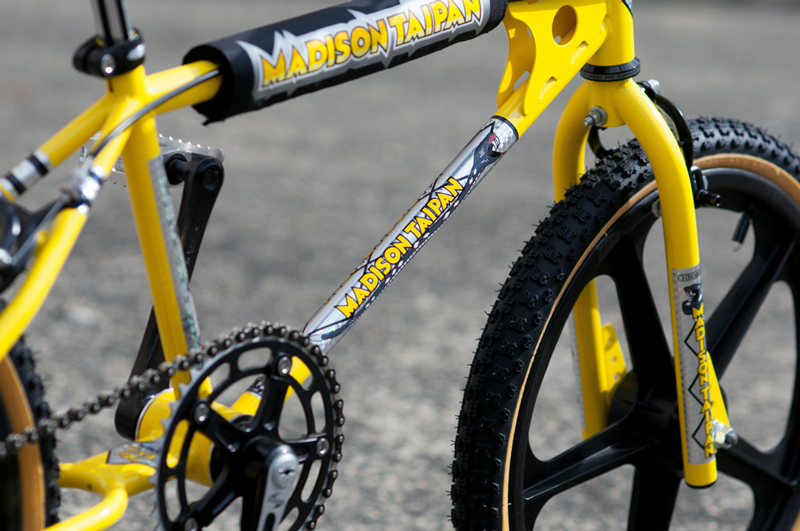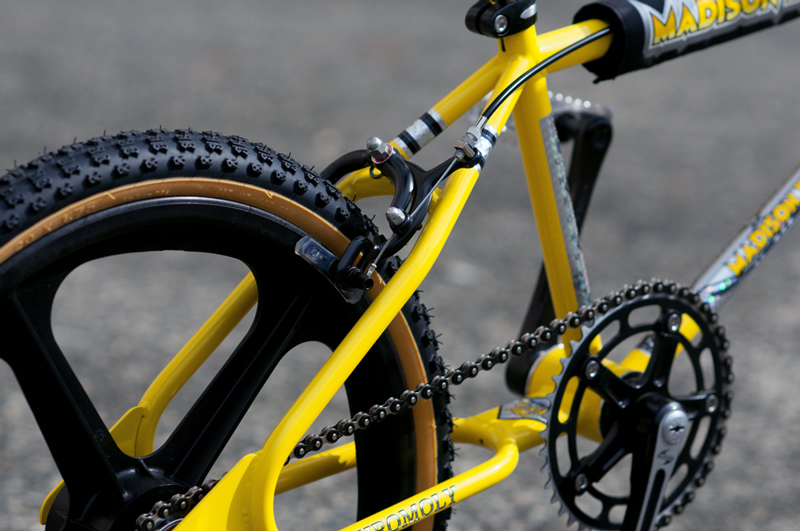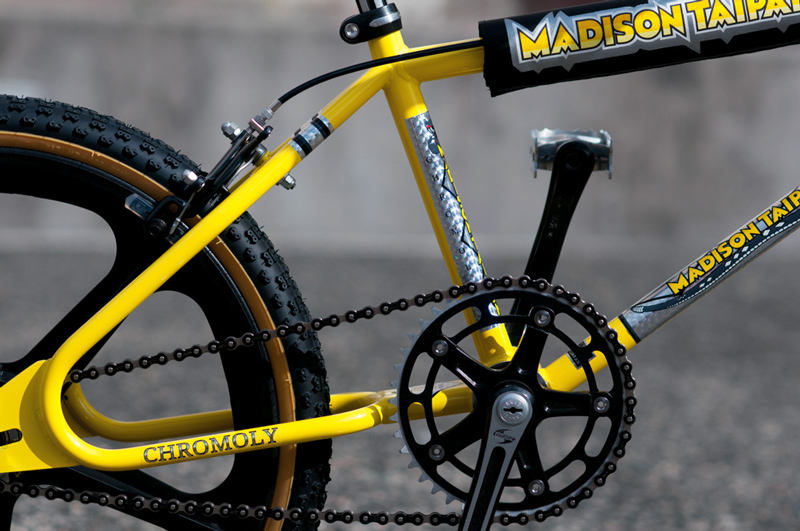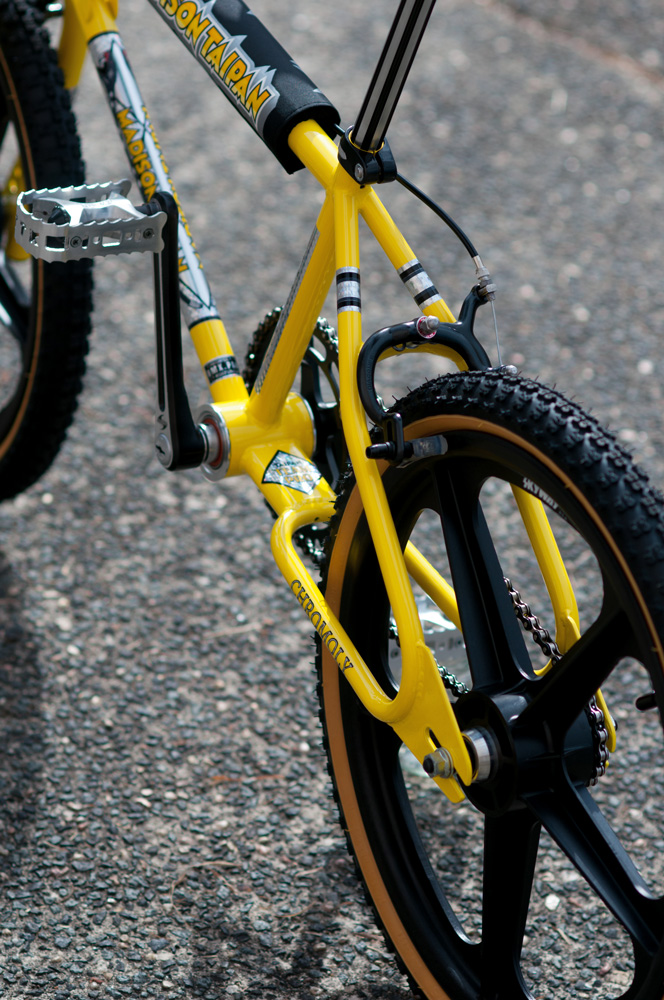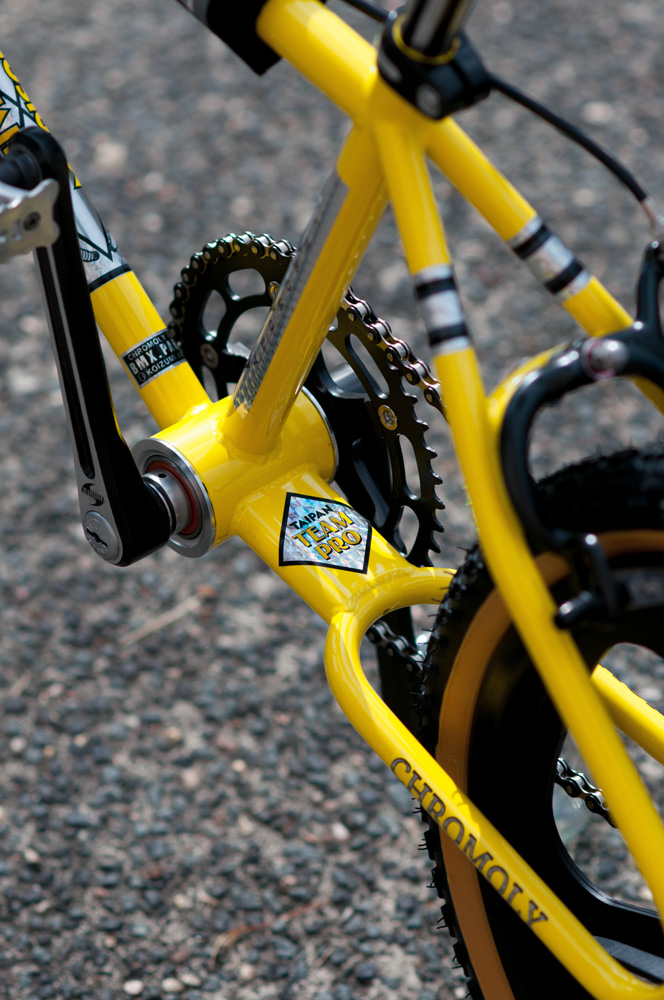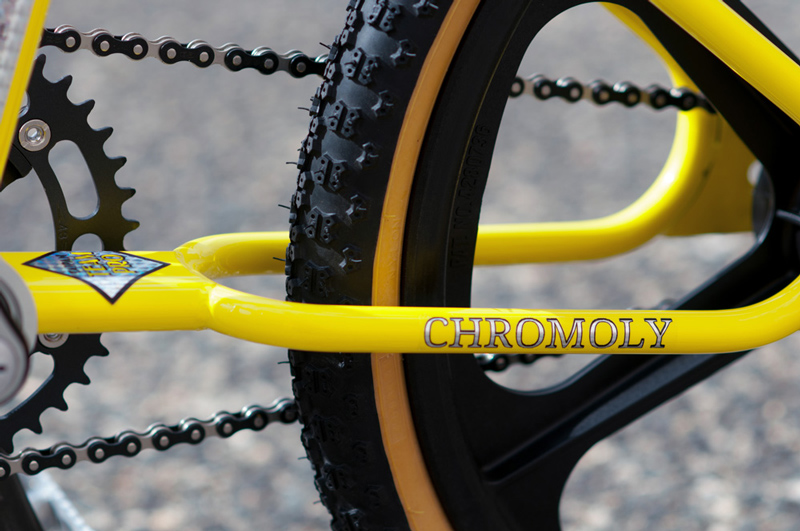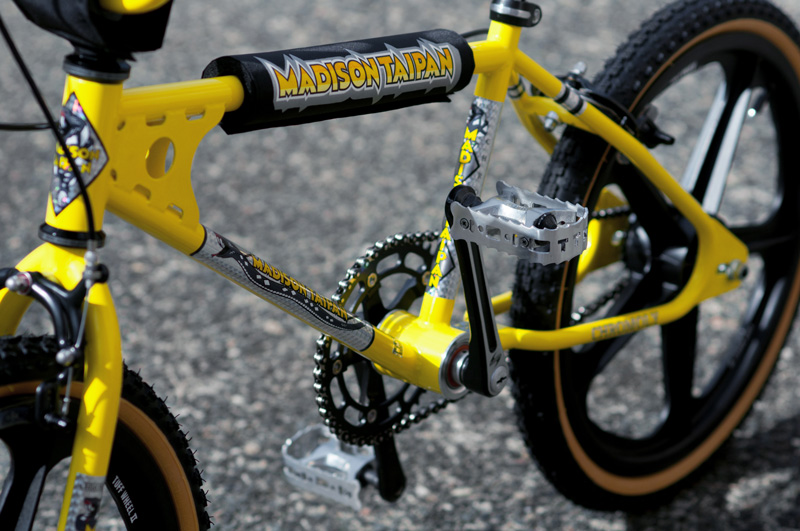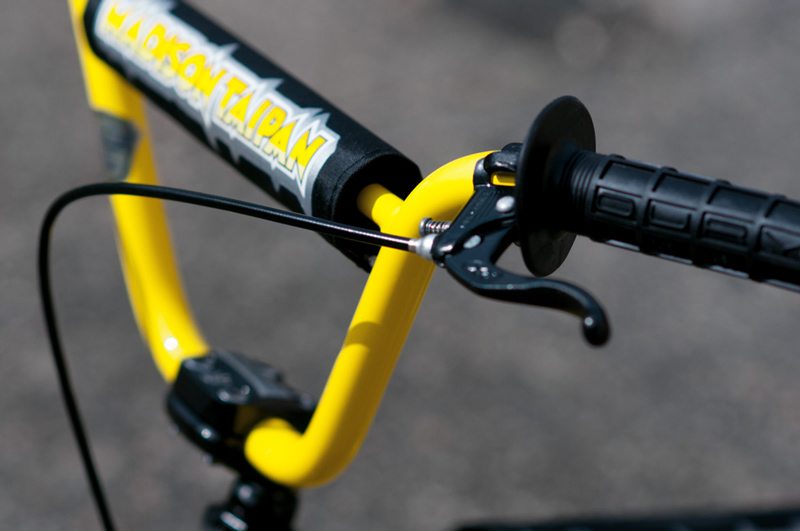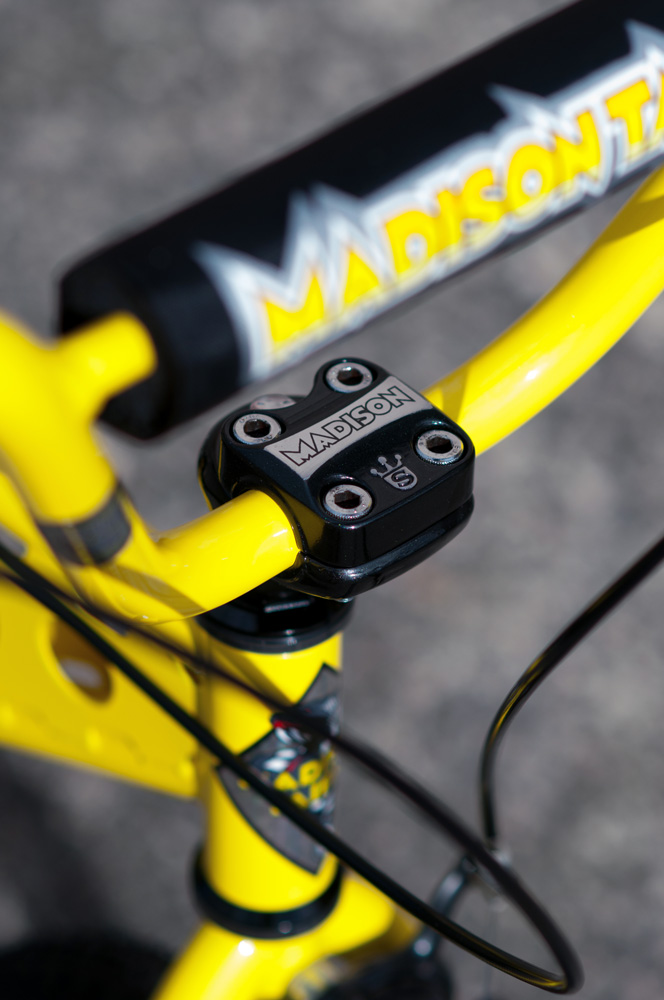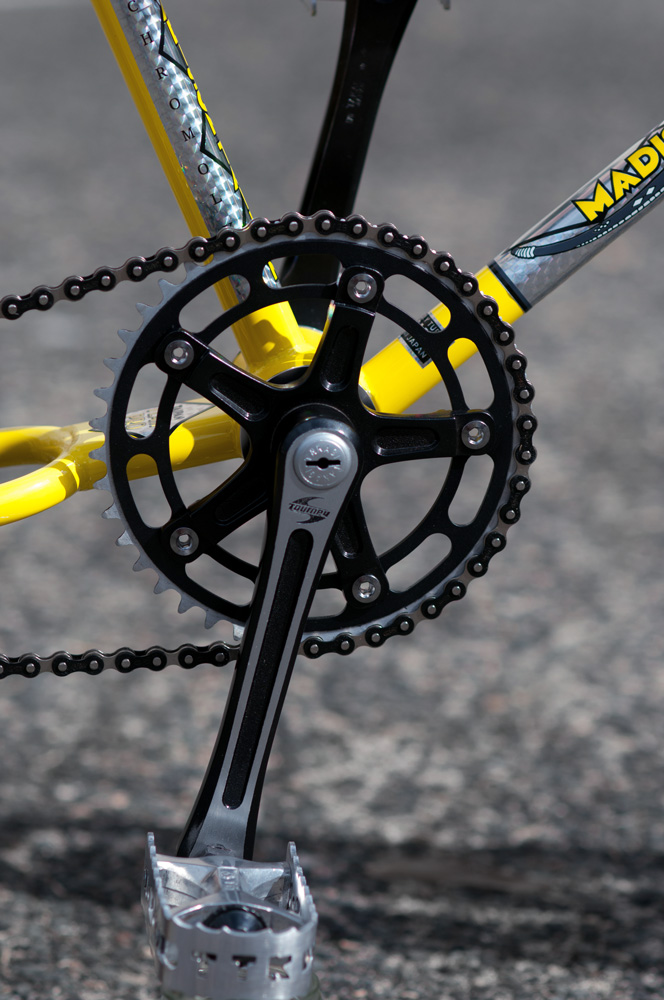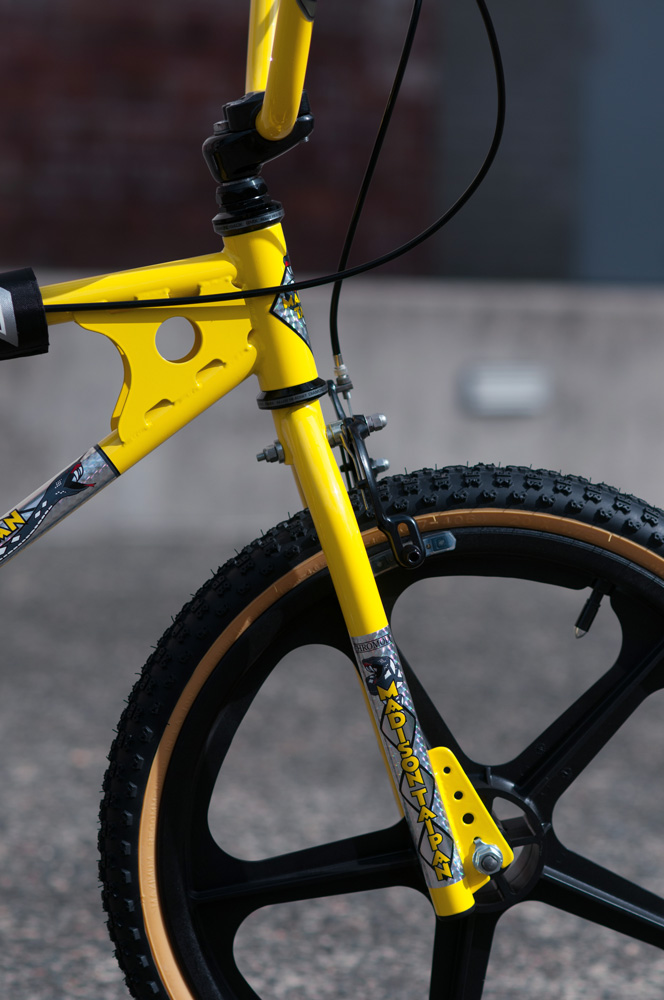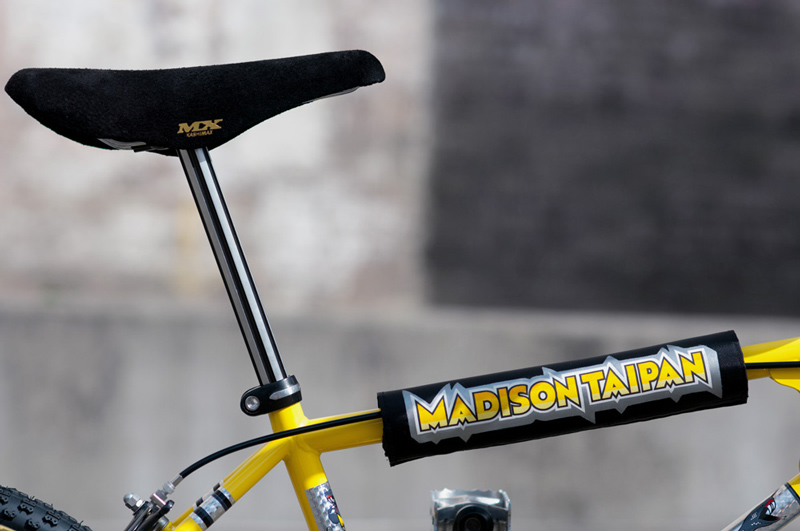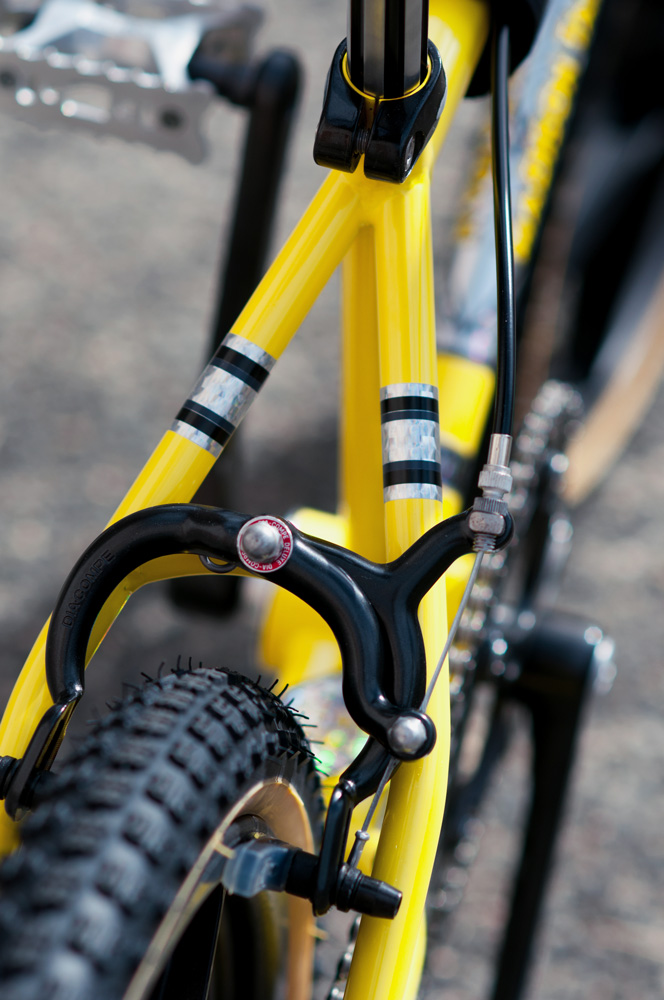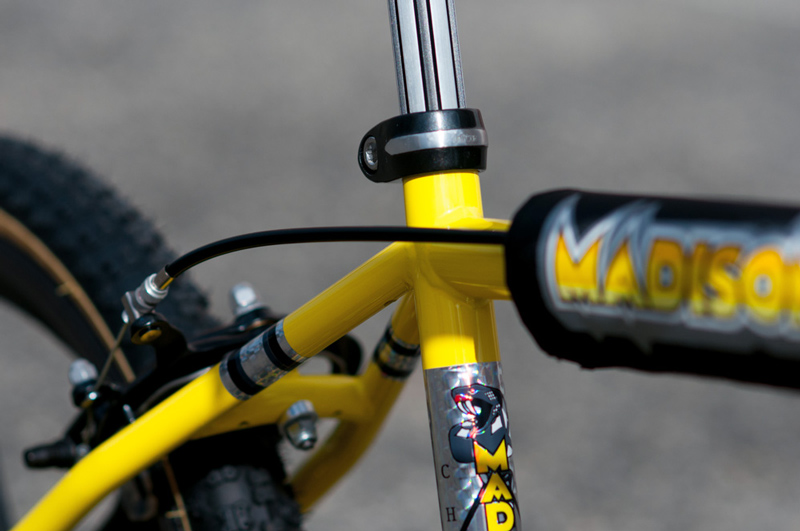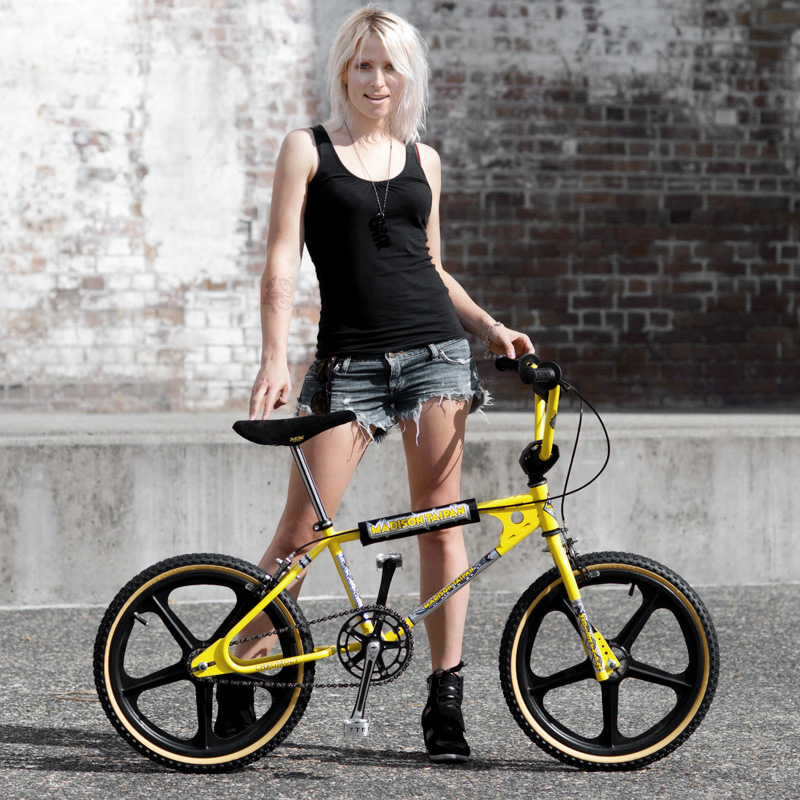 Shout-Outs:
To Roberto's Custom Powder for laying the impeccable layer of powder coat upon which I was able to create a build I'm truly proud of.
To all the cool cats, here in Oz and overseas, from whom I picked up rad little bits and pieces for the build. A special mention goes out to Brett Tyack from Detailed Bike Co. for his mad deals and awesome attitude, and to fellow Kiwi Damien Munroe who kindly donated the 1982 stamped 890 DC calipers from his NOS ex-bikestore stash.
To my wonderful friend Nic Suzor for again letting me steal his amazing Nikon for the final photoshoot.
To all those, both on and offline, who have offered a kind or constructive word about the build as it progressed, and especially to James who unfailingly, 24/7, puts up with my exuberant verbosity about build plans and parts restos and colour combos, and suffers quietly through numerous stubbed toes inflicted by the piles of parts and tools I invariably leave lying in inappropriate places!