PRESS
Index:
ART BMX Interview with Lix North
Koizumi Madison Taipan feature on CycleEXIF.com
Healing Freestyler feature on CycleEXIF.com
FatBMX.com Interview with Lix North
---
ART BMX Interview with Lix North
By Luis Elias Benavides
(March 2014 Issue)
I was checking Instagram the other day when suddenly I came across the profile of Lix North. I was quite impressed by all of her artwork, especially by her portrait of the father of BMX, Bob Haro. It was also eye candy for me to see all the old school set-ups she has worked on, paying attention to every single detail. As a true artist, she deserves a special place in this magazine called ART, doesn't she?
Who is Lix North?
Mad creative! Lover of detail, line, light and colour. Dreamer, tech head, grease monkey, aesthetic adventurer, bottle blonde, tomboy, rock'n'roller. Exponent of the style, mechanics, and spirit of BMX.
I grew up at the bottom of the world, on a hill-country farm in rural New Zealand. That relative isolation shaped who I am, my world view and active imagination. Growing up in a creative family also meant that I had a lot of scope to explore that imagination. I was the kid you'd find up a tree, in the mud or covered in paint. I'd have Dad's tools in hand, fixing things that were broken, inquisitively dismantling things that weren't, and building things that I believed would change the world.
How did your love for BMX begin?
It was 1986, I was 8. I got a BMX for Christmas – a green and white Healing Freestyler (re-branded Hutch Wind Styler). That bike is one of my most vivid childhood memories – we were inseparable. I took the whole thing apart and put it back together more times than I can remember, just because I loved how it all worked.
My best friend and I spent hours on the weekends and after school racing around, inventing weird and wild tricks and building mad jumps (often landing in prickle bushes, ponds and various other hazards!). We didn't know a lot about what was going on with BMX in the rest of the world but as long as we could ride we were happy and free!
For the next 5 or 6 years, if I didn't have a pencil or paintbrush in my hand, you'd find me riding or tinkering with my BMX. My parents had a rake permanently at the ready as I made a habit of repeatedly carving up their driveway in Guinness World Record breaking attempts at the longest coaster brake skid.
How many bikes do you own? Are they all old school?
At the moment, 5 completes and 2 frames.
The completes: a 1987 Kuwahara Magician Pro, 1986 Healing Freestyler (re-branded Hutch Wind Styler), 1981/82 Pre-Serial Profile 24" Cruiser, 1980 Cobra Pro (re-branded Diamondback TK) and a 1979 Madison Taipan (re-branded Diamondback Large Pro).
I don't really see myself as a collector – I'm a rider and an artist who enjoys expressing herself through building BMX bikes. I ride each of the bikes I restore. If there are any that aren't being ridden, it's generally time to move them on and make way for a fresh 'canvas'.
All my bikes are 'old school' to date, but one of the frames I'm most excited about this year is Colony's limited edition 20th Anniversary re-issue of Clint Millar's Prody frame from 1993. It's essentially a tribute to the original frame design, with a few modern tweaks to the geometry and an integrated seat post clamp, bottom bracket and head tube. I was lucky enough to have a ride on a prototype of the re-issue recently, and it felt fantastic.
I'm also seriously excited about the new Ikonix Freestyler. I'm equally inspired by contemporary innovation in parts, technology and geometry as I am by old school style. Bringing those two loves together in a way that's unique and aesthetically satisfying is totally where it's at for me. The glimpses I've seen of the Ikonix frame so far are blowing my mind!
You seem to be very focused on old school bikes. Why is that?
I'm not solely focused on old school, but the 80s is when I fell in love with BMX, so that's where my heart lies. Anyone who can watch early footage of Bob Haro pulling rock walks, kick turns and rollback 540s, with tuff wheels spinning, and feel the magic in those moments will get it.
It's nostalgia, aesthetics and the lineage of that magic. For me it's not about being stuck in the past, it's an opportunity to bring the innately creative style of that era together with the technology of the present.
After 20 years away from BMX, my revival kick started with a vivid dream I had in 2011 about my childhood bike. The next morning I hit eBay looking for the first derelict bastion of '80s BMX I could find. I tore it down and built it back up. I found some old O.G.K. mags, dyed them bright red and got satisfyingly covered in grease and dirt refurbishing the hubs and coaster brake. I rode that bike everywhere.
A year later I had found and restored a 1986 Healing Freestyler in the same green and white as my original BMX, with some custom touches. When I rode it the feel of the frame geometry felt like home and I couldn't get the grin off my face for hours. From that point the build continued to evolve. With the addition of Peregrine bars, Flight cranks, Gyro II and Tech 77 locking levers, it's now my flatland rider and I love it more than ever.
Four more builds followed over the next two years, each starting with a scale drawing to plan my ideal build – parts, colours and details. Every minute of the design and build process is fun. Whether it's those those initial sketches, sourcing and refinishing parts, or custom modifications to bring new tech to old frames. I also really enjoy creating decal artwork and special details like hand-tooled leather seats and head tube badges.
What is Lix BMX?
It's constantly evolving.
Lix BMX began in 2011 as www.lixbmx.com, a simple blog where I could keep track of my builds as they progressed. It featured photos, drawings and descriptions of my restoration processes, as well as tips, tricks and background info on frames and parts.
Shortly after setting up the blog I started sketching and messing around with graphics for the name, as if it were a brand. Those ideas have since turned into logos, illustrations and artwork that I'm now using on my bikes, custom parts and other cool stuff.
The site now features BMX news and events. It's home to a series of BMX rides I call 'Radventures' that encourage riders of all ages and genders to come together and ride around the beautiful bikeways of South East Queensland here in Australia. We get 30-40 riders, most on old school bikes, with a strong percentage of women and kids joining in. It's a really great atmosphere of inclusiveness and camaraderie. Each Radventure ride feels like an outtake from 'BMX Bandits'.
I'm still not entirely sure how to classify Lix BMX, or what it might become. As a BMX art and design studio however, 2014 has been super exciting already. There are some incredible opportunities coming my way to work with industry greats and companies that I love. Stay tuned!
Besides being involved in the world of BMX, what else do you do?
I run a graphic art studio here in Australia called Lix Creative, predominantly working within the music industry designing albums covers and promotional graphics for bands and musicians. I also do a lot of artwork for commissions and exhibition – oil paintings, mixed media drawings, illustrations, portraits and conceptual works.
I guess I've always been a bit of a creative chameleon. As a kid I had a knack for mimicking different artistic styles. This now makes it easier for me to work in almost any genre or medium across different types of projects. I like to challenge that adaptable part of my brain – to keep pushing it further just to see what it can come up with next.
Music is the other love of my life. I currently front 3 bands (Medollic, The Premier Ship and Atlas of Oceans), with some other cool collaborations on the side. I also work as a session vocalist and songwriter, writing and recording chorus hooks for hip hop artists and other fun stuff.
You're an amazing artist and I enjoy your drawings and paintings. What's the piece of artwork you feel most proud of? 
That's tough. Whatever I'm currently working on is usually my favourite piece – it's new, exciting, and often the realisation of a lot of planning. The challenge of bringing that planning to fruition is a great feeling.
One recent piece that I had a lot of fun developing was a cartoon self portrait – my alter-ego, flatland genius 'Lightning Lix', nonchalantly pulling a 'cherry picker'. That was super cool to put together and I'm excited about creating more freestyle inspired illustrations with that character. I'm planning art prints and apparel featuring the cherry picker illustration, with more in the series to follow.
My freshest work is a series of new BMX portraits. They're charcoal drawings of legends and stars of the sport, not limited by era or gender. Each piece is a dual portrait featuring a head shot juxtaposed with a background scene that tells a little of their unique BMX story. I kicked off the series with portraits of Bob Haro, Dane Searls and Natalie Noble. The list of others I want to eventually add to the series is pretty epic.
If someone wanted to get some artwork done by you, how can people get in touch with you? 
Head to www.lixbmx.com, or shoot an email to lix@lixbmx.com, or hit me up on social media:
Facebook: www.facebook.com/lixbmx
Instagram and Twitter: @lixnorth
Do you have extra comments or shout-outs? 
I'm really grateful to the extraordinary friends I've made through BMX. I want to give a huge shout out to all the people who've shown me kindness and friendship throughout my BMX journey so far.
Epic thanks to those whose encouragement has inspired me to keep developing the creative side of my love for these bikes, especially Bob Haro, Ross Lavender, John Buultjens, Lloyd Ramsay and Brett Downs. Thanks also to Brad Fanshaw, James Cassimus, Natalie Noble, Tony Archibeque Jr and Simon Makker for generously allowing me to use their rad photos as inspiration for my artwork.
Thanks to the riders who inspire me to keep challenging myself, particularly all the freestyle girls blazing trails around the globe and sites like Magnolia BMX and Yeah Zine for showcasing and supporting female riders. High-5 to all of my Radventure crew – thanks for the smiles and laughter!
View the full article and photos, and read the rest of the March ART BMX magazine issue HERE.
---
Koizumi Madison Taipan feature article on CycleEXIF.com
By Adam Leddin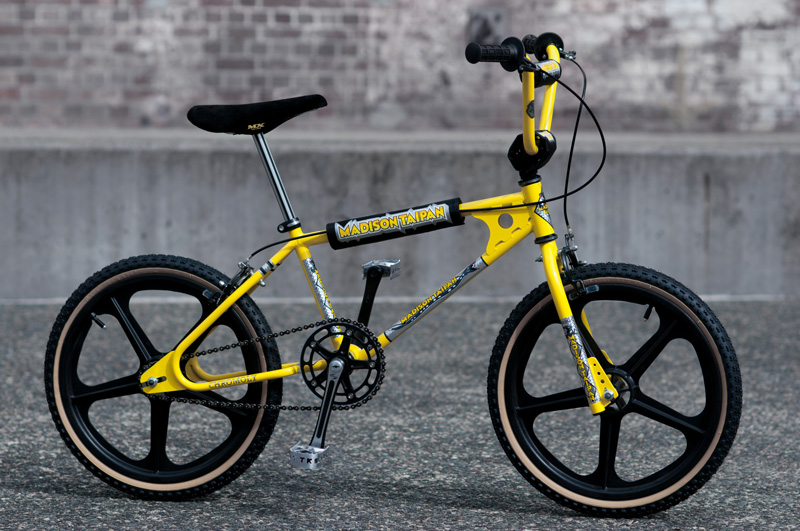 Some guys go to incredible lengths to restore an old school BMX to period correctness, but Lix North is a female Kiwi artist whose latest project, a Koizumi Madison Taipan, eclipsed them all — the final result is a testament to both her efforts and creative energy.
A self-confessed over-achiever, Lix currently runs three businesses, including a successful design studio. She also paints, sings and plays guitar in her band Medollic and spends an inordinate amount of time meticulously recreating rare and historically significant BMXs.
The Koizumi Madison Taipan was manufactured on the same factory line as the Diamondback Large Pro frame in 1979, which Lix acquired after 33 years in storage. Each component was separately sourced according to its correct heritage, stripped and re-finished.
You can read the entire parts list on Lix's website but here's a quick breakdown: Race Inc bars and Takagi chainring, 1980 stamped Akisu forks, 30 year old NOS Dia Compe 890 calipers (stamped Feb '82), a Sugino Diamondback stem, Cyclepro TTK 80s pedal cages and Takagi Tourney cranks.
The frame, bars and forks were sent to Roberto's Custom Powder in Morningside, QLD who applied a Super Gloss ('Fiola') Yellow powder coat, before being stickered with repro decals by Lix herself. Oh, she made the custom repro pads herself, too. Quite a sight to behold, wouldn't you agree?
Special thanks to Lix for the photos. Check out the full story of the Taipan project, and the other builds, on her website, where you can link through to her art gallery site and design studio site. And her band's website…
Article source: http://www.cycleexif.com/koizumi-madison-taipan
---
Healing Freestyler feature article on CycleEXIF.com
By Adam Leddin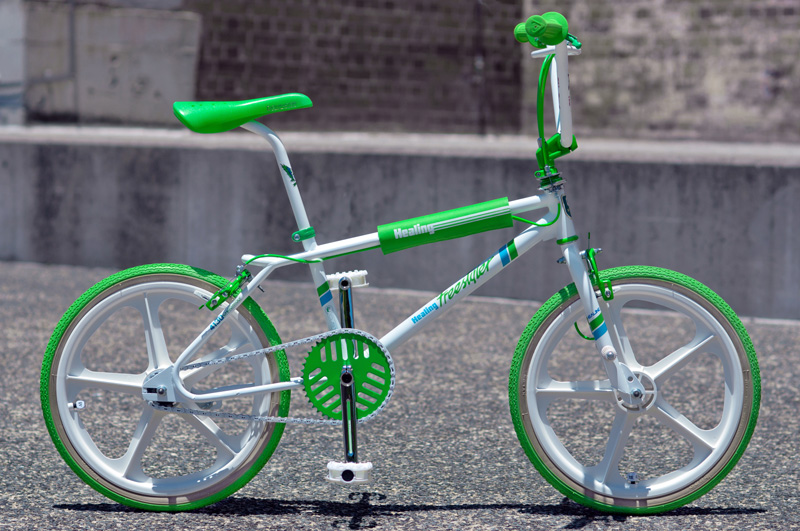 If you're like me and think BMX Bandits is still Nicole Kidman's best work, you'll also appreciate this Healing Freestyler. Healing was New Zealand's sister company to Australia's Malvern Star — manufacturer of virtually every Aussie's first bike and the bike that got Nicole's career rolling.
Alixandra 'Lix' North was given a Healing Freestyler for her 8th birthday in December 1986. Lix is a highly talented artist and designer and musician and passionate fan of old school BMX. She recently completed a painstaking process of locating and restoring a Freestyler to the exact form of her beloved bike. The frame and forks were rescued in New Zealand, where they had been recommissioned as a low rider. Parts were sourced from all over the world and the internet, before being resprayed according to the original Healing colorway. Lix utilized her design skills to recreate the original decals (and a few of her own design), as well as a matching top tube pad made with nylon from a local sail maker.
Lix's Healing Freestyler is now virtually identical to the bike she remembered so well from her youth. I would even go so far as to say it's even better than original, a credit to Lix's dedication to her passion and attention to detail. Make sure you check out the full build process and parts list on her website, lixbmx.com. Her portfolio website, Lix Creative, is equally as spectacular, featuring album artwork adorned with her ultra-realistic paintings.
Article source: http://www.cycleexif.com/healing-freestyler
---
FatBMX.com Interview with Alix 'Lix' North
By Lloyd Ramsay
Name: Alixandra 'Lix' North
Hometown: Brisbane, Australia / Nelson, New Zealand
Occupation: Artist / Designer / Musician
Q: What are you riding right now?
A: 1985 Team Hotfoot
Q: What is BMX to you? Not everyone rides parks or dreams of backflips right?
A: It's the next best thing to having wings. It's freedom, it's the secret to perpetual youth, and it's unadulterated cool. Building old school BMX is a creative medium, just a different type of canvas. Regardless of how much I love what I do and how great my day in the studio was, putting the pencil or brush down and going for a roll is always is always something I crave.
Q: As a creative person where do ideas come from? Some say there is no such thing as a unique idea and we reinterpret the same ones on different levels.
A: I'm a big fan of Austin Kleon's 'Steal Like An Artist' manifesto. We're in an age of visual excess, so appropriation of ideas is unavoidable. Even if you think you're being original, someone's probably done it before. So it's what you do with it that counts, being brilliant is the new unique. My ideas come from every direction; from pop culture, art history, dreams, contradictions, people watching, social media, travel, staring at the sky, everyday life, and the absurdity of modern politics.
Q: BMX Bandits (1983) was filmed in Australia so it was not too far from you as a kid in New Zealand. Did it have an impact on you and your friends at all?
A: I was a bit young, and lived a bit too far from any movie theatres, to know about BMX Bandits when it first came out. I actually never saw it until recently, it's hilarious! Steel Riders (NZ TV series), went to air in New Zealand in 1987 the same year I got my first BMX, and I remember going nuts over that show. It was awesome.
Q: What is it like to make album covers as part of your living? What is the process of coming up with an image that encapsulates the music within?
A: It has to be one of the coolest jobs ever. I get to play with cool toys, let my imagination run wild, draw cool stuff, make cool stuff, and get paid for it. There are deadlines and occasional stresses, but the fun factor makes it worth it. Most of the bands and labels I design for let me have free rein after I meet with them and hear the music. The only things I really need are a copy of the record (even just mixes), and a list of their favourite album covers of all time, so I can get inside their aesthetic.
Q: To you, is there a best BMX bike ever out there?
A: 1986 Healing Freestyler. It was a Kiwi bike and my first BMX. Together we survived some epic farm tracks, equally as epic wipe outs, some mean tricks and annoyed the hell out of my parents by constantly carving up the driveway in the process creating a skid long enough for a Guinness World Record.

Q: With your band, Medollic, are you happy to go the digital self publishing route as opposed to dealing with a label? The perfect setup would be self publishing with the marketing budget if a label.
A: For a band the perfect set up is always to have a bigger budget! But we're extremely fortunate that James North (our guitarist/bassist/keyboardist) is a producer and runs an impressive recording studio, so studio time is free which is a big head start. We dig the creative control we have being self published, and the direct relationship with our fans. With our first album we turned down two offers from labels in the USA due to sneaky contractual clauses about ownership and exclusivity, so at this point we're happy heading into recording our sophomore release with the reins still firmly in our hands.
Q: What BMX related projects are you working on right now?
A: Building a pimped out '86 Healing Freestyler! I let my original one go in a moment of teenage stupidity in the early 90s, but recently managed to track down frame and forks from an awesome dude in Wellington, NZ. This is going to be an epic re-build project, upping the factory spec on pretty much everything. There seems to be only a handful of these frames that survived so I'm stoked to have got my hands on one.
Q: Where do you find parts to build an old school bike?
A: My favourite way to source rare and weird old school parts is by networking with other old school BMXers on OZBMX.com.au (always go local if possible!), and other BMX communities around the world. But when that fails there's an awesome little store Stateside called rinienterprises.com, it might not look like much, but there's some rad gear hiding away in dark corners, heaps of which even arrives in original 80s packaging.
Q: It must be difficult to survive as an artist? Maybe as difficult for a Stockbroker to write lyrics to a song though?
A: Haha, I've got my fingers in enough creative pies to get by ok. After all, the 1% still thinks it's cool to buy art… maybe it constitutes giving to the poor?
Q: Why do you think it is that so many good BMX riders come from Australia and New Zealand right now?
A: We're awesome, aren't we?! Super proud of Sarah Walker, what a star. Both countries are mad about their sport and there's a strong outdoors focus in the Australian and New Zealand lifestyles. New Zealand's international accolades in sport, per capita, are mad. I had the privilege of being in the NZ Youth Yachting team as a teenager and I can say that the training, coaching, nutritional and psychological support provided to us, just as 15-17year olds in the 90s was above and beyond.
Q: What technique do you use to get that level of realism in your paintings?
A: I'm pretty non-traditional with my technique, as oil painters go. We were taught at art school to use thin layers (glazes) to build up form and light with oil paint, waiting for each to dry before applying the next. But I kinda threw that out the window early on in favour of a process with more instant gratification. I'm probably pretty hilarious to watch when I paint, I use my fingers and handfuls of rags, along with brushes, and get so lost in what I'm doing that I always end up with paint in my hair, up my arms and all over my face. Occupational hazards!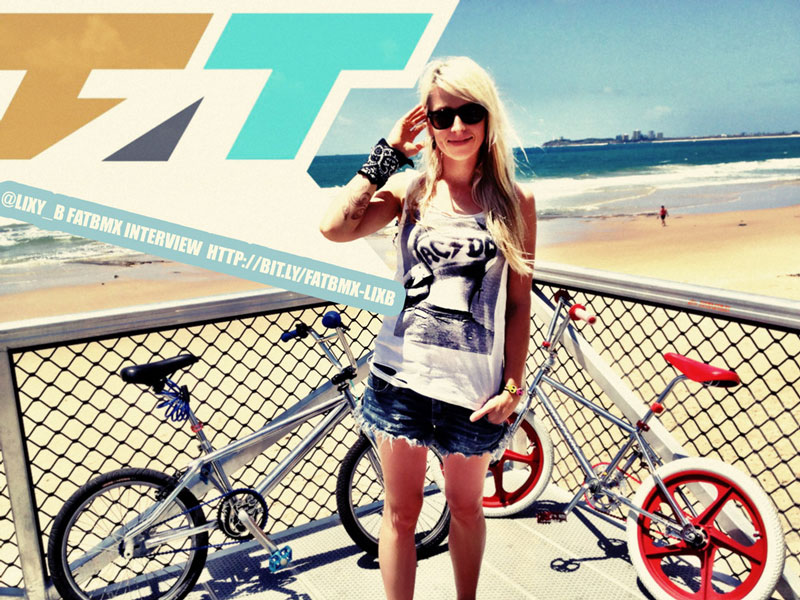 Check out Lix's original artwork at www.lixnorth.com, and her band Medollic at www.medollic.com.
Article source: FatBMX.com
---