2007 SE Racing P.K. Ripper Team
A special custom P.K. build I put together for my husband James. In eye popping Chevy orange powder coat by Roberto's Custom Powder, this build is a true old school/new school hybrid.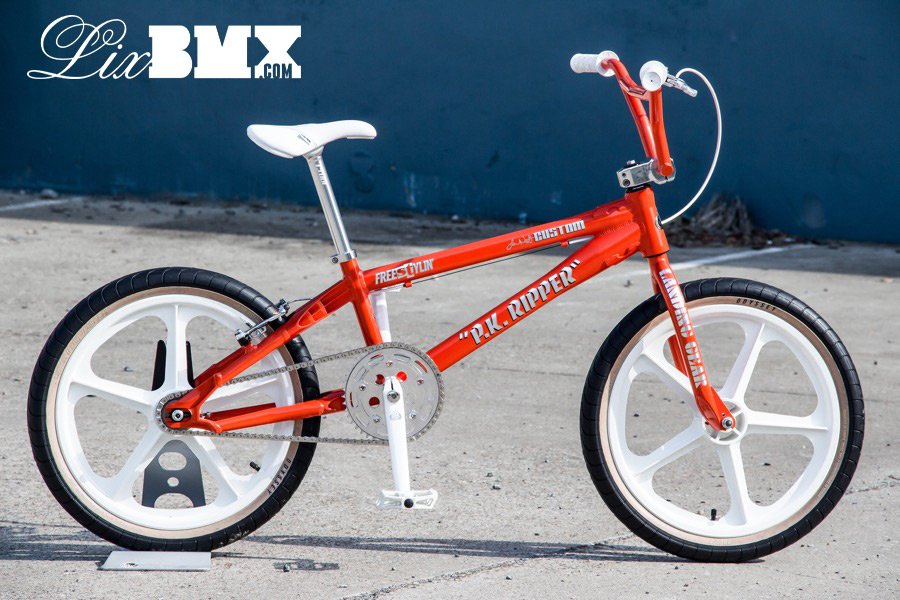 Only 7 years old but rockin' those famous inverted commas this light and long take on the SE Racing classic certainly not without old school cred! Absolutely beautiful to ride too, feather light and beautifully balanced this machine practically rides itself! Perfect choice for a chilled Brisbane river-side cruise on a sunny weekend.
PARTS LIST
Frame: 2007 PK Ripper Team edition, 6061 aircraft grade aluminium, in Chevy orange powder coat
Forks: 2007 Landing Gear, chromoly, in Chevy orange powder coat
Headset: FSA
Stem: SE Racing
Bars: Torker mid '90s knee-savers
Grips: SNAFU Simmple Grips, white
Seat: MacNeil padded pivotal, white
Seatpost: Crupi pivotal, 27.2mm, polished
Wheelset: Skyway Tuff II, sealed bearing, white
Freewheel: ACS Crossfire 16t
Tyres: Odyssey Chase Hawk, 2.2″
Brake Lever: Odyssey Monolever
V Brake: Odyssey Slic Kable
Brake Cable: C-Star V-Brake,
Power Disc: Tioga 110/130BCD, Polished
Chainring: Sugino 110BCD 44T, polished
Cranks/BB: AC ProSpeed, powdered white
Chain: YBN MK918 Half Link, nickel 
Pedals: Fly Bikes Ruben, graphite, white

AS IT WAS…
Originally ball-burnished, this was the basic build I threw together when I picked up the frame/forks and cranks back in 2012…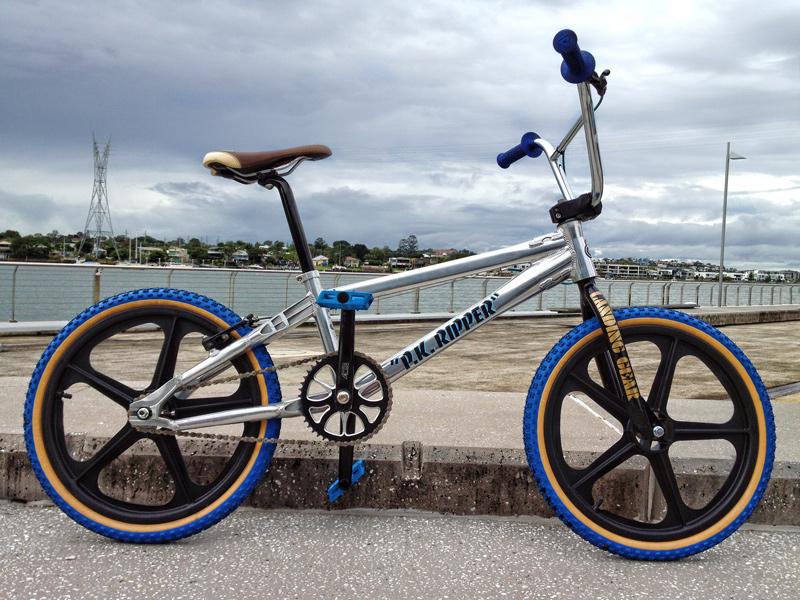 BUILD DIARY
Putting together a custom decal set is often the first thing on any of my build lists. The PK was no exception. Silver foil and black on clear with a little sum'n special thrown in just for James…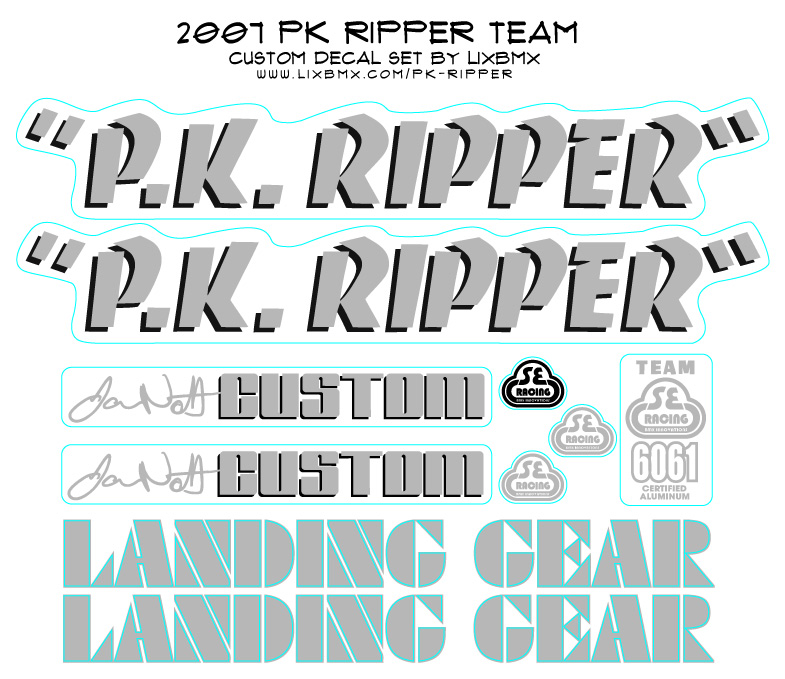 Stripped down ready for refinishing…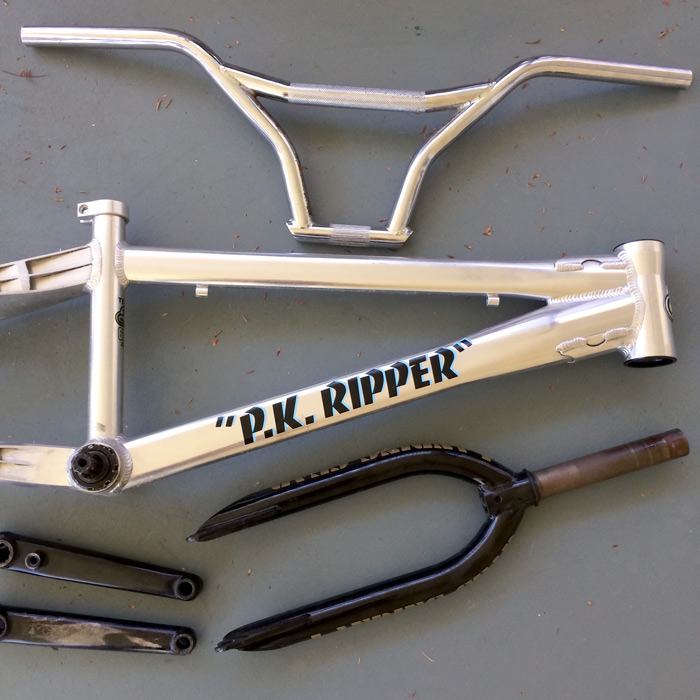 PK Parts disassembled ready for stripping and de-anodising…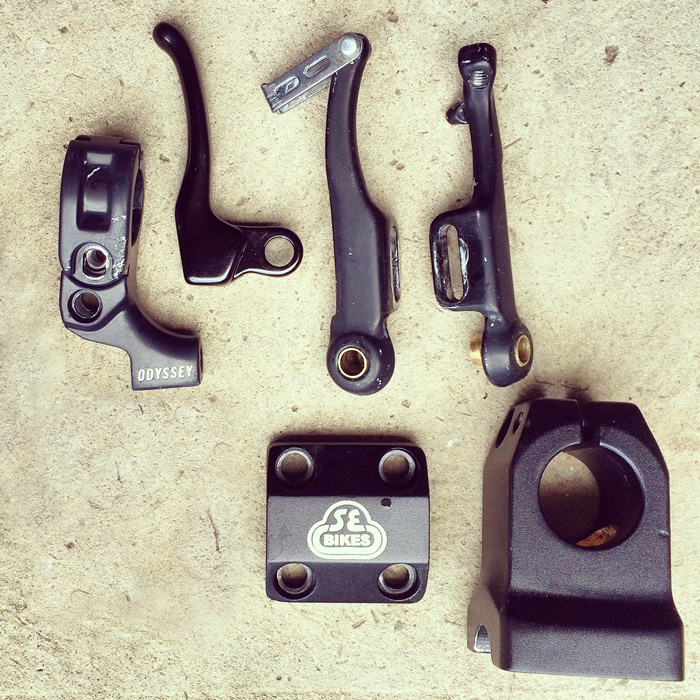 Stripped and de-anodised…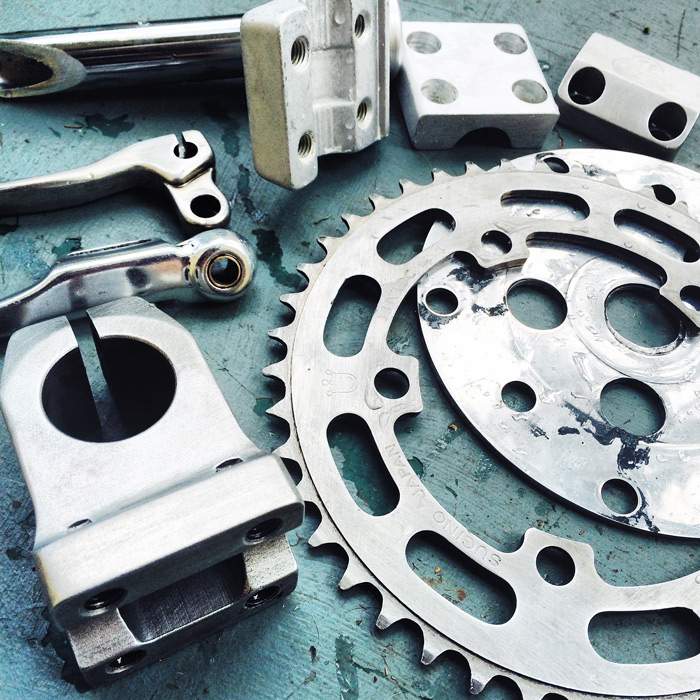 The Tioga Power Disc taking a spin on the sisal wheel with some Josco grey polish…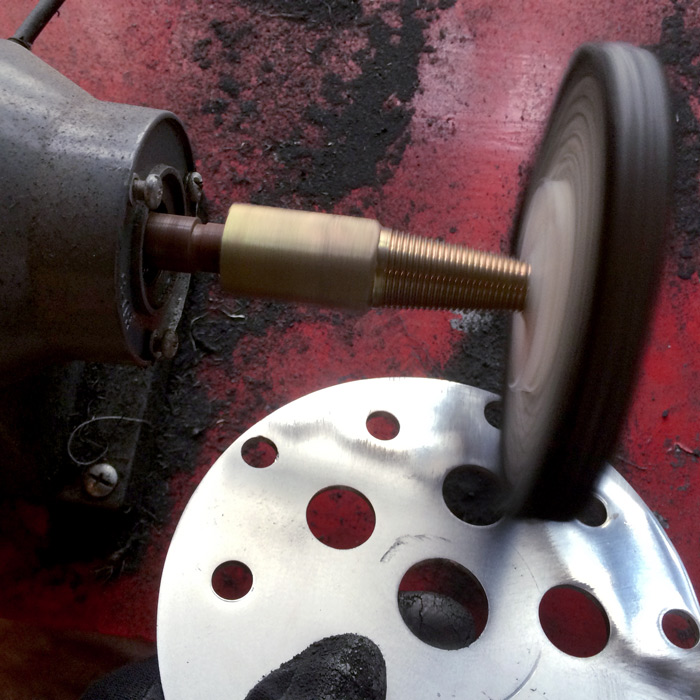 Switched to the loose leaf calico wheel for a fine finishing polish with Josco white polish..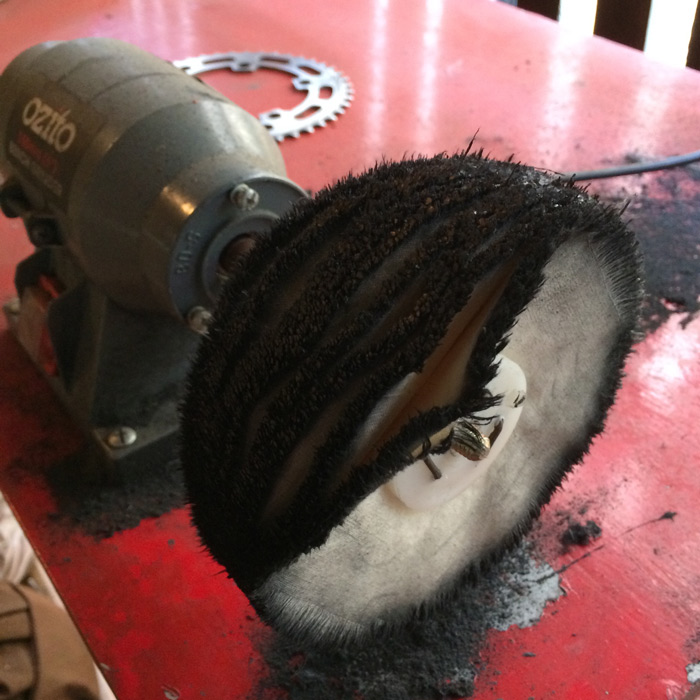 All done. Polished V-Brake, Odyssey Monolever lever and SE Racing Stem…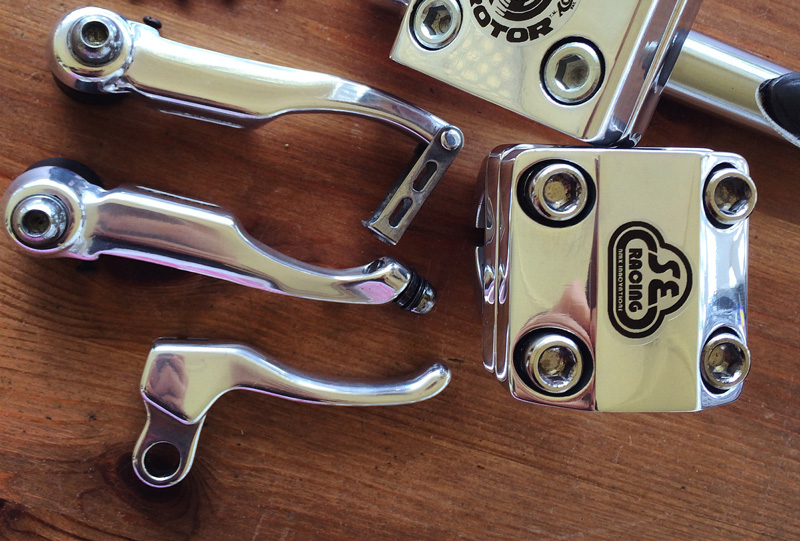 Polished Odyssey Monolever, reassembled…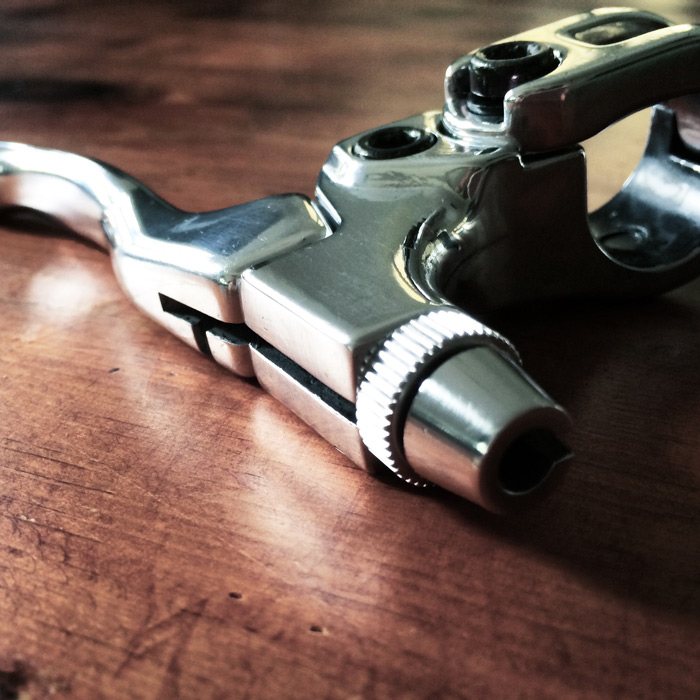 Polished Tioga Power Disc..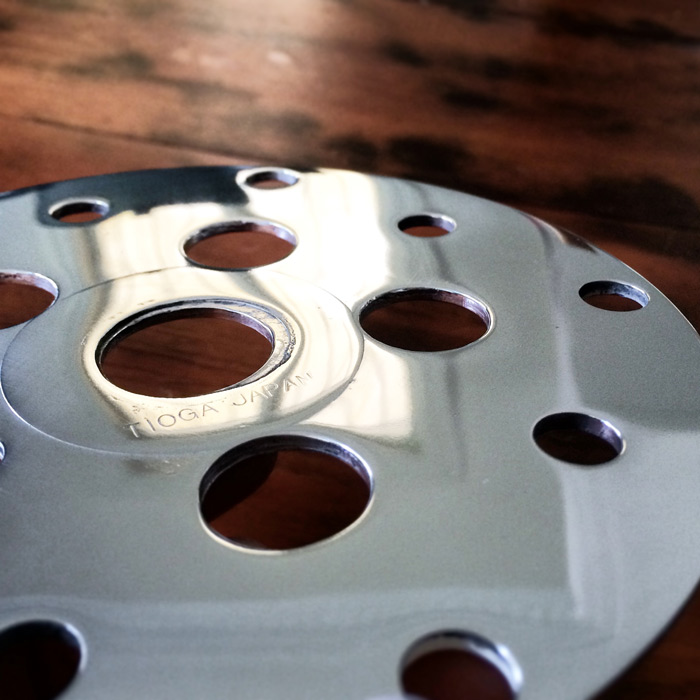 Frame forks and bars back from Roberto's Custom Powder. Beautiful rich glossy colour and incredible attention to detail…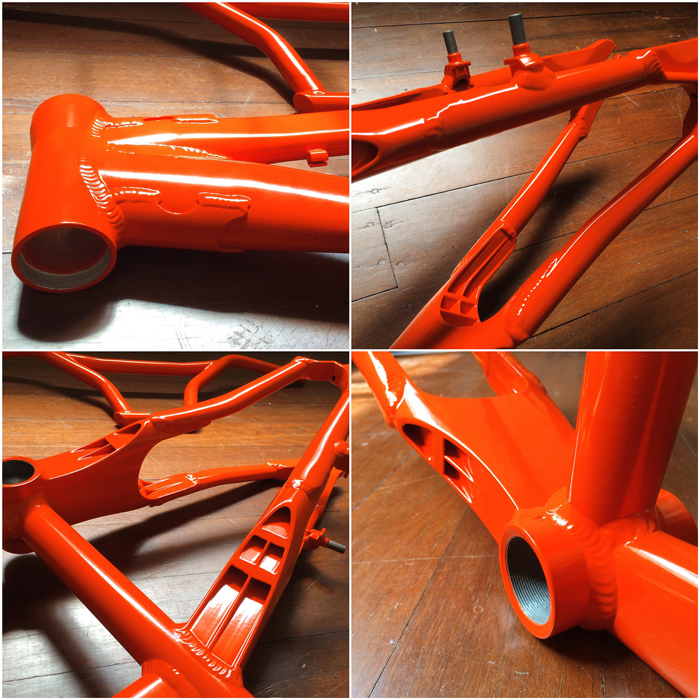 Fitting the new head tube badge…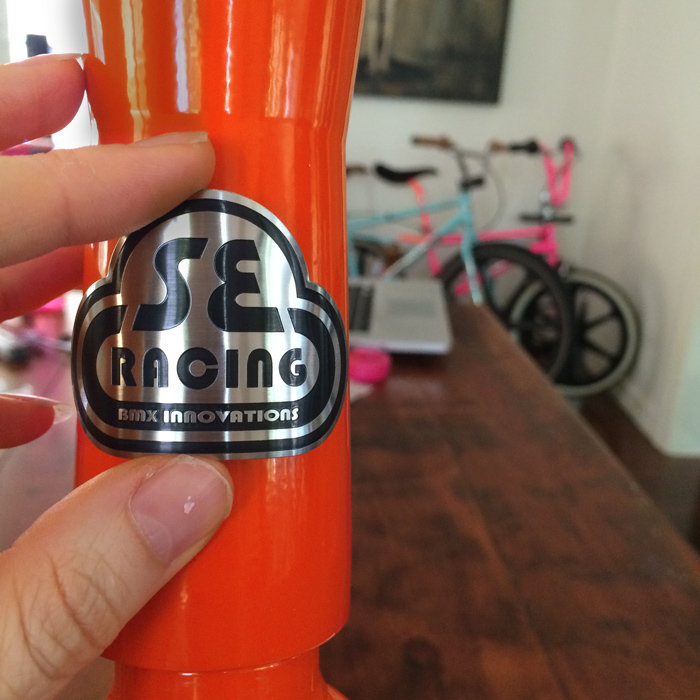 Not a bad looking jigsaw puzzle…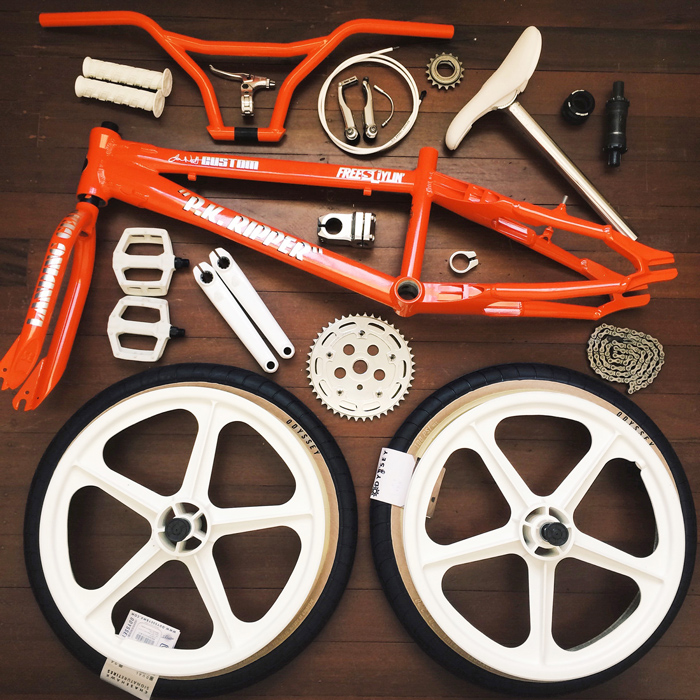 And now, after a bit of thought, a whole lot of love and equal amounts of parts polishing…
FINISHED BUILD PICS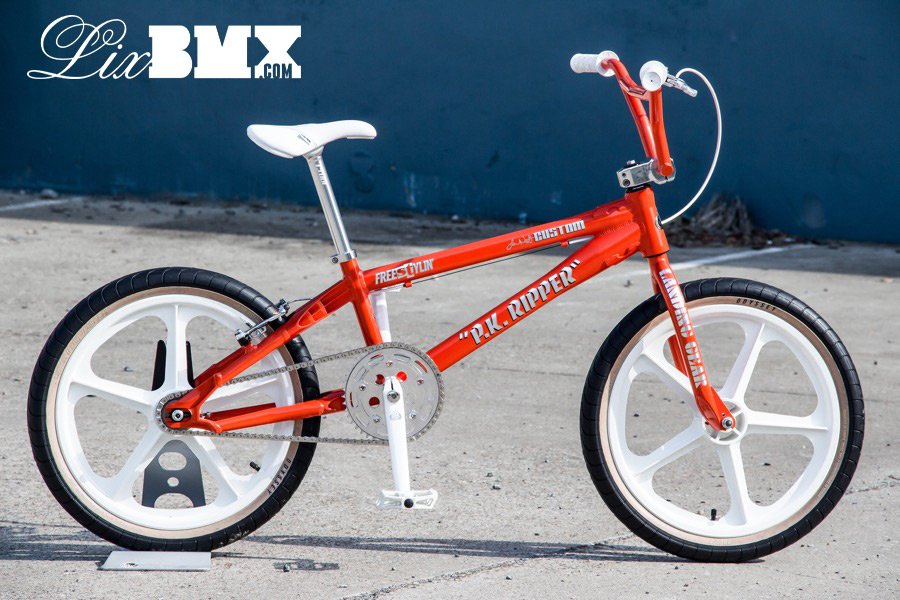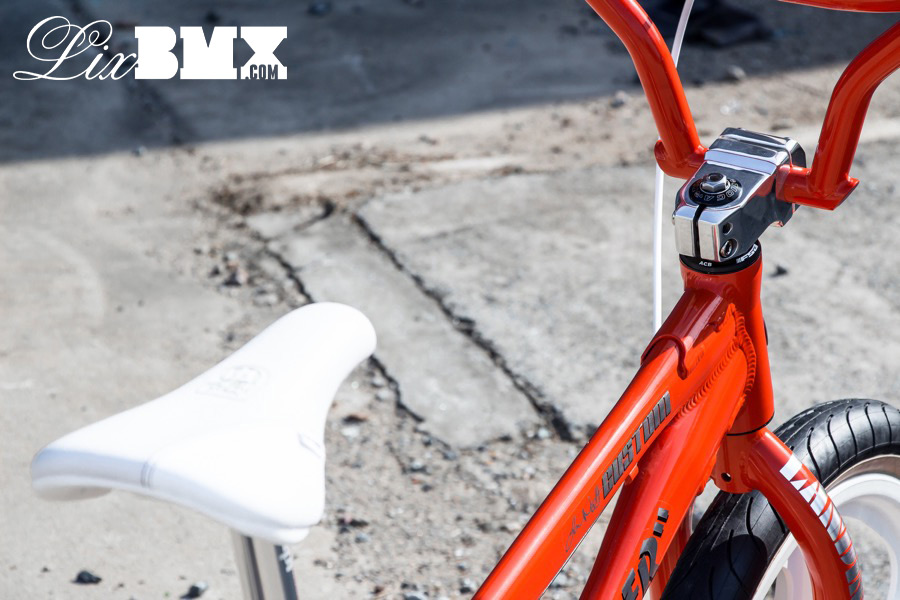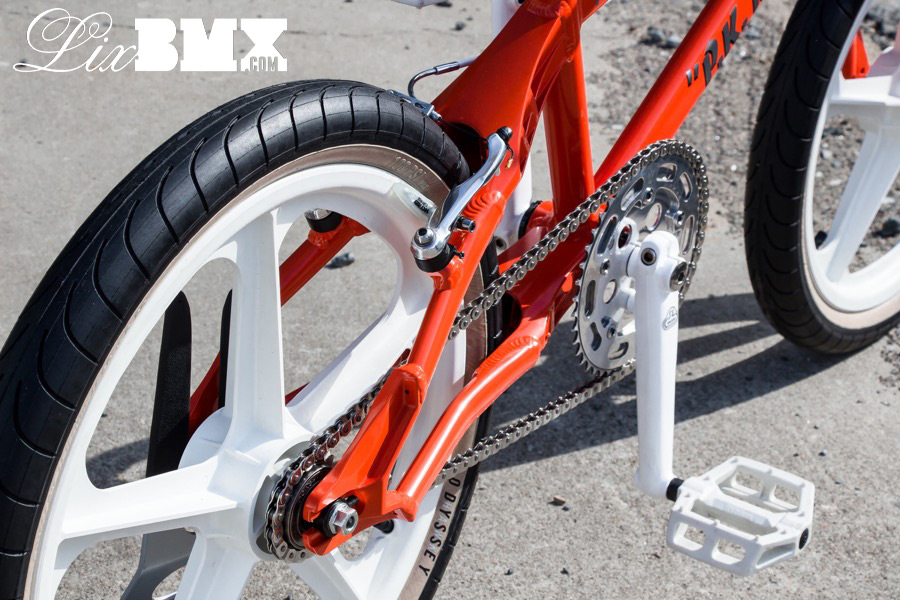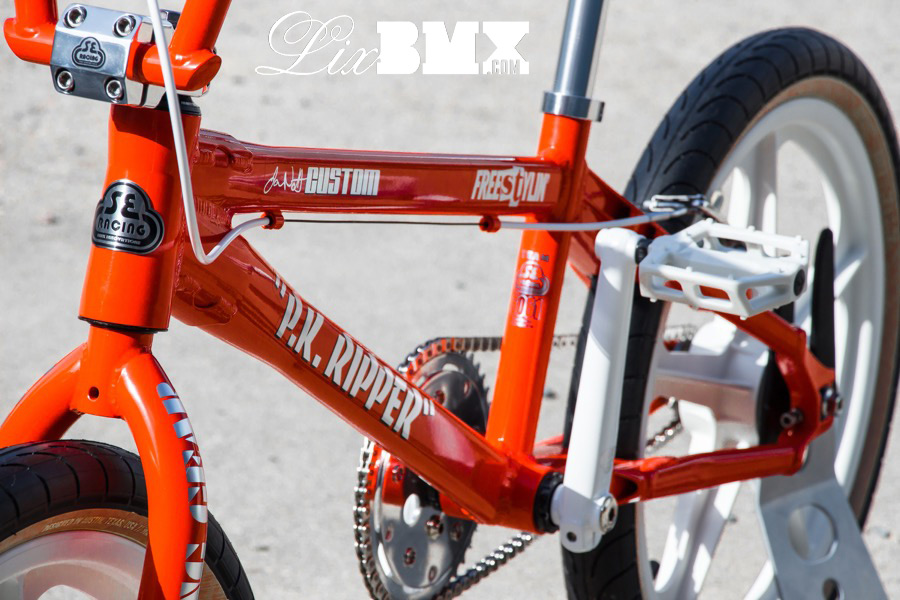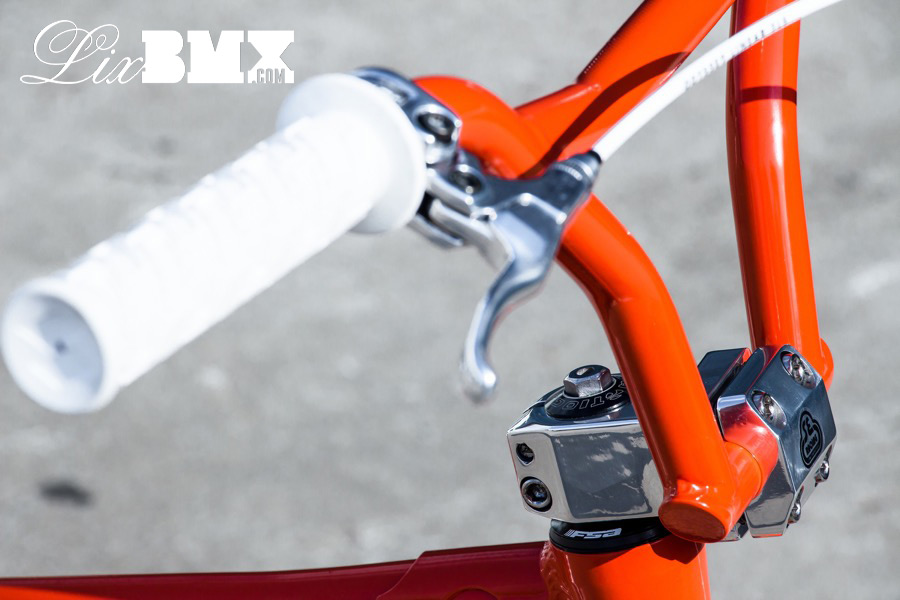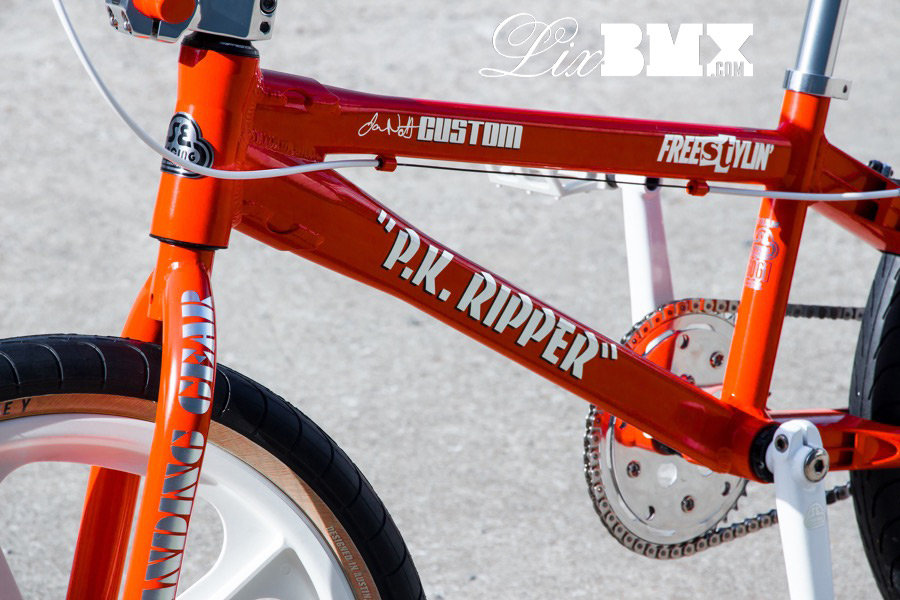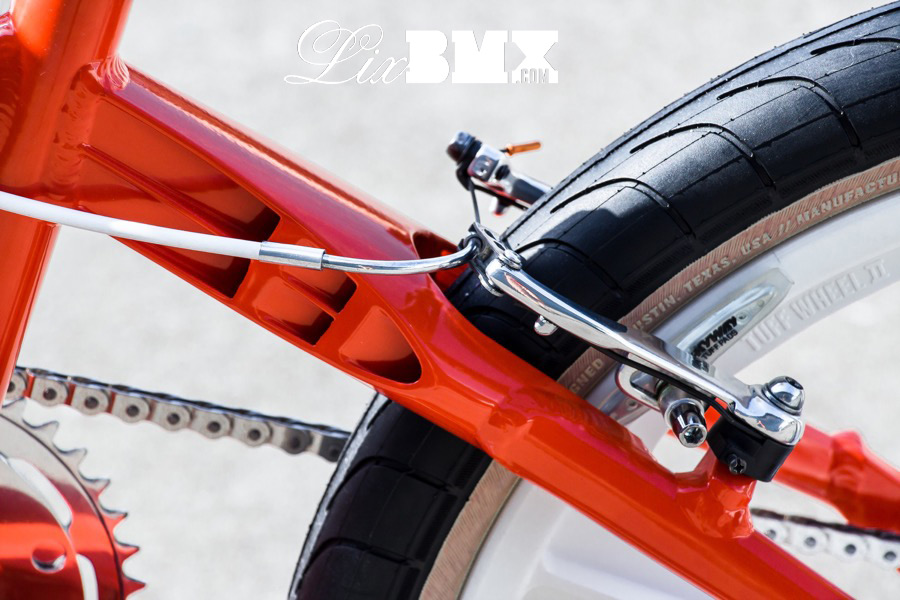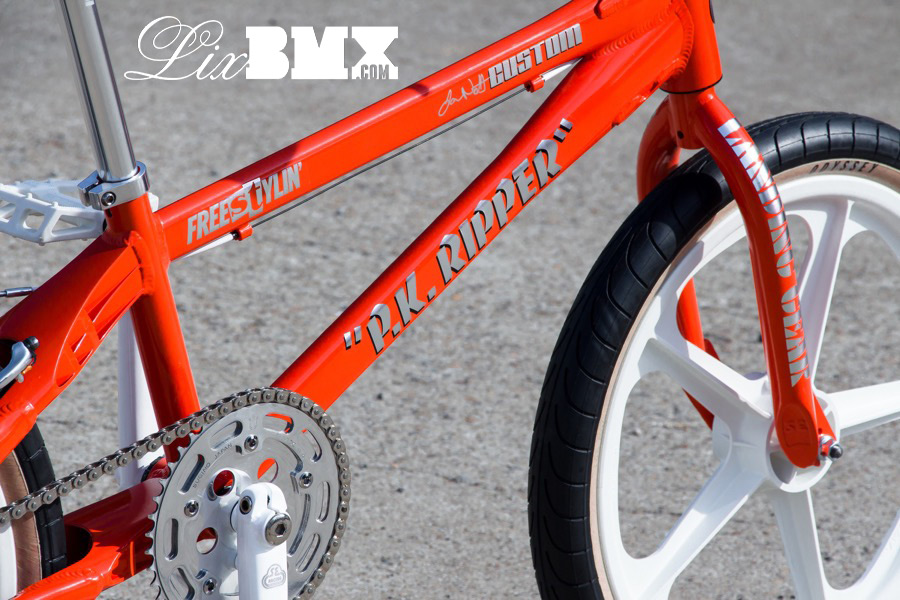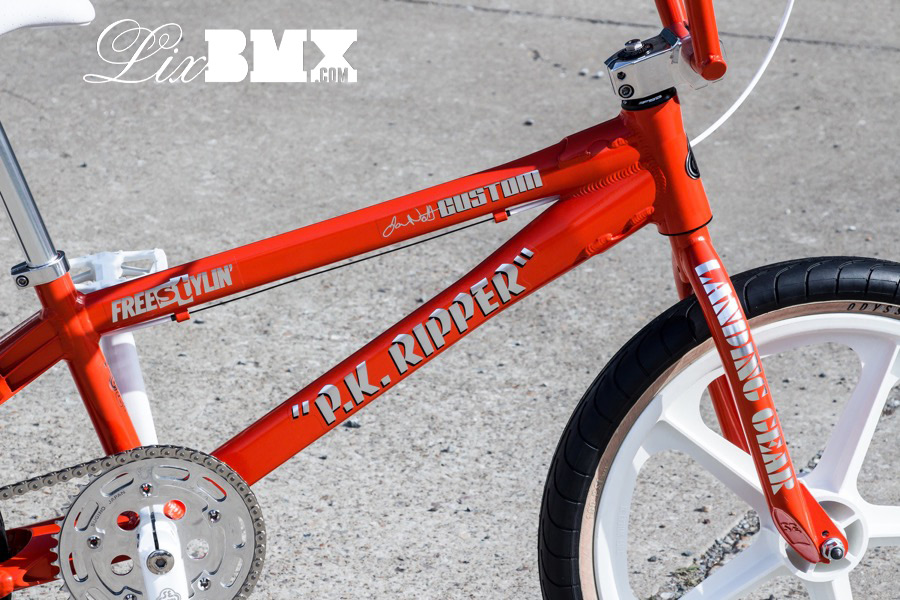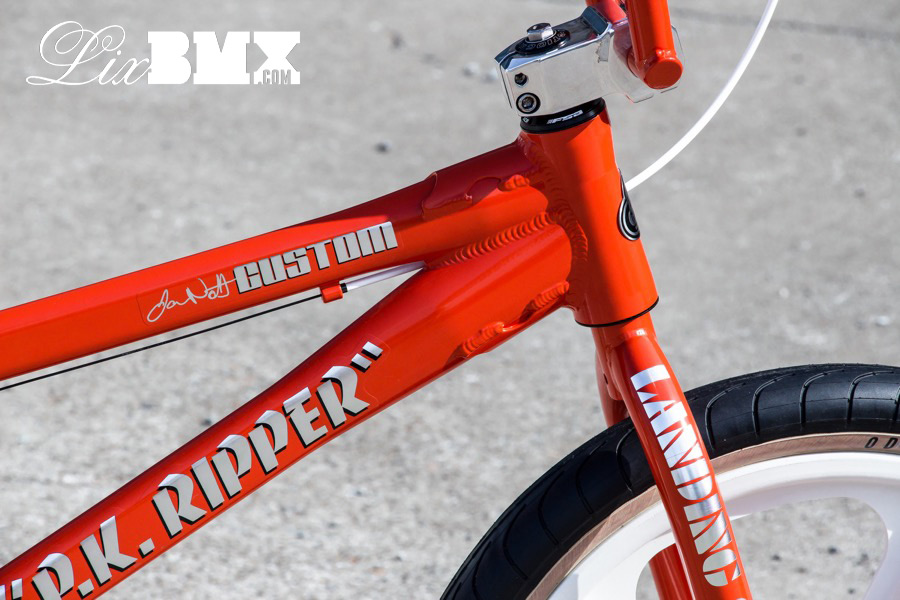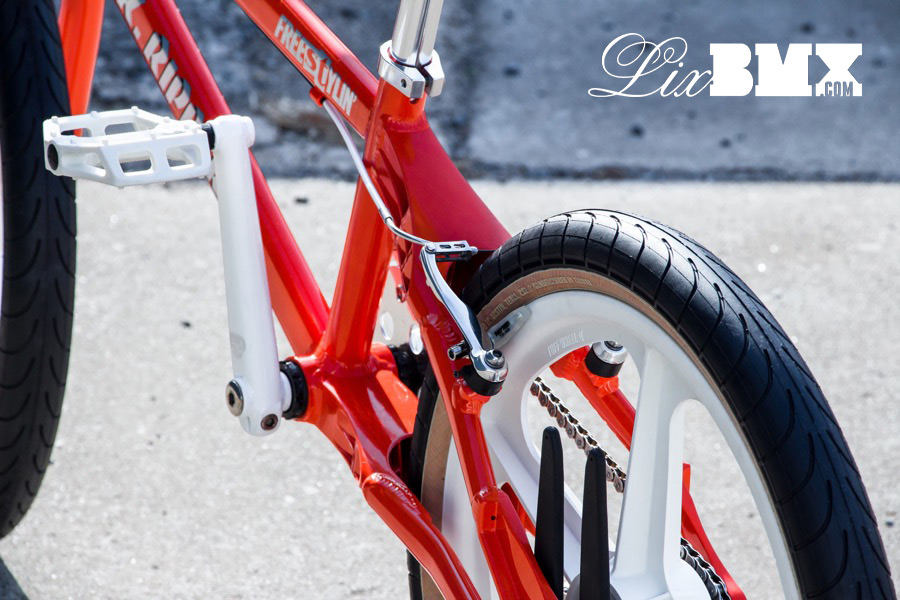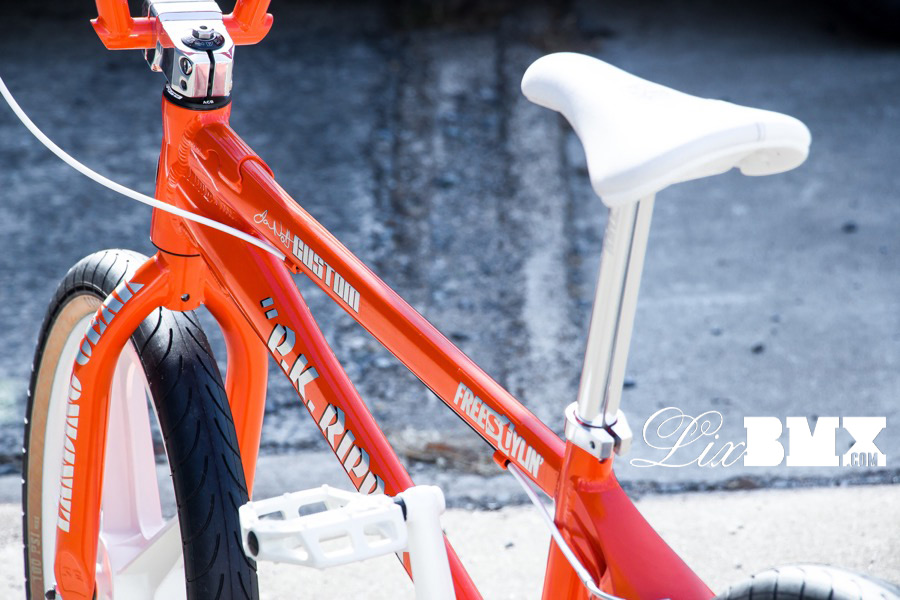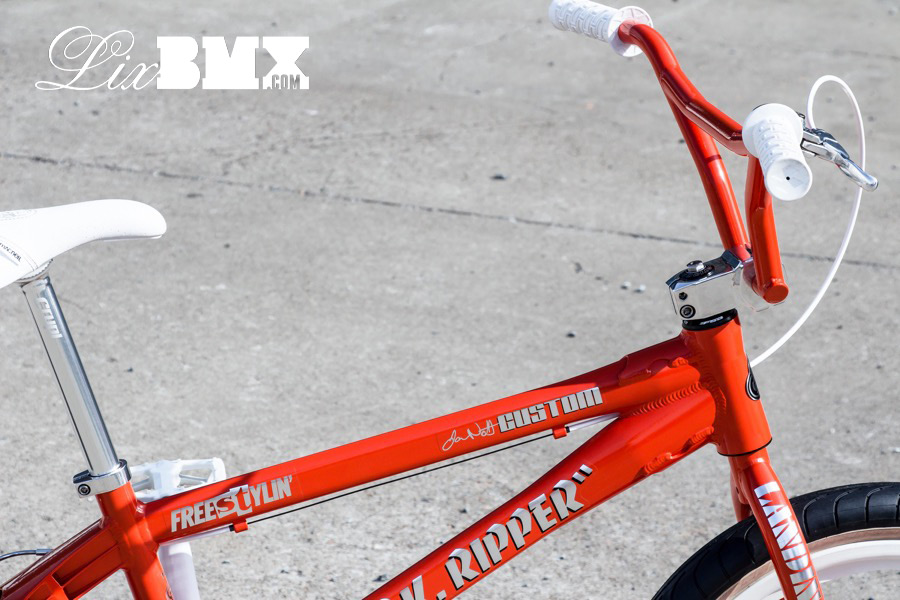 Finding Nemo…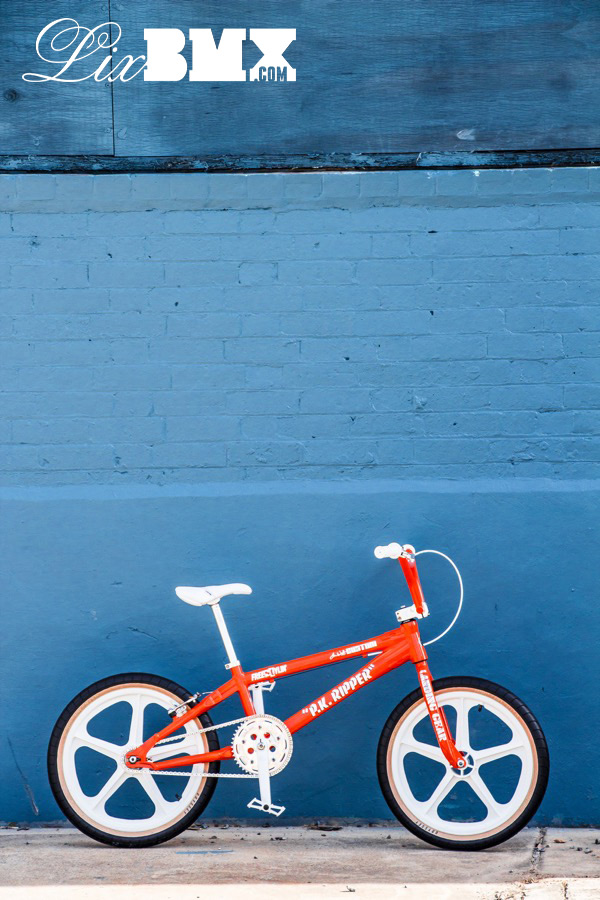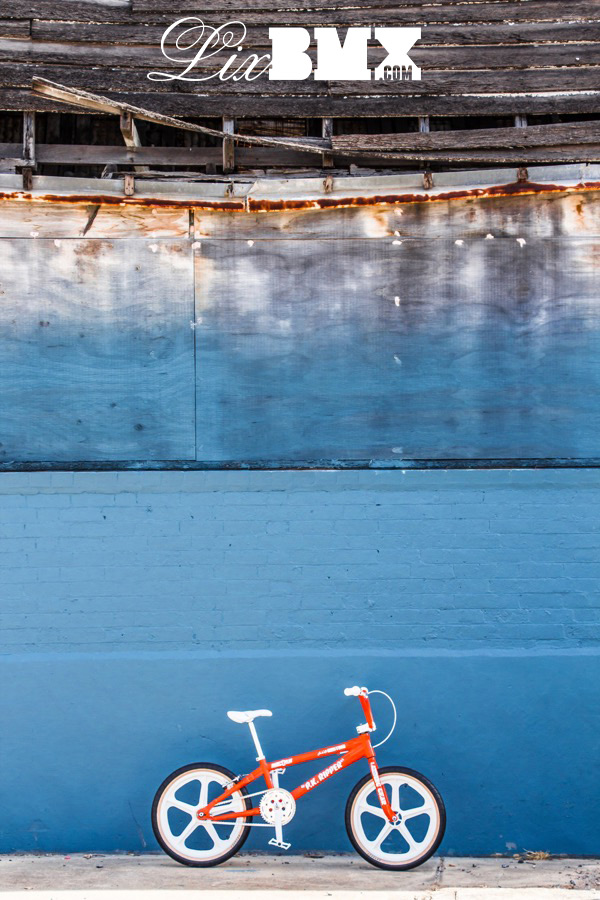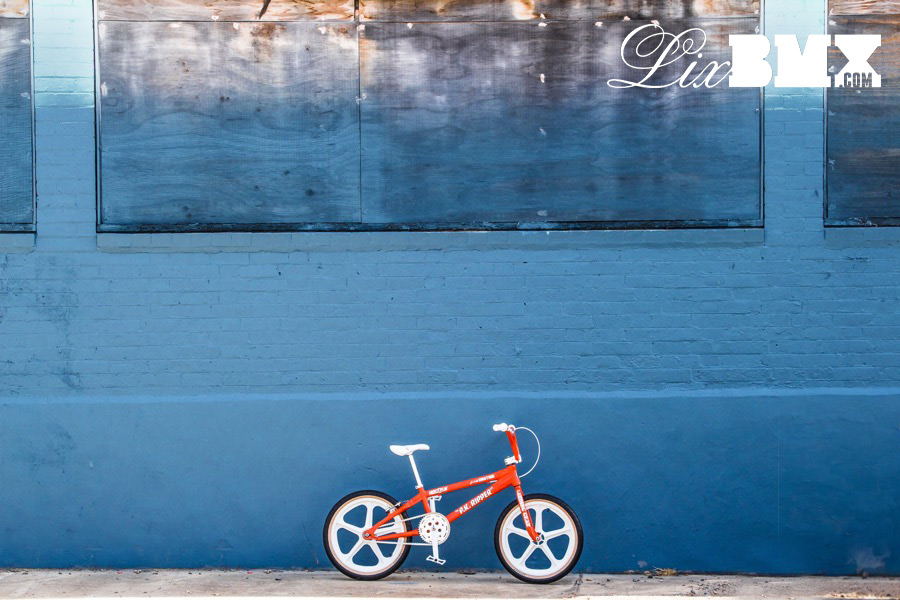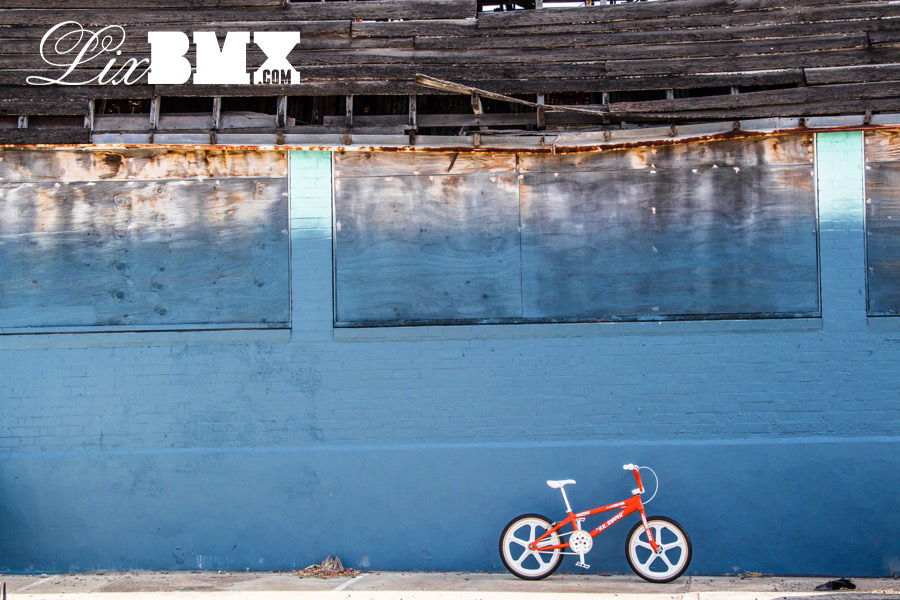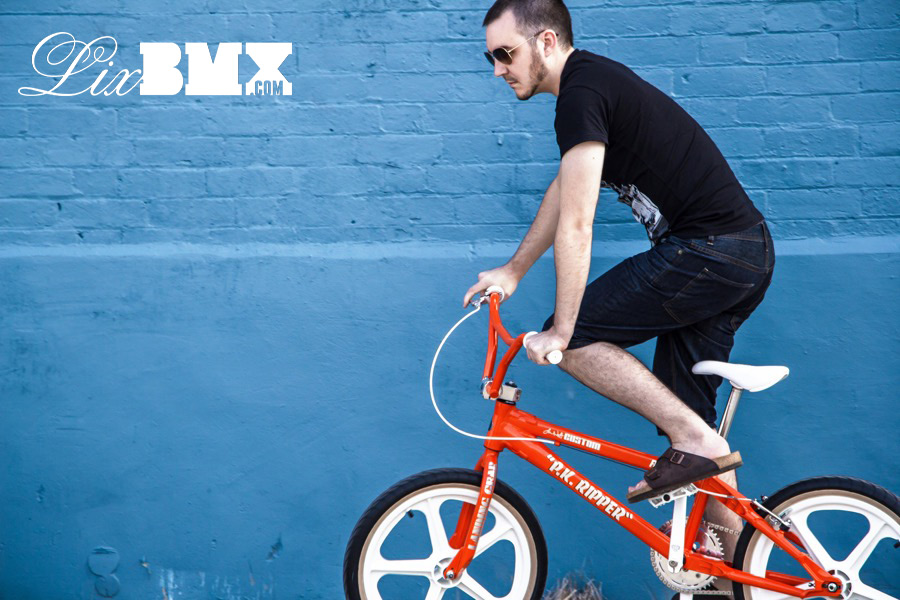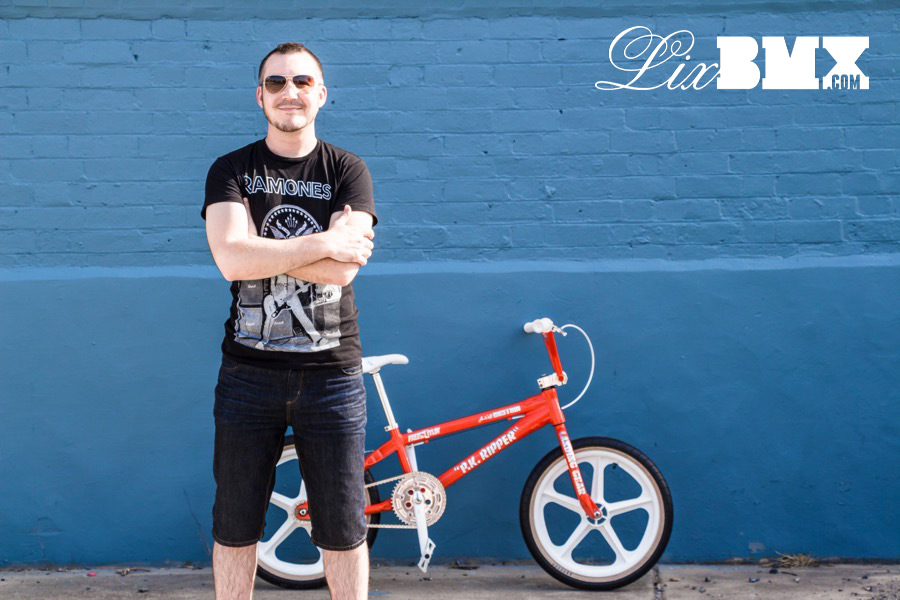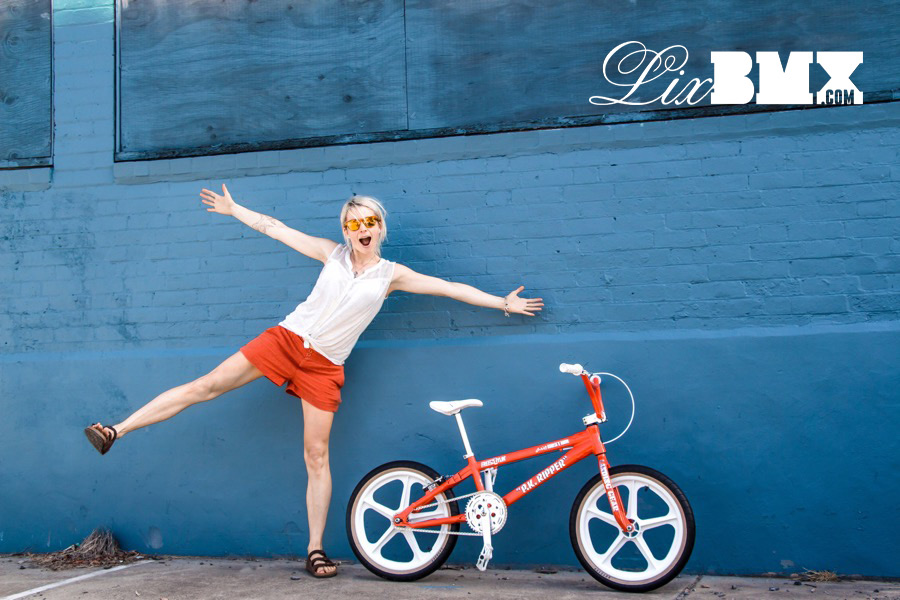 SHOUT-OUTS
Luke Stringer for letting me have this frame, forks, cranks and stem for an absolute steal back in 2012.
Brett Downs for the gift of a shiny new head-tube badge, relic from his past life with SE Bikes. AND for being a total Jedi, reading my mind and sending it before I'd planned the re-build!
Roberto for yet another outstanding powder coat finish and for the epic skill and patience required to get such beautiful even coverage in and out of that ridiculous aluminium waffle on the stays! Dude, the colour is PERFECT.
James Moody at The Pedal Shoppe for his mad parts acquisition skills – especially for sourcing that extra long, extra wide, extra shiny pivotal Crupi post. Always above and beyond, Mr. Abbott, ALWAYS ABOVE AND BEYOND!
Dave Livo for donating the Torker knee-savers for the cause. Legend!
Mik Lavender at Crossley Cycles for removing the crazy ISIS Drive Bottom Bracket Cartridge for me (I have a tool for it now!).