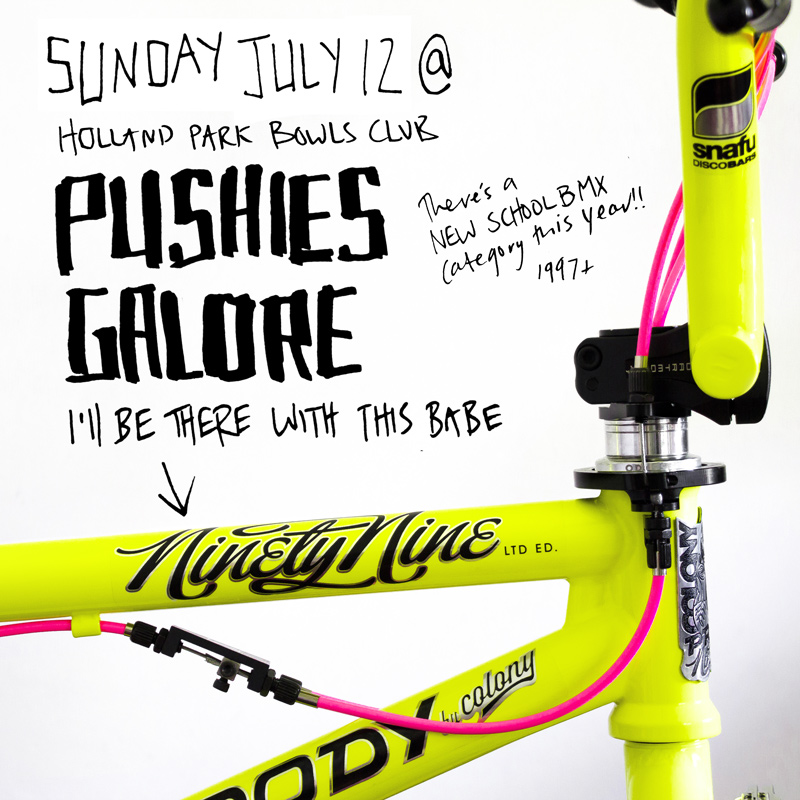 One of my favourite days of the year!
Brisbane's famous Pushies Galore bike show and swap is just around the corner! Full details have been released with the show now scheduled for Sunday July 12, 2014. It's always a great day with lots of friendly faces, great food, cool merch, swappy bargains,  fun for the kids and BIKE CANDY GALORE on display!
2015 brings an exciting development for BMX lovers – there's a New School BMX category in this year's show! That means it's time to bring out all those 1997+ killer builds – I'm super excited to be bringing along my newly finished 2014 Colony Prody #99!
Here's all the info you'll need from PushiesGalore.com…
What
Pushies Galore is about bikes of every kind.  Activities include a bike swap, show 'n' shine, trade stalls and more. This will be the fifth annual Pushies Galore. These write-ups from previous years here,  here and here give you a good idea of what to expect. If you like bikes, you'll like this. If you don't like bikes, you'll like the bowls club atmosphere, food, drink, music and good times.
When
Sunday 12 July 2014, 10am – 4pm.
Where
Holland Park Bowls Club, Abbotsleigh Street, Holland Park.
Entry cost
$5 per adult (kids free).
Program 
09:30 – Entry for show 'n' shine entrants and swap stall holders
10:00 – Open to public
10:30 – Kids dress up your bike workshop
12:00 – Kids bike parade
14:00 – Show 'n' shine winners announced, lucky door prize winner announced
Show 'n' shine
Been slaving on a build for months? Have a stunning bike you want to show off? Have something with a bit of history? Take part in the show 'n' shine. There is no pre-registration for show 'n' shine entrants. Registration will be on the day from 9:30am. Entry for the show 'n' shine is free. Everyone gets their portrait taken in the show 'n' shine photo booth.
We will have a team of marshals stationed at the show 'n' shine area throughout the day to ensure your bikes go home in the same condition as they arrived. Please look, but don't touch.
We want to encourage a spirit of sharing in the show 'n' shine: for us, all bikes are beautiful. That being said, we do award prizes on the day. We have a group of judges select the winner in each category. Winners getting bragging rights, but no sheep stations: a beautiful certificate will remind you of your win. All bikes are also in the running for the people's choice award.
The judges will be looking at a range of criteria: from consistency through the build, aesthetic appeal, rarity, provenance and historic associations. Each criterion will have different significance for each category.
Categories are:
BMX Vintage – 1970 to 1980.
BMX Old School – 1980 to 1986.
BMX Mid School – 1987 to 1996.
BMX New School – 1997 onwards.
Cruiser/Rat/Dragster – Cruisey. Think t-bar shifters, sissy bars and banana seats.
Kids – Decorated, customised and fun!
Track – A bike to be ridden on a track.
Road – A bike to be ridden on the road. Drop bars, STI, ergos, DT shifters, all comers, all materials. #carbonsteelsmackdown
Mountain Bike – Every era. Every colour fade.
Cargo/Utility – Commuters, porteurs, townies, rack bikes, loaded tourers. The workhorses.
Antique – Anything pre-1920
Vintage – The old stuff post-1920
Made in BNE – Anything made in Brisbane, old and new.
Bike swap
Brisbane's biggest flea market for bike bits. Sick of e-Bay taking its cut? Can't be bothered listing items. Come put it on a blanket and watch the people come. Swappers will get access to the site from 9:30 am and trading will start from 10am with no need to pre-register. Spots per seller are:
$5 walk-in
$10 car
$15 car + trailer
Trade stalls
These fine businesses and organisations will be there on the day:
Queensland Penny Farthing and Historical Cycle Club
Extra activities
There will be bike dress-ups for kids, then the chance to ride around a bowling green to the applause of the the crowd. There is free barefoot bowls, a special display of army bikes and a showcase of the history of the crank. The amazing Linus and his band will be playing on the day. The Tag Snaps booth will also be back – just tag your Instagram photos with #pushiesgalore and you get to take home a free print of your pic.
Food and drink
Coffee from Kombi Koffein, a classic BBQ stand, a vintage Mr Whippy van, wood-fired pizzas, sweet treats from Kurilpa Community Childcare, vegetarian Indian and Green Beacon beer. Come for the bikes, stay for the food.
Side events
There's plenty to do over the whole weekend:
Friday 10 July: a special night of chat on the Pushies couch with Geoff Scott (Clamont), Ben Kamenjas (Cicli Spirito) and Adam Leddin (Cycle EXIF). Kicks off 7pm at Crankstar. More here.
Saturday 11 July: bikes, beer. See FOA.
Sunday 12 July: a series of rides to the big event. See your forum/noticeboard of choice.
Updates
Get the freshest info on Facebook, Twitter, Instagram. Always #pushiesgalore
FAQs
I need to get cash out on the day. Can you help me?
Yes – there will be an ATM placed inside the bowls clubhouse.
What if it rains?
What? Rain? It's on regardless.
I know this is a bike event, but I feel a need to drive there. What are my options?
Street parking around the bowls club is available but limited. Where possible, we strongly recommend riding a bike to Pushies. We'll keep you posted with some Google Map/eagle eye views of some parking secrets.
I've got a trailer, do I have to register for a swap stall?
No – nobody in the swap has to pre-register, regardless of the area you need. Just rock up – access opens up at 9:30am for swappers.
Will my show 'n' shine bikes be cared for during the day?
Yes – we will have a team of marshals looking after the show area, making sure that the "look don't touch" policy is followed.